Deeside politician joins campaigners calling for full contents of 1983 inquiry into sinking of Sir Galahad to be published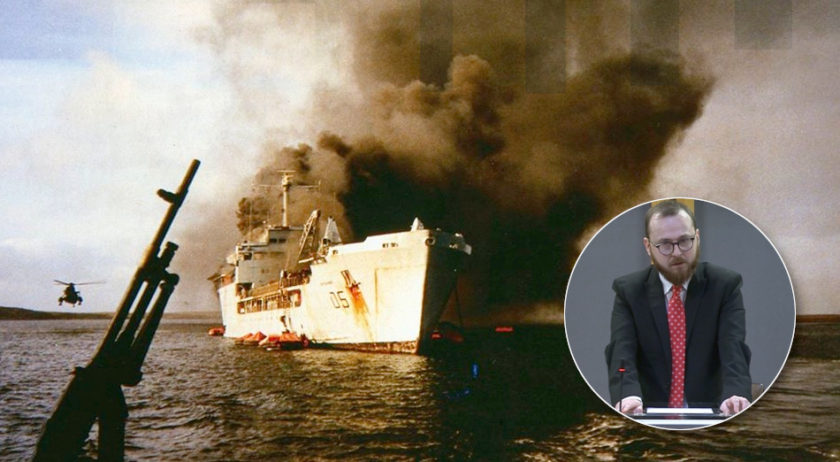 This article is old - Published: Saturday, Apr 1st, 2023
A Deeside politician has joined campaigners and veterans to call for the full contents of the 1983 inquiry into the sinking of the Sir Galahad to be published. ‌​‌‌‌​‌‌‍‌​‌‌‌​‌​‍‌​‌‌‌​‌​
Jack Sargeant used Senedd questions this week to ask the Welsh Parliament's Chief Legal Officer to lobby the UK Government for the immediate publication of the entire inquiry. ‌​‌‌‌​‌‌‍‌​‌‌‌​‌​‍‌​‌‌‌​‌​
There was no greater British loss of life throughout the Falklands conflict than the attack on RFA support ships Sir Galahad and Tristram, bombed on 8 June 1982 by Argentine jets. ‌​‌‌‌​‌‌‍‌​‌‌‌​‌​‍‌​‌‌‌​‌​
The struggle to liberate the islands was entering its closing stages, with British forces closing in on the capital, Stanley. ‌​‌‌‌​‌‌‍‌​‌‌‌​‌​‍‌​‌‌‌​‌​
To support that final assault, the two RFAs were due to deliver troops to Bluff Cove – not 15 miles from Stanley. ‌​‌‌‌​‌‌‍‌​‌‌‌​‌​‍‌​‌‌‌​‌​
The ships dropped anchor five miles short of their destination and began to offload instead at Fitzroy Sound. ‌​‌‌‌​‌‌‍‌​‌‌‌​‌​‍‌​‌‌‌​‌​
Aboard Sir Galahad, the Welsh Guards refused to leave, one of those was Sergeant Malcolm Wigley from Connah's Quay. ‌​‌‌‌​‌‌‍‌​‌‌‌​‌​‍‌​‌‌‌​‌​
The Welsh Guards had been messed around in the campaign to date. ‌​‌‌‌​‌‌‍‌​‌‌‌​‌​‍‌​‌‌‌​‌​
They had been told they would be delivered to Bluff Cove – five miles from Fitzroy – and delivered to Bluff Cove they would be, despite the protestations of Royal Marines. ‌​‌‌‌​‌‌‍‌​‌‌‌​‌​‍‌​‌‌‌​‌​
The ships' presence at Fitzroy had already been spotted by Argentine forces. ‌​‌‌‌​‌‌‍‌​‌‌‌​‌​‍‌​‌‌‌​‌​
On the South American mainland, Skyhawk jets from Grupo 5 de Caza – 5th Fighter Group – better known as Los Halcones, 'The Hawks', lifted off to intercept, each carrying three 250kg bombs on a round-trip to the Falklands of almost 1,000 miles. ‌​‌‌‌​‌‌‍‌​‌‌‌​‌​‍‌​‌‌‌​‌​
Leading the final assault was Carlos Cachón, told by his commander to "take charge of the formation and lead it to glory." ‌​‌‌‌​‌‌‍‌​‌‌‌​‌​‍‌​‌‌‌​‌​
Two of his bombs – plus one from a wingman – hit Sir Galahad, exploding in the tank deck, galley, and engine room, while Sir Tristram was strafed and hit by a single bomb, which failed to detonate initially. ‌​‌‌‌​‌‌‍‌​‌‌‌​‌​‍‌​‌‌‌​‌​
Sgt Wigley was among the 32 Welsh Guards who lost their lives during the attack on Sir Galahad, which also left several others severely injured. ‌​‌‌‌​‌‌‍‌​‌‌‌​‌​‍‌​‌‌‌​‌​
On that fateful June day, five RFA crew members and a total of 55 Welsh Guards aboard the two ships made the ultimate sacrifice. ‌​‌‌‌​‌‌‍‌​‌‌‌​‌​‍‌​‌‌‌​‌​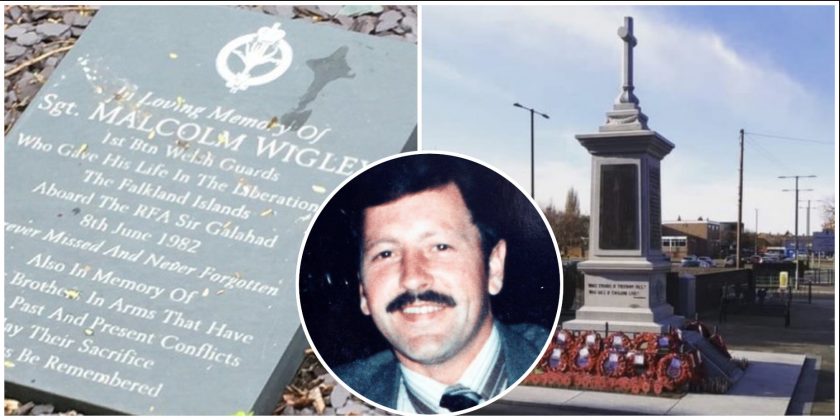 ‌​‌‌‌​‌‌‍‌​‌‌‌​‌​‍‌​‌‌‌​‌​
Many of those campaigning for the release of 1983 inquiry information are survivors of the sinking. ‌​‌‌‌​‌‌‍‌​‌‌‌​‌​‍‌​‌‌‌​‌​
The UK Government has said that survivors will have to wait until 2065 to see the redacted parts of the inquiry. ‌​‌‌‌​‌‌‍‌​‌‌‌​‌​‍‌​‌‌‌​‌​
Jack Sargeant was recently contacted by survivors seeking his support for their campaign. ‌​‌‌‌​‌‌‍‌​‌‌‌​‌​‍‌​‌‌‌​‌​
In the Senedd, the Alyn and Deeside MS asked: "I've been contacted by campaigners on behalf of the bereaved families, who want and deserve answers." ‌​‌‌‌​‌‌‍‌​‌‌‌​‌​‍‌​‌‌‌​‌​
"Will you use the influence not just today on the floor of the Senedd, but in the meetings you have with UK Government, to urge them again to be as transparent as possible and also to join with me in calling, when you do meet with those officials, not just on the floor of the Senedd today, but when you meet with those Ministers and officials of the UK Government, that they should release all of the documents related to the 1982 inquiry into the sinking of Sir Galahad so that bereaved families and those survivors can get the answers they so desperately want, but also so desperately deserve?" ‌​‌‌‌​‌‌‍‌​‌‌‌​‌​‍‌​‌‌‌​‌​
The Counsel General for Wales, Mick Antoniw MS, the Welsh Government's Law Officer replied: "I have the great honour each year to attend the memorial event in Ynysangharad park in respect of the Galahad." ‌​‌‌‌​‌‌‍‌​‌‌‌​‌​‍‌​‌‌‌​‌​
"It's a very moving event, and it's one where I think it is growing year by year as we increasingly recognise, I think, the actual role of armed services personnel and the sacrifices that individuals make, and perhaps events internationally make that even keener in our particular memory." ‌​‌‌‌​‌‌‍‌​‌‌‌​‌​‍‌​‌‌‌​‌​
"I'm well aware that Welsh Guards officers have now called for the declassification of the Galahad documents, and, as I say, these aren't things that are within our devolved responsibilities, but I think we've always supported, as with Orgreave and with other events, Hillsborough and so on, the maximisation of transparency, openness and accountability in terms of events that took place." ‌​‌‌‌​‌‌‍‌​‌‌‌​‌​‍‌​‌‌‌​‌​
"The Galahad events were in 1982, some considerable time ago, and there would have to be some really exceptional reasons as to why documents would not be declassified." ‌​‌‌‌​‌‌‍‌​‌‌‌​‌​‍‌​‌‌‌​‌​
"I think we would do everything we can to support the declassification of those documents so that the families of those who lost their lives can be satisfied that they fully understand what happened and any questions they have are fully answered." ‌​‌‌‌​‌‌‍‌​‌‌‌​‌​‍‌​‌‌‌​‌​
Spotted something? Got a story? Send a Facebook Message | A direct message on Twitter | Email: News@Deeside.com
---
Latest News
---