Crew of Hawarden based police helicopter capture lightning strikes through night vision goggles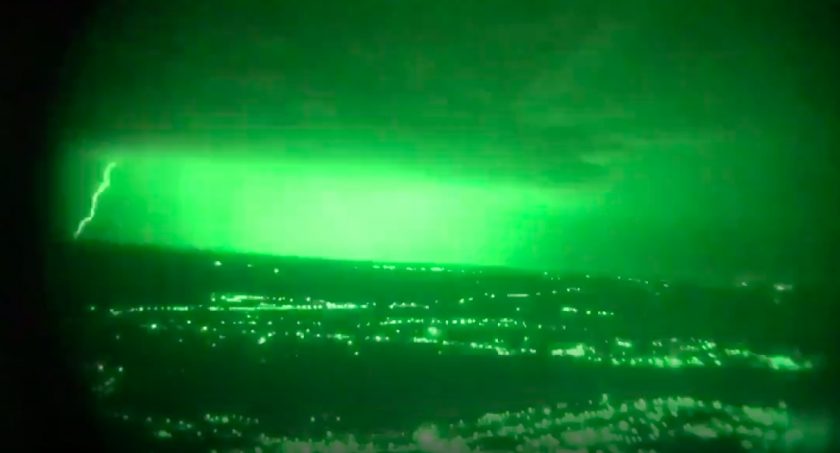 This article is old - Published: Wednesday, Jul 24th, 2019
A huge thunderstorm struck much of the UK overnight as the heatwave continues. ‌​‌‌‌​‌‌‍‌​‌‌‌​‌​‍‌​‌‌‌​‌​
Temperatures in Hawarden reached 30ºC on Tuesday, overnight they remained at an uncomfortable 24ºC before dropping to around 19ºC. ‌​‌‌‌​‌‌‍‌​‌‌‌​‌​‍‌​‌‌‌​‌​
Thunderstorms moved into southern and western areas late last night, a Met Office yellow severe weather warning was in play for most of Wales, England and Scotland until this morning. ‌​‌‌‌​‌‌‍‌​‌‌‌​‌​‍‌​‌‌‌​‌​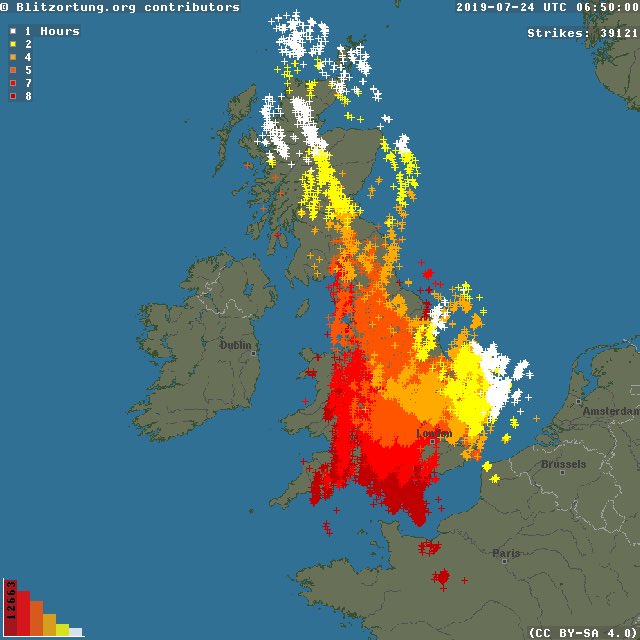 ‌​‌‌‌​‌‌‍‌​‌‌‌​‌​‍‌​‌‌‌​‌​
[Cumulative lightning strikes from last night's storm mapped] ‌​‌‌‌​‌‌‍‌​‌‌‌​‌​‍‌​‌‌‌​‌​
Nearly 40,000 lightning strikes were recorded across the UK during the storm. ‌​‌‌‌​‌‌‍‌​‌‌‌​‌​‍‌​‌‌‌​‌​
North Wales was reported to be the wettest area in the Britain overnight, with 15mm of rain falling in just one hour. ‌​‌‌‌​‌‌‍‌​‌‌‌​‌​‍‌​‌‌‌​‌​
The crew of Hawarden based police helicopter – NPAS Hawarden captured lightning strikes through their onboard night vision equipment has they headed back to base. ‌​‌‌‌​‌‌‍‌​‌‌‌​‌​‍‌​‌‌‌​‌​
Tweeting a video one the crew stated 'Lightning storms through Night Vision Goggles on a speedy retreat back to base.' ‌​‌‌‌​‌‌‍‌​‌‌‌​‌​‍‌​‌‌‌​‌​
[The National Police Air Service uses Fenn NG700 goggles which gives the crews enhanced night vision capability.] ‌​‌‌‌​‌‌‍‌​‌‌‌​‌​‍‌​‌‌‌​‌​
North Wales Fire and Rescue Service respond to a house fire in Wrexham overnight caused by a lightning strike, and while there was lots of lightning activity locally there have been no reports of damage in the Flintshire area. ‌​‌‌‌​‌‌‍‌​‌‌‌​‌​‍‌​‌‌‌​‌​
Here are some lightning strikes caught on camera locally. ‌​‌‌‌​‌‌‍‌​‌‌‌​‌​‍‌​‌‌‌​‌​
‌​‌‌‌​‌‌‍‌​‌‌‌​‌​‍‌​‌‌‌​‌​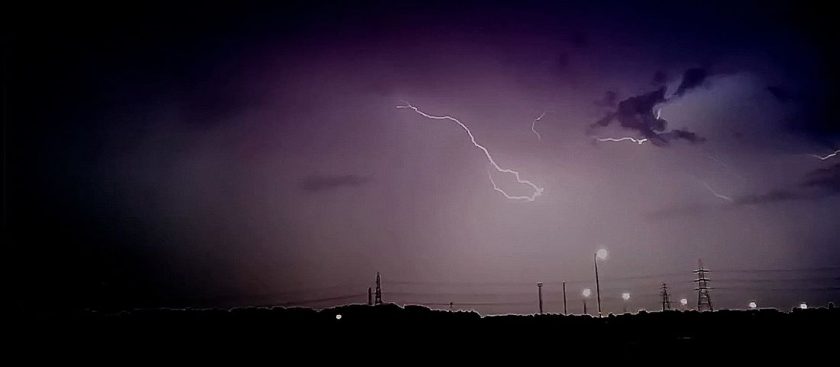 [Paul Evans]
Just about caught it loud and bright in Mold @FlintshireSkies @DeesideDotCom pic.twitter.com/XabFQ34gY0 ‌​‌‌‌​‌‌‍‌​‌‌‌​‌​‍‌​‌‌‌​‌​

— adele cross (@crossadele69) July 24, 2019 ‌​‌‌‌​‌‌‍‌​‌‌‌​‌​‍‌​‌‌‌​‌​
‌​‌‌‌​‌‌‍‌​‌‌‌​‌​‍‌​‌‌‌​‌​
Bit of lightening dancing around towards the top of the Flintshire Bridge sticking out of the top of the bush.. @DeesideDotCom @FlintshireSkies pic.twitter.com/zP3DVtzM5y ‌​‌‌‌​‌‌‍‌​‌‌‌​‌​‍‌​‌‌‌​‌​

— Paul Moggsy Morris (@moggsy100) July 24, 2019 ‌​‌‌‌​‌‌‍‌​‌‌‌​‌​‍‌​‌‌‌​‌​
‌​‌‌‌​‌‌‍‌​‌‌‌​‌​‍‌​‌‌‌​‌​
@DeesideDotCom @ruthwignall Back of the camera shot of the lightning over Hope mountain a few minutes ago pic.twitter.com/q54O6xcuA9 ‌​‌‌‌​‌‌‍‌​‌‌‌​‌​‍‌​‌‌‌​‌​

— Flintshire Skies (@FlintshireSkies) July 23, 2019 ‌​‌‌‌​‌‌‍‌​‌‌‌​‌​‍‌​‌‌‌​‌​
‌​‌‌‌​‌‌‍‌​‌‌‌​‌​‍‌​‌‌‌​‌​
The simple things are often the most extraordinary. A-block officers on duty this evening keeping you safe in these stormy conditions. Take care if out and about #lightning #thunderstorm #chester pic.twitter.com/4GSCB16zdL ‌​‌‌‌​‌‌‍‌​‌‌‌​‌​‍‌​‌‌‌​‌​

— Chester Police (@PoliceChester) July 24, 2019 ‌​‌‌‌​‌‌‍‌​‌‌‌​‌​‍‌​‌‌‌​‌​
‌​‌‌‌​‌‌‍‌​‌‌‌​‌​‍‌​‌‌‌​‌​
You cn follow NPAS Hawarden on twitter here https://twitter.com/NPASHawarden ‌​‌‌‌​‌‌‍‌​‌‌‌​‌​‍‌​‌‌‌​‌​
Spotted something? Got a story? Send a Facebook Message | A direct message on Twitter | Email: News@Deeside.com
---
Latest News
---