Ambulance response times in Wales "second worst" on record in March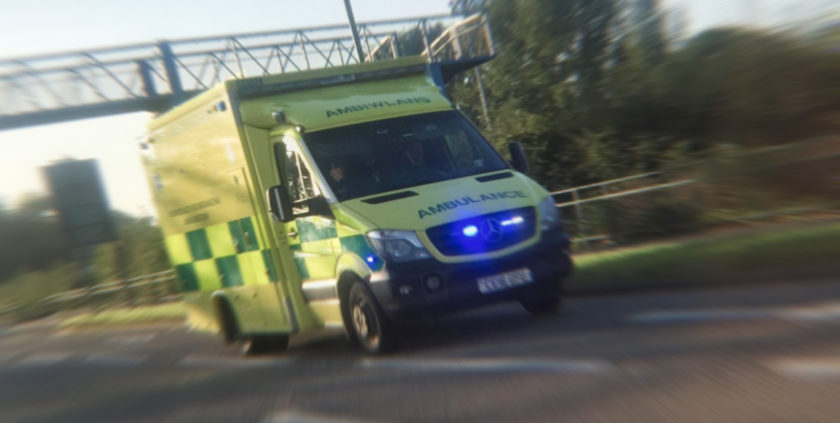 The Welsh Ambulance Service recorded its second worst response times on record last month. ‌​‌‌‌​‌‌‍‌​‌‌‌​‌​‍‌​‌‌‌​‌​ ‌​‌‌‌​‌‌‍‌​‌‌‌​‌​‍‌​‌‌‌​‌​
The Trust attended just 47.5 per cent of category red (immediately life-threatening calls) within eight minutes. ‌​‌‌‌​‌‌‍‌​‌‌‌​‌​‍‌​‌‌‌​‌​ ‌​‌‌‌​‌‌‍‌​‌‌‌​‌​‍‌​‌‌‌​‌​
This is below the Welsh government target of a 65 per cent response rate and is the second lowest on record. ‌​‌‌‌​‌‌‍‌​‌‌‌​‌​‍‌​‌‌‌​‌​ ‌​‌‌‌​‌‌‍‌​‌‌‌​‌​‍‌​‌‌‌​‌​
Throughout March almost 35,000 emergency calls were made to the ambulance service, with is 11.5 per of cent of those being classed as category red. ‌​‌‌‌​‌‌‍‌​‌‌‌​‌​‍‌​‌‌‌​‌​ ‌​‌‌‌​‌‌‍‌​‌‌‌​‌​‍‌​‌‌‌​‌​
This is less than the 12.5 per cent in February, however the Welsh government state that this "remains high in a historical context." ‌​‌‌‌​‌‌‍‌​‌‌‌​‌​‍‌​‌‌‌​‌​ ‌​‌‌‌​‌‌‍‌​‌‌‌​‌​‍‌​‌‌‌​‌​
The median response time in the four years prior to the pandemic ranged between 4 minutes 30 seconds and 6 minutes for red calls. ‌​‌‌‌​‌‌‍‌​‌‌‌​‌​‍‌​‌‌‌​‌​ ‌​‌‌‌​‌‌‍‌​‌‌‌​‌​‍‌​‌‌‌​‌​
In March, the average response time to immediately life-threatening 'red' calls was eight minutes 24 seconds. ‌​‌‌‌​‌‌‍‌​‌‌‌​‌​‍‌​‌‌‌​‌​ ‌​‌‌‌​‌‌‍‌​‌‌‌​‌​‍‌​‌‌‌​‌​
‌​‌‌‌​‌‌‍‌​‌‌‌​‌​‍‌​‌‌‌​‌​ ‌​‌‌‌​‌‌‍‌​‌‌‌​‌​‍‌​‌‌‌​‌​
Minister for Health and Social Services, Eluned Morgan said that ambulance response times "continue to be a major challenge" and that she expects to see "improvements in ambulance patient handover in the coming months to enable better performance." ‌​‌‌‌​‌‌‍‌​‌‌‌​‌​‍‌​‌‌‌​‌​ ‌​‌‌‌​‌‌‍‌​‌‌‌​‌​‍‌​‌‌‌​‌​
Figures released today by the Welsh government also show that demand on emergency departments across Wales continues to grow. ‌​‌‌‌​‌‌‍‌​‌‌‌​‌​‍‌​‌‌‌​‌​ ‌​‌‌‌​‌‌‍‌​‌‌‌​‌​‍‌​‌‌‌​‌​
Throughout March there were around 89,300 attendances to all emergency departments. ‌​‌‌‌​‌‌‍‌​‌‌‌​‌​‍‌​‌‌‌​‌​ ‌​‌‌‌​‌‌‍‌​‌‌‌​‌​‍‌​‌‌‌​‌​
This was an average of 2,879 emergency department attendances per day; 99 attendances more per day on average than in the previous month and 15 more than March 2022. ‌​‌‌‌​‌‌‍‌​‌‌‌​‌​‍‌​‌‌‌​‌​ ‌​‌‌‌​‌‌‍‌​‌‌‌​‌​‍‌​‌‌‌​‌​
Locally 4,774 patients visited Wrexham Maelor A&E, with 53.7 per cent seen within the four hour target. ‌​‌‌‌​‌‌‍‌​‌‌‌​‌​‍‌​‌‌‌​‌​ ‌​‌‌‌​‌‌‍‌​‌‌‌​‌​‍‌​‌‌‌​‌​
This is worse than February 2023, when 64.2 per cent of patients were seen within four hours. ‌​‌‌‌​‌‌‍‌​‌‌‌​‌​‍‌​‌‌‌​‌​ ‌​‌‌‌​‌‌‍‌​‌‌‌​‌​‍‌​‌‌‌​‌​
It is also well below the Welsh government target of 95 per cent of new patients waiting less than four hours from arrival until admission, transfer or discharge. ‌​‌‌‌​‌‌‍‌​‌‌‌​‌​‍‌​‌‌‌​‌​ ‌​‌‌‌​‌‌‍‌​‌‌‌​‌​‍‌​‌‌‌​‌​
71.7 per cent of patients were seen within eight hours and 81.4 per cent within 12 hours. ‌​‌‌‌​‌‌‍‌​‌‌‌​‌​‍‌​‌‌‌​‌​ ‌​‌‌‌​‌‌‍‌​‌‌‌​‌​‍‌​‌‌‌​‌​
‌​‌‌‌​‌‌‍‌​‌‌‌​‌​‍‌​‌‌‌​‌​ ‌​‌‌‌​‌‌‍‌​‌‌‌​‌​‍‌​‌‌‌​‌​
Today's data also shows that there has been a slight reduction in waiting lists for planned care, however thousands are still waiting longer than a year for their first outpatient appointment. ‌​‌‌‌​‌‌‍‌​‌‌‌​‌​‍‌​‌‌‌​‌​ ‌​‌‌‌​‌‌‍‌​‌‌‌​‌​‍‌​‌‌‌​‌​
In February there were 731,000 active patient pathways waiting to start, a drop from 734,000 on the previous month. ‌​‌‌‌​‌‌‍‌​‌‌‌​‌​‍‌​‌‌‌​‌​ ‌​‌‌‌​‌‌‍‌​‌‌‌​‌​‍‌​‌‌‌​‌​
This is around 574,000 individual patients on treatment waiting lists in Wales. ‌​‌‌‌​‌‌‍‌​‌‌‌​‌​‍‌​‌‌‌​‌​ ‌​‌‌‌​‌‌‍‌​‌‌‌​‌​‍‌​‌‌‌​‌​
Around 37,000 patients have been on waiting lists longer than two years. ‌​‌‌‌​‌‌‍‌​‌‌‌​‌​‍‌​‌‌‌​‌​ ‌​‌‌‌​‌‌‍‌​‌‌‌​‌​‍‌​‌‌‌​‌​
The figures have been condemned by opposition parties, with the Welsh Conservatives stating that patients deserve better "than a 50/50 chance of an ambulance arriving on time." ‌​‌‌‌​‌‌‍‌​‌‌‌​‌​‍‌​‌‌‌​‌​ ‌​‌‌‌​‌‌‍‌​‌‌‌​‌​‍‌​‌‌‌​‌​
Shadow Health Minister Russell George MS said: "Despite the fact that inhuman 2 year waits for treatment waits have been virtually eliminated elsewhere in Britain, there are tens of thousands of people waiting far too long in Wales. ‌​‌‌‌​‌‌‍‌​‌‌‌​‌​‍‌​‌‌‌​‌​ ‌​‌‌‌​‌‌‍‌​‌‌‌​‌​‍‌​‌‌‌​‌​
"In fact, based on latest data, Wales still has more people waiting over two years for treatment than the entirety of England have waiting for 18 months. ‌​‌‌‌​‌‌‍‌​‌‌‌​‌​‍‌​‌‌‌​‌​ ‌​‌‌‌​‌‌‍‌​‌‌‌​‌​‍‌​‌‌‌​‌​
"The people of Wales deserve better than 50/50 chance of an ambulance arriving on time – which is getting worse – and patients spending even more time in A&E. Nearly 1-in-4 people in Wales are on a waiting list and there is little action from the Labour Government to make any effort to reduce this. ‌​‌‌‌​‌‌‍‌​‌‌‌​‌​‍‌​‌‌‌​‌​ ‌​‌‌‌​‌‌‍‌​‌‌‌​‌​‍‌​‌‌‌​‌​
"I know the staff in our Welsh NHS are working extremely hard to bring these lists down, but the Labour Government, mismanaging the service, cutting health in real terms and prioritising vanity projects is taking us backwards, not forwards as these numbers prove." ‌​‌‌‌​‌‌‍‌​‌‌‌​‌​‍‌​‌‌‌​‌​ ‌​‌‌‌​‌‌‍‌​‌‌‌​‌​‍‌​‌‌‌​‌​
Plaid Cymru has raised questions over Labour's "credibility" in terms of running the health service, in light of the new waiting times figures. ‌​‌‌‌​‌‌‍‌​‌‌‌​‌​‍‌​‌‌‌​‌​ ‌​‌‌‌​‌‌‍‌​‌‌‌​‌​‍‌​‌‌‌​‌​
‌​‌‌‌​‌‌‍‌​‌‌‌​‌​‍‌​‌‌‌​‌​ ‌​‌‌‌​‌‌‍‌​‌‌‌​‌​‍‌​‌‌‌​‌​
Plaid Cymru spokesperson for health and care, Rhun ap Iorwerth MS said: "The continued inability to get on top of unacceptable waiting times is another symptom of Labour Welsh Government's general mismanagement of health in Wales. ‌​‌‌‌​‌‌‍‌​‌‌‌​‌​‍‌​‌‌‌​‌​ ‌​‌‌‌​‌‌‍‌​‌‌‌​‌​‍‌​‌‌‌​‌​
"We've seen that most recently with Betsi Cadwaladr health board being put back into special measures, just two years after it came out. We see that with staff shortages, attitudes towards those taking industrial action and with the mess that is the dental service. Most starkly, we can see that today with waiting times that are simply too long and affect far too many people. ‌​‌‌‌​‌‌‍‌​‌‌‌​‌​‍‌​‌‌‌​‌​ ‌​‌‌‌​‌‌‍‌​‌‌‌​‌​‍‌​‌‌‌​‌​
"Government's inability to improve waiting times sufficiently for patients – missing their own targets in the process – raises serious questions about Labour's credibility in terms of running the health service. ‌​‌‌‌​‌‌‍‌​‌‌‌​‌​‍‌​‌‌‌​‌​ ‌​‌‌‌​‌‌‍‌​‌‌‌​‌​‍‌​‌‌‌​‌​
Responding to Welsh Government statistics showing that ambulance response times are the second worst on record ever, Welsh Liberal Democrat Leader Jane Dodds MS said: "We cannot wait years for Labour and Plaid Cymru's long-promised social care reforms. It has been almost 2 years since they agreed to tackle the issue together and yet we have seen no results or even concrete suggestions at this stage. ‌​‌‌‌​‌‌‍‌​‌‌‌​‌​‍‌​‌‌‌​‌​ ‌​‌‌‌​‌‌‍‌​‌‌‌​‌​‍‌​‌‌‌​‌​
"People are dying now while waiting for an ambulance or in A&E because hospitals aren't able to discharge patients into social care. ‌​‌‌‌​‌‌‍‌​‌‌‌​‌​‍‌​‌‌‌​‌​ ‌​‌‌‌​‌‌‍‌​‌‌‌​‌​‍‌​‌‌‌​‌​
"We need to see the Welsh Government urgently set out an emergency plan to deal with the crisis in social care, it is only then will we see any real improvement in our A&E departments." ‌​‌‌‌​‌‌‍‌​‌‌‌​‌​‍‌​‌‌‌​‌​ ‌​‌‌‌​‌‌‍‌​‌‌‌​‌​‍‌​‌‌‌​‌​
Ms Morgan said: ""I'm pleased to see in today's data that we have made some headway in planned care. In February the number of patient pathways waiting to start treatment fell from around 734,000 to 731,000, a fifth consecutive decrease, while waiting lists continue to rise in England. ‌​‌‌‌​‌‌‍‌​‌‌‌​‌​‍‌​‌‌‌​‌​ ‌​‌‌‌​‌‌‍‌​‌‌‌​‌​‍‌​‌‌‌​‌​
"The number of patient pathways waiting longer than 36 weeks fell to just over 237,600, the lowest since June 2021. About 37,500 pathways were waiting more than two years, 47 per cent lower than the peak in March 2022. ‌​‌‌‌​‌‌‍‌​‌‌‌​‌​‍‌​‌‌‌​‌​ ‌​‌‌‌​‌‌‍‌​‌‌‌​‌​‍‌​‌‌‌​‌​
"I expect to see these positive trends continue, as actions including our investment in extra community beds to improve patient flow through hospitals bear fruit. ‌​‌‌‌​‌‌‍‌​‌‌‌​‌​‍‌​‌‌‌​‌​ ‌​‌‌‌​‌‌‍‌​‌‌‌​‌​‍‌​‌‌‌​‌​
"Emergency care services have borne the brunt of the recent pressures, with an increase in ambulance call volumes and presentations at emergency departments. Performance at major emergency departments in Wales has bettered English performance for the last seven months and has remained stable in contrast to all other parts of the UK. ‌​‌‌‌​‌‌‍‌​‌‌‌​‌​‍‌​‌‌‌​‌​ ‌​‌‌‌​‌‌‍‌​‌‌‌​‌​‍‌​‌‌‌​‌​
"The volume of 'immediately life threatened' patients accessing the ambulance service remains very high in a historical context, 93 per cent higher in March 2023 than in March 2019, and emergency admissions increased by 18% when compared with the same month last year. ‌​‌‌‌​‌‌‍‌​‌‌‌​‌​‍‌​‌‌‌​‌​ ‌​‌‌‌​‌‌‍‌​‌‌‌​‌​‍‌​‌‌‌​‌​
"These are indicators of an increase in the numbers of very sick and frail adults accessing emergency care. ‌​‌‌‌​‌‌‍‌​‌‌‌​‌​‍‌​‌‌‌​‌​ ‌​‌‌‌​‌‌‍‌​‌‌‌​‌​‍‌​‌‌‌​‌​
"We have set very ambitious targets for our NHS and we have seen improvements in several areas, as our NHS continues to meet the increased demand for care following the pandemic. ‌​‌‌‌​‌‌‍‌​‌‌‌​‌​‍‌​‌‌‌​‌​ ‌​‌‌‌​‌‌‍‌​‌‌‌​‌​‍‌​‌‌‌​‌​
"It is clear there is more to do in some areas, and I will expect to see progress following the improvements made and our additional investment." ‌​‌‌‌​‌‌‍‌​‌‌‌​‌​‍‌​‌‌‌​‌​ ‌​‌‌‌​‌‌‍‌​‌‌‌​‌​‍‌​‌‌‌​‌​
Spotted something? Got a story? Send a Facebook Message | A direct message on Twitter | Email: News@Deeside.com
---
Latest News
---