All you need to know about Sunday's Emergency alert system test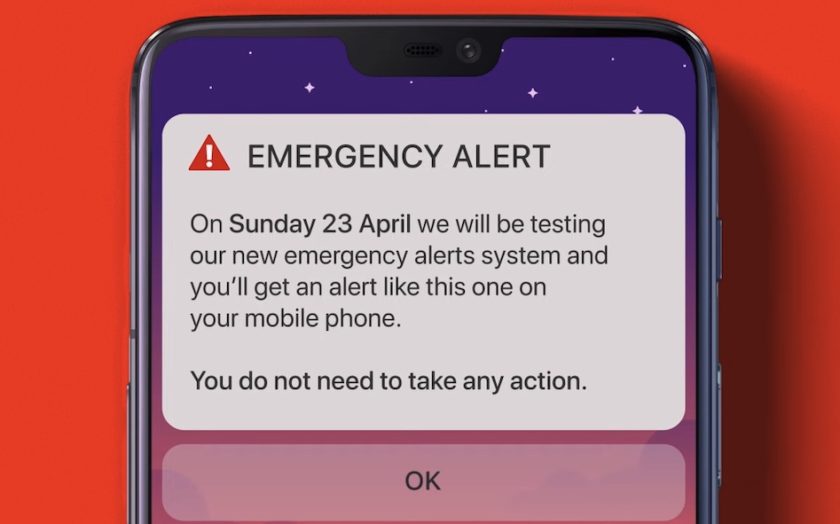 The UK Government will be conducting a three-month trial of its new Emergency Alerts system starting on Sunday, April 23rd. ‌​‌‌‌​‌‌‍‌​‌‌‌​‌​‍‌​‌‌‌​‌​
The trial will involve sending a National Test message to most mobile phones across the UK, including those in Wales. ‌​‌‌‌​‌‌‍‌​‌‌‌​‌​‍‌​‌‌‌​‌​
Similar systems are already in place in countries such as the US, Australia, France and Japan. ‌​‌‌‌​‌‌‍‌​‌‌‌​‌​‍‌​‌‌‌​‌​
The message, which will be sent at 3 PM, will create a loud, siren-like sound that will last for up to 10 seconds, even on phones that are in silent mode. ‌​‌‌‌​‌‌‍‌​‌‌‌​‌​‍‌​‌‌‌​‌​
The Emergency Alerts system will be used to warn people in the event of emergencies that pose a significant threat to life. ‌​‌‌‌​‌‌‍‌​‌‌‌​‌​‍‌​‌‌‌​‌​
According to a statement by Mark Drakeford MS, First Minister, "Wales will participate in the trial in relation to severe weather-related incidents." ‌​‌‌‌​‌‌‍‌​‌‌‌​‌​‍‌​‌‌‌​‌​
The Welsh Government says it is working to ensure the Welsh language is respected and that vulnerable audiences are aware of the test. ‌​‌‌‌​‌‌‍‌​‌‌‌​‌​‍‌​‌‌‌​‌​
Along with the loud sound, a message will appear on screen, providing details about the emergency and how to respond. ‌​‌‌‌​‌‌‍‌​‌‌‌​‌​‍‌​‌‌‌​‌​
Domestic violence charities have expressed concern that the message and loud alarm may alert abusers to secret phones that some people experiencing violence in the home may have hidden. ‌​‌‌‌​‌‌‍‌​‌‌‌​‌​‍‌​‌‌‌​‌​
To turn off the Emergency Alert system for Apple and Android phones, please see the below instructions.
---
Steps for Android users:
Go to the settings app of the Android device
Search for 'Emergency Alerts' using the search bar at the top of the screen
Click or tap on the first option that pops up
Once in the device's Emergency Alerts settings page, turn off Emergency Alerts by pressing all the toggle buttons (blue means on, grey means off)
Steps for Apple users:
Go to the settings app of the Apple device
Scroll down to find and click or tap on the 'Notifications' tab
Scroll all the way down again to find a dedicated section for Emergency Alerts
You will see 'Extreme Alerts' and 'Severe Alerts' buttons, but this sometimes varies depending on which iPhone or Apple device you are using.
To turn them off, press all the toggle buttons (blue means on, grey means off)
While these alerts can make a big difference in emergency situations, they also raise privacy concerns which might tempt some people to opt out from the messages. ‌​‌‌‌​‌‌‍‌​‌‌‌​‌​‍‌​‌‌‌​‌​
The system does not track locations, require pre-registration or phone numbers to operate, nor does it collect any personal data. ‌​‌‌‌​‌‌‍‌​‌‌‌​‌​‍‌​‌‌‌​‌​
Only the government and emergency services will be authorized to issue the alerts in accordance with agreed-upon protocols. ‌​‌‌‌​‌‌‍‌​‌‌‌​‌​‍‌​‌‌‌​‌​
The system will complement existing methods of warning and informing people during an emergency. ‌​‌‌‌​‌‌‍‌​‌‌‌​‌​‍‌​‌‌‌​‌​
If individuals do not have a mobile phone, they will be kept informed through other channels. ‌​‌‌‌​‌‌‍‌​‌‌‌​‌​‍‌​‌‌‌​‌​
National alert systems use cell broadcasting technology, which allows messages to be sent to all mobile devices within a defined area without knowing their phone numbers or locations. ‌​‌‌‌​‌‌‍‌​‌‌‌​‌​‍‌​‌‌‌​‌​
The Cabinet Office has stated that the service does not require any personal information such as someone's identity, location, or telephone number. ‌​‌‌‌​‌‌‍‌​‌‌‌​‌​‍‌​‌‌‌​‌​
Nonetheless, research shows that privacy issues can happen even when personal information is not collected. ‌​‌‌‌​‌‌‍‌​‌‌‌​‌​‍‌​‌‌‌​‌​
It's possible that hackers could intercept an emergency alert system if the alerts are not encrypted or authenticated properly, or if there are vulnerabilities in the devices or networks that receive them. ‌​‌‌‌​‌‌‍‌​‌‌‌​‌​‍‌​‌‌‌​‌​
Scammers could also use the opportunity to send false alerts to phones that include bogus links. The official alert won't include any links or requests to reply. ‌​‌‌‌​‌‌‍‌​‌‌‌​‌​‍‌​‌‌‌​‌​
Despite these concerns, the trial will provide valuable insights into how the system works in practice and how it can be improved. ‌​‌‌‌​‌‌‍‌​‌‌‌​‌​‍‌​‌‌‌​‌​
The Emergency Alerts system is an important step forward in public safety, and it has the potential to save lives during an emergency. ‌​‌‌‌​‌‌‍‌​‌‌‌​‌​‍‌​‌‌‌​‌​
Reasons you might get an alert
You may get alerts about: ‌​‌‌‌​‌‌‍‌​‌‌‌​‌​‍‌​‌‌‌​‌​
severe flooding
fires
extreme weather
Emergency alerts will only be sent by: ‌​‌‌‌​‌‌‍‌​‌‌‌​‌​‍‌​‌‌‌​‌​
the emergency services
government departments, agencies and public bodies that deal with emergencies
What happens when you get an emergency alert
Your mobile phone or tablet may: ‌​‌‌‌​‌‌‍‌​‌‌‌​‌​‍‌​‌‌‌​‌​
make a loud siren-like sound, even if it's set on silent
vibrate
read out the alert
The sound and vibration will last for about 10 seconds. ‌​‌‌‌​‌‌‍‌​‌‌‌​‌​‍‌​‌‌‌​‌​
An alert will include a phone number or a link to the GOV.UK website for more information. ‌​‌‌‌​‌‌‍‌​‌‌‌​‌​‍‌​‌‌‌​‌​
You'll get alerts based on your current location – not where you live or work. You do not need to turn on location services to receive alerts. ‌​‌‌‌​‌‌‍‌​‌‌‌​‌​‍‌​‌‌‌​‌​
When you get an alert, stop what you're doing and follow the instructions in the alert. ‌​‌‌‌​‌‌‍‌​‌‌‌​‌​‍‌​‌‌‌​‌​
If you're driving or riding when you get an alert
Do not read or respond to an emergency alert while driving or riding.
Find somewhere safe and legal to stop before reading the message. If there's nowhere safe and legal to stop, and nobody else is in the vehicle to read the alert, you can listen to news on live radio to find out about the emergency.
It's illegal to use a hand-held device while driving or riding.
If you cannot receive emergency alerts
If you do not have a compatible device, you'll still be informed about an emergency. The emergency services have other ways to warn you when there is a threat to life. ‌​‌‌‌​‌‌‍‌​‌‌‌​‌​‍‌​‌‌‌​‌​
Emergency alerts will not replace local news, radio, television or social media.
If you're deaf, hard of hearing, blind or partially sighted
If you have a vision or hearing impairment, audio and vibration attention signals will let you know you have an emergency alert. ‌​‌‌‌​‌‌‍‌​‌‌‌​‌​‍‌​‌‌‌​‌​
Alert languages
Emergency alerts will be sent in English. In Wales, they may also be sent in Welsh. ‌​‌‌‌​‌‌‍‌​‌‌‌​‌​‍‌​‌‌‌​‌​
Spotted something? Got a story? Send a Facebook Message | A direct message on Twitter | Email: News@Deeside.com
---
Latest News
---