NOTE: This content is old - Published: Monday, Apr 16th, 2018.
Alyn and Deeside MP Mark Tami has said the prime minister's decision to launch air strikes on Syria without recalling Parliament first was wrong.
British forces joined US and French allies in a precision strike during the early hours of Saturday morning on Syrian installations allegedly involved in the regime's use of chemical weapons against its own people.
According to the UK Government the strike was launched "as a response to the chemical weapon attack on 7 April in Douma which killed up to 75 people, including young children; a significant body of information, including intelligence, indicates that the Syrian regime was responsible for this latest attack."
Mark Tami MP said today: "The scenes of those affected by chemical poisoning in Douma were horrific. The use of chemical weapons has been outlawed since the Chemical Weapons Convention came into effect in 1997 – and rightfully so.
Parliament should have been consulted before the UK took military action, this has been the case ever since Iraq and I believe Theresa May was wrong to go ahead without recalling Parliament last week."
The Ministry of Defence said four RAF Tornado took off at 2am UK time of Saturday from RAF Akrotiri in Cyprus – they were supported by four RAF Typhoon.
The Tornados launched eight Storm Shadow missiles at the Him Sinshar chemical weapons storage site.
The MOD said the military facility was a former missile base, located some fifteen miles west of Homs, it is "where the regime is assessed to keep chemical weapon precursors stockpiled in breach of Syria's obligations under the Chemical Weapons Convention."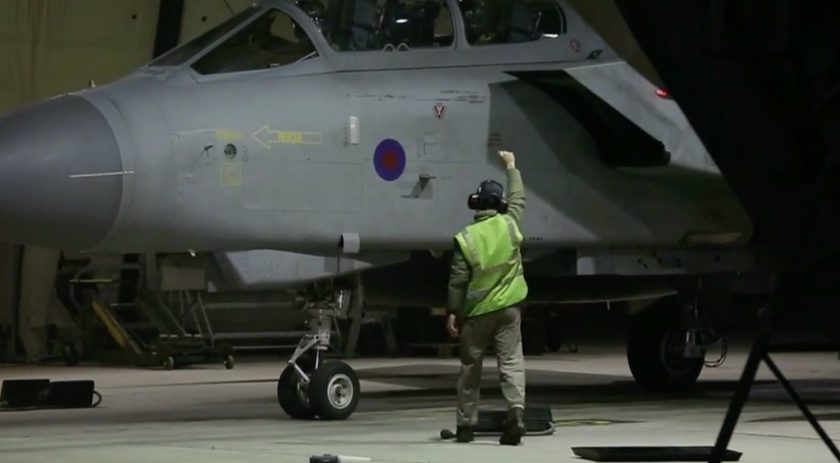 First minister Carwyn Jones said he spoke with Theresa May prior to the military action in Syria.
"I offered my support to any intervention that could prevent a further atrocity, but it is vital that any action forms part of a wider long-term plan for the region." He said.
"I have urged the Prime Minister to do all she can to avoid civilian casualties given the complicated picture on the ground in Syria, and she has given me assurances in that regard.
UK prime ministers do not legally need to consult Parliament before launching military action, although they have done so since the 2003 invasion of Iraq.
Number Ten published its legal case for the action saying there was "no practicable alternative to the use of force."
"The UK is permitted under international law, on an exceptional basis, to take measures in order to alleviate overwhelming humanitarian suffering."
Jeremy Corbyn has said the military action was "legally questionable" he also said Parliament should have been recalled.
Theresa May will give a Commons Statement this afternoon followed by  MPs' questions in what is likely to be a heated debate.