Thieves steal caravan from Flintshire village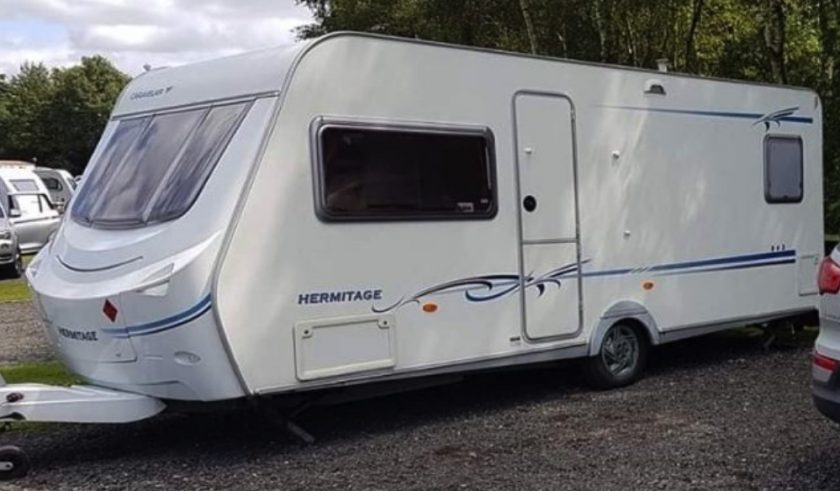 This article is old - Published: Monday, Mar 25th, 2019
A caravan has been stolen in broad daylight from an address in Lixwm near Holywell ‌​‌‌‌​‌‌‍‌​‌‌‌​‌​‍‌​‌‌‌​‌​
The French made Caravelair Hermitage is a relatively uncommon model in the UK. ‌​‌‌‌​‌‌‍‌​‌‌‌​‌​‍‌​‌‌‌​‌​
The caravan which has a distinctive blue stripe running along the side was stolen from Lixwm on Friday 23rd March between 4pm and 5.45 pm. ‌​‌‌‌​‌‌‍‌​‌‌‌​‌​‍‌​‌‌‌​‌​
According to OWL – The Online Watch Link ‌​‌‌‌​‌‌‍‌​‌‌‌​‌​‍‌​‌‌‌​‌​
There were "reports of a man of Irish descent, described as short stocky build with dark hair around 40 years of age, in the village on Wednesday asking for caravans for scrap." ‌​‌‌‌​‌‌‍‌​‌‌‌​‌​‍‌​‌‌‌​‌​
The OWL update states he was driving a "blue tipper truck." ‌​‌‌‌​‌‌‍‌​‌‌‌​‌​‍‌​‌‌‌​‌​
"If anyone in the area has CCTV in the area, please could you check as this may have caught the caravan been towed away." ‌​‌‌‌​‌‌‍‌​‌‌‌​‌​‍‌​‌‌‌​‌​
If you have any information that could assist police call 101 quoting OWL Cymru  19100128427 ‌​‌‌‌​‌‌‍‌​‌‌‌​‌​‍‌​‌‌‌​‌​
How to spot a stolen caravan.
The Camping and Caravan Club has compiled a list of things to look out for when identifying a stolen caravan: ‌​‌‌‌​‌‌‍‌​‌‌‌​‌​‍‌​‌‌‌​‌​
Tampering with the CRIS number
The CRiS number display is one of the most obvious signs of a stolen caravan. All caravans built since 1992 to the UK NCC specifications (and a number of imports that have more recently been built to such a specification) will have the CRiS number displayed on at least seven of the windows. ‌​‌‌‌​‌‌‍‌​‌‌‌​‌​‍‌​‌‌‌​‌​
This number should also be stamped in a variety of places into the chassis. ‌​‌‌‌​‌‌‍‌​‌‌‌​‌​‍‌​‌‌‌​‌​
Thieves know that this identifies the caravan so they will attempt to alter the number, or in some case remove it altogether. Look out for any damage where this number should be. ‌​‌‌‌​‌‌‍‌​‌‌‌​‌​‍‌​‌‌‌​‌​
If you can, always carry out a CRiS check before buying. To carry out a check call 020 3282 1000 and provide the full 17 digit identification number of the caravan. ‌​‌‌‌​‌‌‍‌​‌‌‌​‌​‍‌​‌‌‌​‌​
The check costs £14.95 but could save you thousands of pounds in the long run as it will confirm whether the caravan has been stolen, written off, or has outstanding finance left on it. ‌​‌‌‌​‌‌‍‌​‌‌‌​‌​‍‌​‌‌‌​‌​
Damage to the towing hitch
Damage to the towing hitch and assembly is often relatively easy to spot; a burned brake overrun rubber is an indicator that heat has been applied in the area, possibly to remove a hitchlock. Damage to the head itself often results in rusty areas on the hitch, which is another sign of interference. ‌​‌‌‌​‌‌‍‌​‌‌‌​‌​‍‌​‌‌‌​‌​
If a relatively new caravan has a hitch without a built in stabiliser then this could suggest that the hitch was damaged as a result of a criminal attack. A new stabiliser unit would cost around £250, while a pressed steel unit costs around £25. ‌​‌‌‌​‌‌‍‌​‌‌‌​‌​‍‌​‌‌‌​‌​
Do all the wheels match?
This is a very obvious indicator – do they all match or is there an odd one? Often a wheel is damaged during the theft process and with many caravans now being fitted with alloy wheels, a steel wheel on a caravan (particularly a twin axle when there is only one steel wheel) suggests something is amiss. ‌​‌‌‌​‌‌‍‌​‌‌‌​‌​‍‌​‌‌‌​‌​
Original documentation
When purchasing a new caravan, ensure the original registration document is given to you upon purchase and ask the seller for a written receipt to confirm ownership has transferred to you. ‌​‌‌‌​‌‌‍‌​‌‌‌​‌​‍‌​‌‌‌​‌​
The receipt should show the buyer's full name and address, the seller's full name and address, the make, model and 17 digit ID number of the caravan, the date, price paid, and should be signed by both parties. ‌​‌‌‌​‌‌‍‌​‌‌‌​‌​‍‌​‌‌‌​‌​
The caravanner will be on their own
Many people use their caravan as a base for work rather than incurring the upheaval of moving house for a job in a new location. ‌​‌‌‌​‌‌‍‌​‌‌‌​‌​‍‌​‌‌‌​‌​
Caravans these days are often single occupancy. ‌​‌‌‌​‌‌‍‌​‌‌‌​‌​‍‌​‌‌‌​‌​
The value of the caravan doesn't match that of the towing vehicle
Many towcars these days are extremely poor quality when compared to the smart and expensive caravan they are towing, often because they have purchased a new caravan on finance, so this does not indicate a stolen unit. ‌​‌‌‌​‌‌‍‌​‌‌‌​‌​‍‌​‌‌‌​‌​
Vehicle registration plates don't match
When out on the road it is often the case that vehicle plates do not match the towed trailer. ‌​‌‌‌​‌‌‍‌​‌‌‌​‌​‍‌​‌‌‌​‌​
‌​‌‌‌​‌‌‍‌​‌‌‌​‌​‍‌​‌‌‌​‌​
Spotted something? Got a story? Send a Facebook Message | A direct message on Twitter | Email: News@Deeside.com
---
Latest News
---