Nurses in Wales call off strike action after enhanced pay offer made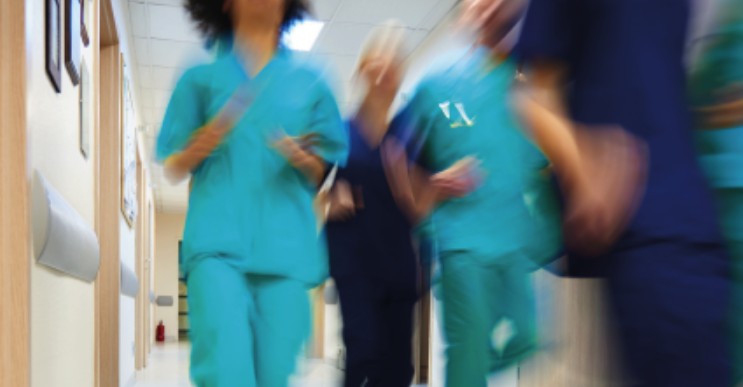 The Royal College of Nursing (RCN) has cancelled the planned strikes in Wales, which were scheduled for Monday and Tuesday, following a new pay offer from the Welsh government. ‌​‌‌‌​‌‌‍‌​‌‌‌​‌​‍‌​‌‌‌​‌​
The strikes were to protest the low wages and poor working conditions faced by nurses in the country. ‌​‌‌‌​‌‌‍‌​‌‌‌​‌​‍‌​‌‌‌​‌​
According to a Welsh government spokesperson, an enhanced pay offer has been made to health trade unions and it is hoped that the planned strikes will be postponed, allowing trade unions to discuss the proposals with their members. ‌​‌‌‌​‌‌‍‌​‌‌‌​‌​‍‌​‌‌‌​‌​
The revised pay offer includes an additional 3% on top of the Pay Review Body recommendations, which have already been implemented in full. ‌​‌‌‌​‌‌‍‌​‌‌‌​‌​‍‌​‌‌‌​‌​
The offer will be backdated to April 2022 and will include a number of non-pay commitments to enhance staff well-being. ‌​‌‌‌​‌‌‍‌​‌‌‌​‌​‍‌​‌‌‌​‌​
"We are pleased to announce that an enhanced pay offer has been made to our health trade unions," said a Welsh government spokesperson. ‌​‌‌‌​‌‌‍‌​‌‌‌​‌​‍‌​‌‌‌​‌​
"This revised pay offer comprises an additional 3%, of which 1.5% is consolidated so will be in pay packets year-on-year." ‌​‌‌‌​‌‌‍‌​‌‌‌​‌​‍‌​‌‌‌​‌​
"Whilst there is currently no improved pay offer on the table for NHS staff in England, it was also agreed that any resulting Barnett consequential following any improved offer to staff in England would result in a further pay offer to staff in Wales." ‌​‌‌‌​‌‌‍‌​‌‌‌​‌​‍‌​‌‌‌​‌​
RCN Wales Director, Helen Whyley, said: "Our strike action in December has clearly been effective as the Welsh Government has listened to the issues facing nursing in Wales and put forward an increased offer for nurses pay back dated to April 2022 and thus avoided the strikes planned for next week." ‌​‌‌‌​‌‌‍‌​‌‌‌​‌​‍‌​‌‌‌​‌​
"Industrial action continues to be a last resort for nurses, and I have heard their stories of the personal sacrifice they make every day fighting for safe care for their patients that pushed them to vote for strike action." ‌​‌‌‌​‌‌‍‌​‌‌‌​‌​‍‌​‌‌‌​‌​
"The pressure put on the Welsh government by our members has been key to these negotiations moving forward." ‌​‌‌‌​‌‌‍‌​‌‌‌​‌​‍‌​‌‌‌​‌​
"Our elected members have agreed that strike action next week should be cancelled and that we should put forward this offer to our members in Wales for them to decide whether it truly respects and values the nursing profession. " ‌​‌‌‌​‌‌‍‌​‌‌‌​‌​‍‌​‌‌‌​‌​
"The Health Minister should be under no illusion that we will not hesitate to return to strike action should the offer be rejected." ‌​‌‌‌​‌‌‍‌​‌‌‌​‌​‍‌​‌‌‌​‌​
"Our colleagues in England will go ahead with planned strike action on the 6 and 7 February as no further discussions have been offered by the Westminster government." ‌​‌‌‌​‌‌‍‌​‌‌‌​‌​‍‌​‌‌‌​‌​
Director of the Welsh NHS Confederation Darren Hughes said: ‌​‌‌‌​‌‌‍‌​‌‌‌​‌​‍‌​‌‌‌​‌​
"NHS leaders will welcome the news of an enhanced pay offer from Welsh Government to health trade unions ahead of next week's planned industrial action, at a time of extraordinary pressures on the service. ‌​‌‌‌​‌‌‍‌​‌‌‌​‌​‍‌​‌‌‌​‌​
"We acknowledge how difficult things are for the Welsh and UK Governments in the current economic climate but also for NHS frontline workers who give their all day in, day out to care for the people of Wales. ‌​‌‌‌​‌‌‍‌​‌‌‌​‌​‍‌​‌‌‌​‌​
"We're thankful all parties are working in social partnership and urge them to seize every opportunity to make strides forward in coming to a resolution, for the sake of staff and patients." ‌​‌‌‌​‌‌‍‌​‌‌‌​‌​‍‌​‌‌‌​‌​
Spotted something? Got a story? Send a Facebook Message | A direct message on Twitter | Email: News@Deeside.com
---
Latest News
---