New volunteers needed in Flint to help RNLI save lives at sea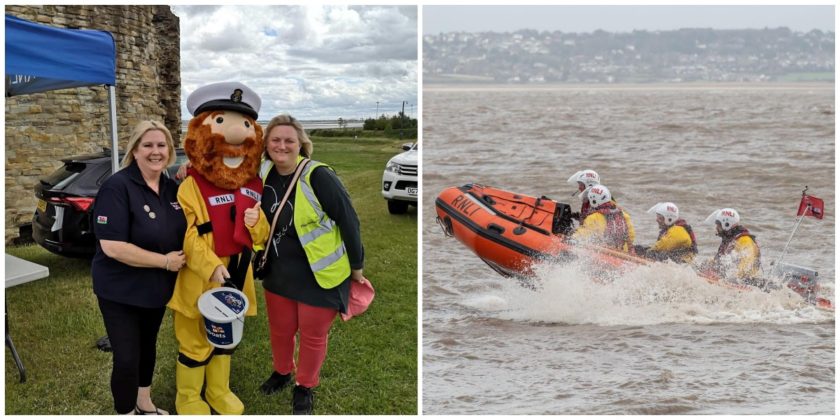 The RNLI is appealing for new fundraising volunteers to join its lifesaving lifeboat crew at the Flint branch. ‌​‌‌‌​‌‌‍‌​‌‌‌​‌​‍‌​‌‌‌​‌​
The charity's fundraising team relies on dedicated volunteer crew members who make up 95% of its personnel, and who are essential to its lifesaving efforts. ‌​‌‌‌​‌‌‍‌​‌‌‌​‌​‍‌​‌‌‌​‌​
People who give their time in support of the RNLI can make a big difference in helping the organisation continue to save lives at sea. ‌​‌‌‌​‌‌‍‌​‌‌‌​‌​‍‌​‌‌‌​‌​
Samantha Morton-Roberts, the fundraising secretary of Flint RNLI, has volunteered for a range of events, including the station's popular dog show and 999 days. ‌​‌‌‌​‌‌‍‌​‌‌‌​‌​‍‌​‌‌‌​‌​
"From the moment I arrived at the station, I couldn't have been made more welcome." ‌​‌‌‌​‌‌‍‌​‌‌‌​‌​‍‌​‌‌‌​‌​
"The station manager tossed me a t-shirt and I was sent with another volunteer to run the raffle stall." ‌​‌‌‌​‌‌‍‌​‌‌‌​‌​‍‌​‌‌‌​‌​
Samantha said: "The feeling of family was instant and I had never laughed so much." ‌​‌‌‌​‌‌‍‌​‌‌‌​‌​‍‌​‌‌‌​‌​
"Meeting new people and hearing stories of how the crew had helped them or a family member was fantastic." ‌​‌‌‌​‌‌‍‌​‌‌‌​‌​‍‌​‌‌‌​‌​
Sam's son James is a full-time RNLI employee helping ensure the lifeboats around the Wales, West and Isle of Man region are ready to answer emergency calls. ‌​‌‌‌​‌‌‍‌​‌‌‌​‌​‍‌​‌‌‌​‌​
He is also helm at Flint Lifeboat Station and wife Aby is shore crew. ‌​‌‌‌​‌‌‍‌​‌‌‌​‌​‍‌​‌‌‌​‌​
Samantha adds: "Fundraising for the RNLI has given me so much." ‌​‌‌‌​‌‌‍‌​‌‌‌​‌​‍‌​‌‌‌​‌​
"I have nothing but true admiration for the volunteer crew, putting their lives on hold as soon as the pager goes off to rush to save a stranger's life and get them home safe to their family." ‌​‌‌‌​‌‌‍‌​‌‌‌​‌​‍‌​‌‌‌​‌​
"It has given me a second family, a fantastic social scene, it has taught me new skills and made me a part of the local community." ‌​‌‌‌​‌‌‍‌​‌‌‌​‌​‍‌​‌‌‌​‌​
"You can't compare the feeling of knowing that every penny you raise is going towards saving someone's life and you are an integral part of the team to achieve this." ‌​‌‌‌​‌‌‍‌​‌‌‌​‌​‍‌​‌‌‌​‌​
"I would thoroughly recommend volunteering with the RNLI either as crew or fundraising. Being part of one crew couldn't be better, knowing that your efforts help save lives at sea." ‌​‌‌‌​‌‌‍‌​‌‌‌​‌​‍‌​‌‌‌​‌​
Nick Evans, RNLI Fundraising Partnership Lead, emphasises the importance of fundraising volunteers in the charity's operations. ‌​‌‌‌​‌‌‍‌​‌‌‌​‌​‍‌​‌‌‌​‌​
Without the support of volunteers, who organize activities and events to raise essential funds, the RNLI would not be able to operate effectively. ‌​‌‌‌​‌‌‍‌​‌‌‌​‌​‍‌​‌‌‌​‌​
The charity is now seeking to expand its team of fundraising volunteers and is encouraging anyone interested in joining a motivated and enthusiastic team to apply. ‌​‌‌‌​‌‌‍‌​‌‌‌​‌​‍‌​‌‌‌​‌​
The RNLI will provide training and support to enable volunteers to carry out their chosen role effectively. ‌​‌‌‌​‌‌‍‌​‌‌‌​‌​‍‌​‌‌‌​‌​
"We now really need to bolster that support and grow our volunteer fundraising crew." He said. ‌​‌‌‌​‌‌‍‌​‌‌‌​‌​‍‌​‌‌‌​‌​
"If you like to have fun, enjoy meeting new people and want to join a motivated and enthusiastic team, we encourage you to find out more and apply. You will learn new skills, gain experience and have the rewarding satisfaction of giving back." ‌​‌‌‌​‌‌‍‌​‌‌‌​‌​‍‌​‌‌‌​‌​
"The RNLI will also provide all the necessary training and support so you can carry out your chosen role effectively." ‌​‌‌‌​‌‌‍‌​‌‌‌​‌​‍‌​‌‌‌​‌​
To find out more about how you can sign up to be a fundraising volunteer at the RNLI, or to apply, click on this link rnli.org/OneCrewVolunteers ‌​‌‌‌​‌‌‍‌​‌‌‌​‌​‍‌​‌‌‌​‌​
Spotted something? Got a story? Send a Facebook Message | A direct message on Twitter | Email: News@Deeside.com
---
Latest News
---