New high-tech additions to Welsh Ambulance Service fleet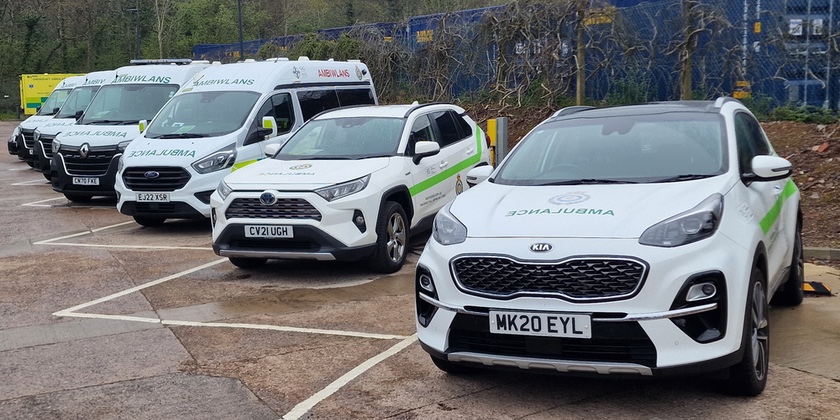 The Welsh Ambulance Service has unveiled a new high-tech fleet which aims to improve the experience of those on board. ‌​‌‌‌​‌‌‍‌​‌‌‌​‌​‍‌​‌‌‌​‌​ ‌​‌‌‌​‌‌‍‌​‌‌‌​‌​‍‌​‌‌‌​‌​
The vehicles will be used by the Trust's Non-Emergency Patient Transport Service, which takes people to and from their routine hospital appointments and discharges people home after a stay in hospital. ‌​‌‌‌​‌‌‍‌​‌‌‌​‌​‍‌​‌‌‌​‌​ ‌​‌‌‌​‌‌‍‌​‌‌‌​‌​‍‌​‌‌‌​‌​
Features include USB ports, patient call buttons and entertainment systems to improve the experience of those on board. ‌​‌‌‌​‌‌‍‌​‌‌‌​‌​‍‌​‌‌‌​‌​ ‌​‌‌‌​‌‌‍‌​‌‌‌​‌​‍‌​‌‌‌​‌​
New handrails make it easier for patients to get on and off the vehicle, and new tail lifts mean crews no longer need to push patients up a ramp, reducing the risk of injury. ‌​‌‌‌​‌‌‍‌​‌‌‌​‌​‍‌​‌‌‌​‌​ ‌​‌‌‌​‌‌‍‌​‌‌‌​‌​‍‌​‌‌‌​‌​
‌​‌‌‌​‌‌‍‌​‌‌‌​‌​‍‌​‌‌‌​‌​ ‌​‌‌‌​‌‌‍‌​‌‌‌​‌​‍‌​‌‌‌​‌​
The vehicles also include dementia-friendly flooring, blinds and colour schemes, while improved safety features like seatbelt warning systems, CCTV and driver assistance systems now come as standard. ‌​‌‌‌​‌‌‍‌​‌‌‌​‌​‍‌​‌‌‌​‌​ ‌​‌‌‌​‌‌‍‌​‌‌‌​‌​‍‌​‌‌‌​‌​
Mark Harris, the Trust's Assistant Director of Ambulance Care, said: "The non-emergency arm of our service is all about transporting people to and from their appointments, so having the best possible vehicles is really important to delivering that service. ‌​‌‌‌​‌‌‍‌​‌‌‌​‌​‍‌​‌‌‌​‌​ ‌​‌‌‌​‌‌‍‌​‌‌‌​‌​‍‌​‌‌‌​‌​
"We're immensely proud of the new additions to our fleet, which are the result of a fantastic collaboration of colleagues from across the business, including Fleet, Finance, Operations and Trade Union partners. ‌​‌‌‌​‌‌‍‌​‌‌‌​‌​‍‌​‌‌‌​‌​ ‌​‌‌‌​‌‌‍‌​‌‌‌​‌​‍‌​‌‌‌​‌​
"Not only will the new vehicles improve the experience of our staff and patients, but they're helping to support our decarbonisation agenda by driving down CO2 emissions." ‌​‌‌‌​‌‌‍‌​‌‌‌​‌​‍‌​‌‌‌​‌​ ‌​‌‌‌​‌‌‍‌​‌‌‌​‌​‍‌​‌‌‌​‌​
Among the new additions is a Toyota RAV4 self-charging hybrid car, a custom Ford Transit small ambulance and two refreshed Renault Masters to cater for wheelchair users and patients requiring a stretcher. ‌​‌‌‌​‌‌‍‌​‌‌‌​‌​‍‌​‌‌‌​‌​ ‌​‌‌‌​‌‌‍‌​‌‌‌​‌​‍‌​‌‌‌​‌​
The majority of vehicles are speed-limited to improve fuel consumption, and almost all vehicles in the 270-strong non-emergency fleet have been installed with solar panels to minimise the need for mains charging. ‌​‌‌‌​‌‌‍‌​‌‌‌​‌​‍‌​‌‌‌​‌​ ‌​‌‌‌​‌‌‍‌​‌‌‌​‌​‍‌​‌‌‌​‌​
‌​‌‌‌​‌‌‍‌​‌‌‌​‌​‍‌​‌‌‌​‌​ ‌​‌‌‌​‌‌‍‌​‌‌‌​‌​‍‌​‌‌‌​‌​
David Holmes, Fleet Manager, said: "Modern ambulance vehicles are essential in order that we can continue to provide the best possible experience for our patients. ‌​‌‌‌​‌‌‍‌​‌‌‌​‌​‍‌​‌‌‌​‌​ ‌​‌‌‌​‌‌‍‌​‌‌‌​‌​‍‌​‌‌‌​‌​
"They're also important for staff who can spend hours at a time during the course of a shift operating and driving in these vehicles. ‌​‌‌‌​‌‌‍‌​‌‌‌​‌​‍‌​‌‌‌​‌​ ‌​‌‌‌​‌‌‍‌​‌‌‌​‌​‍‌​‌‌‌​‌​
"These vehicles make for an exciting addition to our expanding fleet, and we look forward to rolling them out across Wales." ‌​‌‌‌​‌‌‍‌​‌‌‌​‌​‍‌​‌‌‌​‌​ ‌​‌‌‌​‌‌‍‌​‌‌‌​‌​‍‌​‌‌‌​‌​
Chris Turley, Executive Director for Finance and Corporate Resources, added: "The modernisation of our fleet is a piece of work which never stops. ‌​‌‌‌​‌‌‍‌​‌‌‌​‌​‍‌​‌‌‌​‌​ ‌​‌‌‌​‌‌‍‌​‌‌‌​‌​‍‌​‌‌‌​‌​
"The new features of these vehicles are without a doubt impressive, but what's as important to us is their improved efficiency. ‌​‌‌‌​‌‌‍‌​‌‌‌​‌​‍‌​‌‌‌​‌​ ‌​‌‌‌​‌‌‍‌​‌‌‌​‌​‍‌​‌‌‌​‌​
"As Wales' national ambulance service spread over an area of 8,000 square miles, lowering our emissions and reducing our carbon footprint is something we're very committed to. ‌​‌‌‌​‌‌‍‌​‌‌‌​‌​‍‌​‌‌‌​‌​ ‌​‌‌‌​‌‌‍‌​‌‌‌​‌​‍‌​‌‌‌​‌​
"With demand on our service increasing year-on-year, it's more important than ever to have a fleet which literally keeps the wheels turning on our ambulance service." ‌​‌‌‌​‌‌‍‌​‌‌‌​‌​‍‌​‌‌‌​‌​ ‌​‌‌‌​‌‌‍‌​‌‌‌​‌​‍‌​‌‌‌​‌​
Spotted something? Got a story? Send a Facebook Message | A direct message on Twitter | Email: News@Deeside.com
---
Latest News
---