Natural Resources Wales clears blue green algae fears on North Wales coast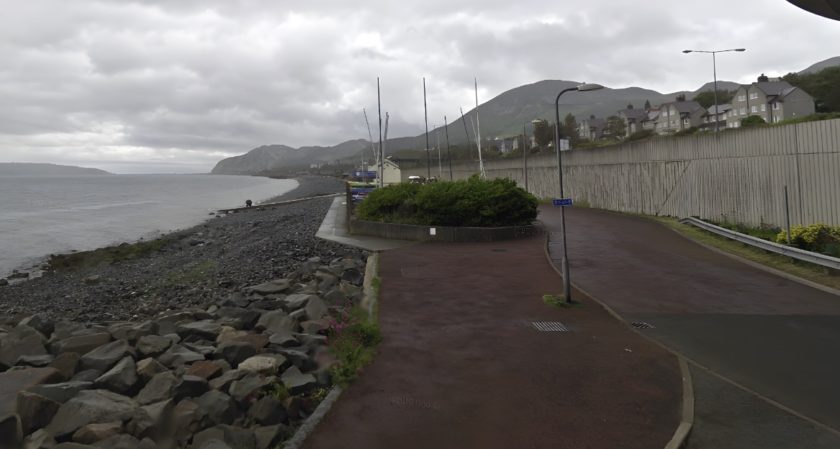 Natural Resources Wales (NRW) has revealed that no signs of harmful blue-green algae were found in an area of the North Wales Coast, despite initial concerns linked to the sudden death of a dog. ‌​‌‌‌​‌‌‍‌​‌‌‌​‌​‍‌​‌‌‌​‌​ ‌​‌‌‌​‌‌‍‌​‌‌‌​‌​‍‌​‌‌‌​‌​
On Sunday NRW issued a public warning following the incident at Penmaen Park, near Penmaenmawr Sailing Club, in Conwy County Borough. ‌​‌‌‌​‌‌‍‌​‌‌‌​‌​‍‌​‌‌‌​‌​ ‌​‌‌‌​‌‌‍‌​‌‌‌​‌​‍‌​‌‌‌​‌​
The dog's sudden collapse was suspected to be due to toxic blue-green algae, also known as cyanobacteria, which can produce harmful toxins under favourable environmental conditions. ‌​‌‌‌​‌‌‍‌​‌‌‌​‌​‍‌​‌‌‌​‌​ ‌​‌‌‌​‌‌‍‌​‌‌‌​‌​‍‌​‌‌‌​‌​
In a statement shortly after the incident, an NRW spokesperson urged the public to avoid the water and keep pets at a safe distance. ‌​‌‌‌​‌‌‍‌​‌‌‌​‌​‍‌​‌‌‌​‌​ ‌​‌‌‌​‌‌‍‌​‌‌‌​‌​‍‌​‌‌‌​‌​
"We've received a report of possible blue-green algae in rock pools around Penmaen Park near Penmaenmawr Sailing Club. Sadly, a dog has collapsed and died due to suspected algae poisoning. If you're in the area, please keep yourselves and pets away from the water," the spokesperson said. ‌​‌‌‌​‌‌‍‌​‌‌‌​‌​‍‌​‌‌‌​‌​ ‌​‌‌‌​‌‌‍‌​‌‌‌​‌​‍‌​‌‌‌​‌​
However, following an intensive investigation, NRW has now confirmed that no evidence of algal blooms were found in the area. ‌​‌‌‌​‌‌‍‌​‌‌‌​‌​‍‌​‌‌‌​‌​
Despite this, they continue to advise pet owners to keep animals away from any stagnant water and obvious algal growth or accumulation as a precaution. ‌​‌‌‌​‌‌‍‌​‌‌‌​‌​‍‌​‌‌‌​‌​ ‌​‌‌‌​‌‌‍‌​‌‌‌​‌​‍‌​‌‌‌​‌​
NRW emphasises the importance of public vigilance is encouraging members of the public to contact their 24-hour incident line on 03000 65 3000 if they observe any concerning environmental or pollution situations. ‌​‌‌‌​‌‌‍‌​‌‌‌​‌​‍‌​‌‌‌​‌​ ‌​‌‌‌​‌‌‍‌​‌‌‌​‌​‍‌​‌‌‌​‌​
Blue-green algae, also known as cyanobacteria, are microscopic organisms found in freshwater lakes, ponds, and stagnant water bodies. ‌​‌‌‌​‌‌‍‌​‌‌‌​‌​‍‌​‌‌‌​‌​ ‌​‌‌‌​‌‌‍‌​‌‌‌​‌​‍‌​‌‌‌​‌​
When environmental conditions are favourable, such as warm temperatures and abundant nutrients, these organisms can rapidly multiply, forming what's called an algal bloom. ‌​‌‌‌​‌‌‍‌​‌‌‌​‌​‍‌​‌‌‌​‌​ ‌​‌‌‌​‌‌‍‌​‌‌‌​‌​‍‌​‌‌‌​‌​
Some species of blue-green algae produce toxins, which can be harmful to animals and humans. ‌​‌‌‌​‌‌‍‌​‌‌‌​‌​‍‌​‌‌‌​‌​ ‌​‌‌‌​‌‌‍‌​‌‌‌​‌​‍‌​‌‌‌​‌​
Blue-green algae pose a particular threat to dogs because they are attracted to the water and may drink from contaminated sources or ingest algae by licking their fur after swimming. ‌​‌‌‌​‌‌‍‌​‌‌‌​‌​‍‌​‌‌‌​‌​ ‌​‌‌‌​‌‌‍‌​‌‌‌​‌​‍‌​‌‌‌​‌​
It can cause serious health problems, including liver damage, neurological issues, vomiting, and death. ‌​‌‌‌​‌‌‍‌​‌‌‌​‌​‍‌​‌‌‌​‌​ ‌​‌‌‌​‌‌‍‌​‌‌‌​‌​‍‌​‌‌‌​‌​
Dog owners should be aware of the following regarding blue-green algae: ‌​‌‌‌​‌‌‍‌​‌‌‌​‌​‍‌​‌‌‌​‌​ ‌​‌‌‌​‌‌‍‌​‌‌‌​‌​‍‌​‌‌‌​‌​
Know the signs: Algal blooms can appear as blue-green scum or a paint-like slick on the water's surface. However, not all blooms are visible, and toxins can still be present even if the water appears clear. ‌​‌‌‌​‌‌‍‌​‌‌‌​‌​‍‌​‌‌‌​‌​ ‌​‌‌‌​‌‌‍‌​‌‌‌​‌​‍‌​‌‌‌​‌​
Avoid exposure: Prevent your dog from entering or drinking from water bodies with visible algal blooms or where blue-green algae warnings have been issued. Keep your dog on a leash near potentially contaminated water. ‌​‌‌‌​‌‌‍‌​‌‌‌​‌​‍‌​‌‌‌​‌​ ‌​‌‌‌​‌‌‍‌​‌‌‌​‌​‍‌​‌‌‌​‌​
Rinse your dog: If your dog has swum in a potentially contaminated water source, thoroughly rinse their fur with clean water to remove any algae residue. ‌​‌‌‌​‌‌‍‌​‌‌‌​‌​‍‌​‌‌‌​‌​ ‌​‌‌‌​‌‌‍‌​‌‌‌​‌​‍‌​‌‌‌​‌​
If you suspect your dog has ingested blue-green algae: ‌​‌‌‌​‌‌‍‌​‌‌‌​‌​‍‌​‌‌‌​‌​ ‌​‌‌‌​‌‌‍‌​‌‌‌​‌​‍‌​‌‌‌​‌​
Seek immediate veterinary attention. Time is crucial, as prompt treatment can make a significant difference in your dog's prognosis. ‌​‌‌‌​‌‌‍‌​‌‌‌​‌​‍‌​‌‌‌​‌​ ‌​‌‌‌​‌‌‍‌​‌‌‌​‌​‍‌​‌‌‌​‌​
Do not induce vomiting unless specifically instructed to do so by your veterinarian. ‌​‌‌‌​‌‌‍‌​‌‌‌​‌​‍‌​‌‌‌​‌​ ‌​‌‌‌​‌‌‍‌​‌‌‌​‌​‍‌​‌‌‌​‌​
Inform the veterinarian about the possible exposure to blue-green algae, as this will help guide their diagnosis and treatment plan. ‌​‌‌‌​‌‌‍‌​‌‌‌​‌​‍‌​‌‌‌​‌​ ‌​‌‌‌​‌‌‍‌​‌‌‌​‌​‍‌​‌‌‌​‌​
‌​‌‌‌​‌‌‍‌​‌‌‌​‌​‍‌​‌‌‌​‌​ ‌​‌‌‌​‌‌‍‌​‌‌‌​‌​‍‌​‌‌‌​‌​
Spotted something? Got a story? Send a Facebook Message | A direct message on Twitter | Email: News@Deeside.com
---
Latest News
---