Lockdown easing: Hairdressers and barbers in Wales can start to reopen from today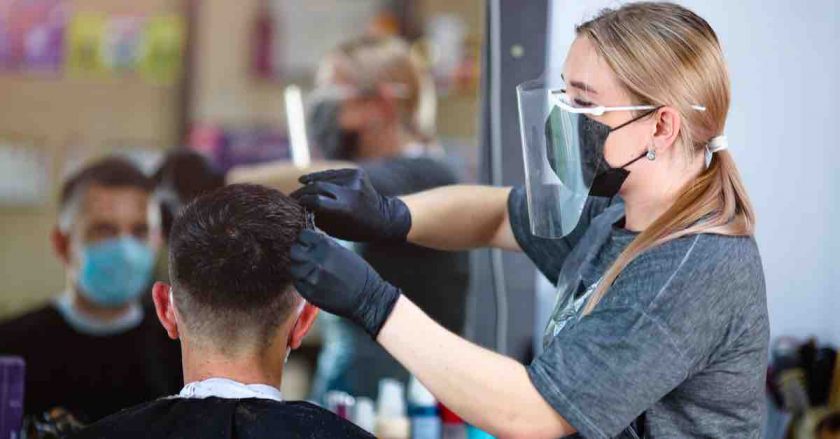 This article is old - Published: Monday, Mar 15th, 2021
Hairdressers and barbers in Wales can start to reopen their doors to customers from today after almost three months of being closed. ‌​‌‌‌​‌‌‍‌​‌‌‌​‌​‍‌​‌‌‌​‌​
As part of most review into the coronavirus restrictions, First Minister Mark Drakeford confirmed on Friday that hairdressers and barbers can start to reopen strictly on an appointment only basis. ‌​‌‌‌​‌‌‍‌​‌‌‌​‌​‍‌​‌‌‌​‌​
Services such as cutting and, removing facial hair including shaving, outlining detailing, waxing, plucking and threading, are not included in the guidelines released over the weekend for the industry. ‌​‌‌‌​‌‌‍‌​‌‌‌​‌​‍‌​‌‌‌​‌​
The remainder of primary school pupils – along with some secondary school learners – can also start to return to the classroom from this week. ‌​‌‌‌​‌‌‍‌​‌‌‌​‌​‍‌​‌‌‌​‌​
However despite many non-essential retail businesses locally and across Wales preparing to reopen from today, Mr Drakeford confirmed on Friday that the earliest that this can take place will on April 12 – inline with changes in England. ‌​‌‌‌​‌‌‍‌​‌‌‌​‌​‍‌​‌‌‌​‌​
From 22 March non-essential retail will start re-opening gradually as the restrictions are lifted on what can be sold in shops which are currently open. Garden centres will also be able to open. ‌​‌‌‌​‌‌‍‌​‌‌‌​‌​‍‌​‌‌‌​‌​
The Welsh Government has come under fire from opposition parties, with Plaid Cymru Leader Adam Price MS stating that "false hope" has been given to those not allowed to open. ‌​‌‌‌​‌‌‍‌​‌‌‌​‌​‍‌​‌‌‌​‌​
He said: "We all want the rules to be relaxed but what we want even more is for this to be the last lockdown, and to avoid another wave and further deaths in a few months. ‌​‌‌‌​‌‌‍‌​‌‌‌​‌​‍‌​‌‌‌​‌​
"The Welsh Government has not given those businesses allowed to open on Monday sufficient warning whilst giving false hope to those not allowed to open. ‌​‌‌‌​‌‌‍‌​‌‌‌​‌​‍‌​‌‌‌​‌​
"Clear and consistent communication from ministers is essential to ensure adherence to the rules. If we all play our part, we look forward to greater freedoms when case rates allow." ‌​‌‌‌​‌‌‍‌​‌‌‌​‌​‍‌​‌‌‌​‌​
Welsh Conservative Senedd leader, Andrew RT Davies MS, said that Friday's news had "badly let down" non-essential retail in Wales. ‌​‌‌‌​‌‌‍‌​‌‌‌​‌​‍‌​‌‌‌​‌​
The retail sector has also reacted to the news with mixed emotions. ‌​‌‌‌​‌‌‍‌​‌‌‌​‌​‍‌​‌‌‌​‌​
Speaking on Friday, Sara Jones, Head of the Welsh Retail Consortium, said businesses would welcome news of a firm date for the re-opening of non-essential stores, albeit later than anticipated. ‌​‌‌‌​‌‌‍‌​‌‌‌​‌​‍‌​‌‌‌​‌​
However, she said: "Welsh retailers, already under immense pressure, will now creak under even greater strain. ‌​‌‌‌​‌‌‍‌​‌‌‌​‌​‍‌​‌‌‌​‌​
"Should the First Minister indeed delay their re-opening when making his statement today we remain perplexed as to why shops, where customers are transient and are not spending dwell time, are unable to re-open when close contact services will be permitted to re-open. ‌​‌‌‌​‌‌‍‌​‌‌‌​‌​‍‌​‌‌‌​‌​
"We also ask why, when incidence is so low, that non-essential retail must remain shut. ‌​‌‌‌​‌‌‍‌​‌‌‌​‌​‍‌​‌‌‌​‌​
"Our industry is committed to the safety of our staff, customers, and the public at large and retailers have led the way and invested hundreds of millions of pounds on safety measures to ensure stores are Covid-secure. ‌​‌‌‌​‌‌‍‌​‌‌‌​‌​‍‌​‌‌‌​‌​
"We continue to seek the public health evidence which suggests shops should remain shut." ‌​‌‌‌​‌‌‍‌​‌‌‌​‌​‍‌​‌‌‌​‌​
A week ago our sister site Wrexham.com asked the Health Minister Vaughan Gething about possible reopening of business today (Monday 15th) after observing a lot of local activity taking place across a range of sectors in expectation of an announcement. ‌​‌‌‌​‌‌‍‌​‌‌‌​‌​‍‌​‌‌‌​‌​
Asked if he was comfortable that all sectors are aware of what the review entails, that they have been signalled to appropriately, and there won't be a situation today that businesses will be ready and expecting to open, but can't. ‌​‌‌‌​‌‌‍‌​‌‌‌​‌​‍‌​‌‌‌​‌​
Last week he brushed off the concerns, saying at the time: ‌​‌‌‌​‌‌‍‌​‌‌‌​‌​‍‌​‌‌‌​‌​
"I'd say two things. The first is that we have had regular conversations with sector wide bodies to talk about what might be possible, to talk about the time that they would need to get ready to reopen as well because for some sectors it's longer than others. ‌​‌‌‌​‌‌‍‌​‌‌‌​‌​‍‌​‌‌‌​‌​

"We've tried to be as open as we can do about that. ‌​‌‌‌​‌‌‍‌​‌‌‌​‌​‍‌​‌‌‌​‌​

"This comes to my second point, that in that openness, we can't give absolute cast iron guarantees. ‌​‌‌‌​‌‌‍‌​‌‌‌​‌​‍‌​‌‌‌​‌​

"Because if in the figures that we see today or tomorrow we see a spike in different areas and different activity that may cause us to re-consider and think about what we're doing. ‌​‌‌‌​‌‌‍‌​‌‌‌​‌​‍‌​‌‌‌​‌​

"Now I said the first minister is going to be able to give more certainty on Friday, because actually the public health position is improving week-on-week over the whole of the country. ‌​‌‌‌​‌‌‍‌​‌‌‌​‌​‍‌​‌‌‌​‌​

"But if in three or four weeks time we were seeing a different position, we may need to reconsider some of the advanced signals that we hope to be able to give about the next phase coming out of lockdown. ‌​‌‌‌​‌‌‍‌​‌‌‌​‌​‍‌​‌‌‌​‌​

"So yes, I think we do have regular engagement with those different sectors that we're looking to be able to reopen, and to reopen safely. But it's also the case that you can't say that we'll never have to retreat or to put the brakes on. ‌​‌‌‌​‌‌‍‌​‌‌‌​‌​‍‌​‌‌‌​‌​

"But really, as I said, repeatedly it is about the choices we're all making to want to recover more freedom but to keep it and not to have to go backwards." ‌​‌‌‌​‌‌‍‌​‌‌‌​‌​‍‌​‌‌‌​‌​
‌​‌‌‌​‌‌‍‌​‌‌‌​‌​‍‌​‌‌‌​‌​
Friday's announcement also included a further £150m support via rates system for businesses that remain closed – you can read more about that here. ‌​‌‌‌​‌‌‍‌​‌‌‌​‌​‍‌​‌‌‌​‌​
Spotted something? Got a story? Send a Facebook Message | A direct message on Twitter | Email: News@Deeside.com
---
Latest News
---