80 schools in Flintshire closed today due to weather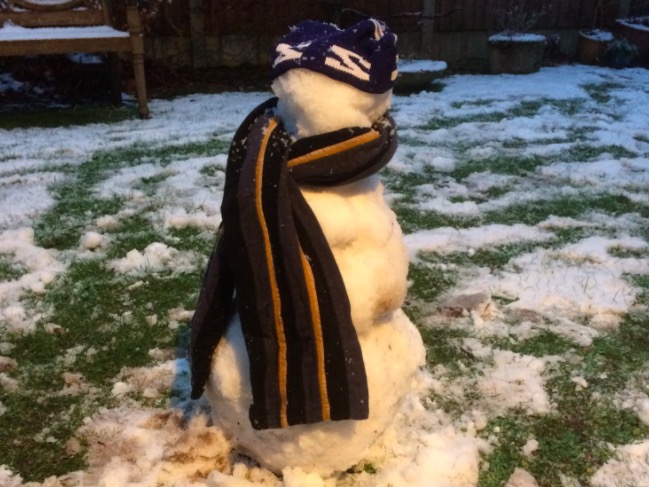 This article is old - Published: Sunday, Dec 10th, 2017
Monday morning's forecast has temperatures dropping to -4C at 7am and staying under -2C through to 9am.
No snowfall is predicted today, however there is a yellow warning for ice due to the obviously poor conditions. ‌​‌‌‌​‌‌‍‌​‌‌‌​‌​‍‌​‌‌‌​‌​
80 schools in Flintshire are closed today due to the weather, citing safety of children, parents and staff – and that they aim to reopen on Tuesday. ‌​‌‌‌​‌‌‍‌​‌‌‌​‌​‍‌​‌‌‌​‌​
Deeside Sixth is closed "due to potentially unsafe conditions. The mock exams planned will be postponed until next Monday." ‌​‌‌‌​‌‌‍‌​‌‌‌​‌​‍‌​‌‌‌​‌​
All Coleg Cambria sites will be closed for full time students today. "At this stage, all sites will still be open for staff and employer courses." ‌​‌‌‌​‌‌‍‌​‌‌‌​‌​‍‌​‌‌‌​‌​
Other local authorities in the UK have opted for a blanket approach with a full school closure declared, however in Flintshire it appears the decisions are being left to each Head Teacher as is customary. ‌​‌‌‌​‌‌‍‌​‌‌‌​‌​‍‌​‌‌‌​‌​
As always parents should have various digital notifications in place to inform them direct. ‌​‌‌‌​‌‌‍‌​‌‌‌​‌​‍‌​‌‌‌​‌​
| School Name | Reason | Other Reason | Add Info | Full/Partial | Last Updated | Closure Date |
| --- | --- | --- | --- | --- | --- | --- |
| Abermorddu Community Primary School | Weather conditions | | Due to weather, road conditions and health and safety concerns, School will be closed on Monday. Work n the school grounds will take place and we hope to open Tuesday | Full | 10/12/2017 18:07:17 | 12/11/2017 00:00:00 |
| Bagillt, Ysgol Glan Aber | Weather conditions | | For the safety of parents, children and staff the school will be closed. | Full | 11/12/2017 07:40:21 | 12/11/2017 00:00:00 |
| Bagillt, Ysgol Merllyn | Weather conditions | | | Full | 10/12/2017 20:19:56 | 12/10/2017 00:00:00 |
| Broughton Primary School | Weather conditions | | Due to the snow today and the NW Police/Met Office warnings of extremely low temperatures overnight the school will be closed tomorrow on health and safety grounds. We will do all we can to get the school site safe and ready to re-open on Tuesday. Apologies for the inconvenience this may cause but the safety of our pupils and staff are paramount. | Full | 10/12/2017 17:45:23 | 12/10/2017 00:00:00 |
| Brynford Primary School | Weather conditions | | School will be closed tomorrow due to the heavy snow and poor conditions. | Full | 10/12/2017 18:04:05 | 12/10/2017 00:00:00 |
| Buckley, Mountain Lane Primary School | Weather conditions | | Due to heavy snowfall and the forecast for ice, we will be closed on Monday 11th December. We aim to try to clear the site by Tuesday. Diolch. | Full | 10/12/2017 17:12:58 | 12/11/2017 00:00:00 |
| Buckley, Southdown Primary School | Weather conditions | | School closed tomorrow due to heavy snowfall and the forecast of freezing conditions overnight. | Full | 10/12/2017 17:14:10 | 12/10/2017 00:00:00 |
| Buckley, Westwood Community Primary School | Weather conditions | | Due to ongoing conditions, weather warnings from the Met Office and site risks, we are closing on Monday 11th Dec. Early notification of closure will also be more helpful for parents and staff to make alternative plans. We will work hard to make the site safe for a TUesday return. Thank you for your cooperation. | Full | 10/12/2017 17:14:43 | 11/12/2017 00:00:00 |
| Caerwys, Ysgol yr Esgob CW Voluntary Aided School | Weather conditions | | School closed on Monday 11th December due to severe weather and road conditions. | Full | 10/12/2017 18:55:29 | 11/12/2017 00:00:00 |
| Carmel, Ysgol Bro Carmel | Weather conditions | | Due to the weather conditions and forecast we will be closed tomorrow. | Full | 10/12/2017 17:55:10 | 12/10/2017 00:00:00 |
| Cilcain, Ysgol y Foel | Weather conditions | | | Full | 10/12/2017 21:23:23 | 12/10/2017 00:00:00 |
| Connah's Quay, Brookfield Primary School | Weather conditions | | Cae'r Nant will be closed on Monday 11th December due to adverse weather conditions. We are sorry to cause any inconvenience to parents but the safety of children is paramount. | Full | 10/12/2017 18:05:27 | 12/11/2017 00:00:00 |
| Connah's Quay, Bryn Deva | Weather conditions | | Due to health and safety reasons Bryn Deva will be closed on Monday 11th | Full | 10/12/2017 17:39:12 | 12/11/2017 00:00:00 |
| Connah's Quay, Golftyn Community Primary School | Weather conditions | | We will be closed on health and safety grounds tomorrow due to heavy snow fall and the forecast of freezing conditions overnight. | Full | 10/12/2017 17:23:27 | 12/11/2017 00:00:00 |
| Connah's Quay, Wepre Primary School | Weather conditions | | School will be closed on Monday 11th December due to health and safety concerns. | Full | 10/12/2017 17:46:47 | 12/11/2017 00:00:00 |
| Drury Primary School | Weather conditions | | Closed Monday due to extreme weather and health and safety risks for pupils and staff. | Full | 10/12/2017 20:12:52 | 12/11/2017 00:00:00 |
| Ewloe Green C.P. School | Weather conditions | | Due to hazardous considitions the school will be closed today | Full | 11/12/2017 09:17:22 | 11/12/2017 00:00:00 |
| Flint, Cornist Park School | Weather conditions | | Due to today's snowfall, the current conditions on the school site and the met office warnings for freezing conditions overnight, the school will be closed tomorrow (Monday 11th) on health and safety grounds. Every effort will be made tomorrow to clear the site to hopefully enable us to be open on Tuesday. Apologies for any inconvenience caused. Everyone's safety is our priority in this instance. | Full | 10/12/2017 19:09:16 | 12/11/2017 00:00:00 |
| Flint, Gwynedd Primary School | Weather conditions | | Sorry | Full | 10/12/2017 22:27:07 | 12/11/2017 00:00:00 |
| Flint, St Mary's Catholic Primary School | Weather conditions | | | Full | 11/12/2017 09:05:13 | 11/12/2017 00:00:00 |
| Flint, Ysgol Croes Atti | Weather conditions | | Due to the hazardous weather conditions promised for tomorrow BOTH Croes Atti sites will be closed Monday 11th. Bydd y ddwy ysgol ar gau Ddydd Llun oherwydd tywydd garw. | Full | 10/12/2017 18:00:22 | 11/12/2017 00:00:00 |
| Gronant Community Primary School | Weather conditions | | School will be closed Monday December 11th due to the adverse weather conditions. | Full | 10/12/2017 19:12:31 | 10/12/2017 00:00:00 |
| Gwernaffield, Ysgol y Waun | Weather conditions | | Due to the weather conditions, volume of snow and freezing temperatures forecast we will not be opening on Monday 11th December. We hope to clear the site sufficiently to allow us to open on Tuesday. We hope the early notification will allow parents to make childcare arrangements. | Full | 10/12/2017 17:55:28 | 10/12/2017 00:00:00 |
| Gwernymynydd Community Primary School | Weather conditions | | Due to the snow today and NW Police/MET Office warnings of extremely low temperatures overnight the school will be closed tomorrow on health and safety grounds. We will do all we can to get the school site safe and ready to reopen on Tuesday. Unfortunately Christmas concerts will be postponed this week and rescheduled dates will follow asap. Apologies for the inconvenience, however children, staff and parents safety are at the forefront of everything we do. | Full | 10/12/2017 18:02:10 | 12/11/2017 00:00:00 |
| Gwespyr Picton, Ysgol Mornant | Weather conditions | | Ysgol wedi cau fory oherwydd rhybuddion o dywydd garw dros nos. School will be closed tomorrow due to NW Police/Met Office warnings of extremely low temperatures overnight on Health and Safety grounds. | Full | 10/12/2017 17:46:24 | 11/12/2017 00:00:00 |
| Hawarden, Hawarden Village Church In Wales | Weather conditions | | Dear parents, unfortunately we will not be open on Monday 11.12.17. On this occasion we have been beaten by a combination of heavy snow and the promise of a hard frost. I hope that during the day on Monday the roads will become safer for staff and children to travel. We will work on Monday to clear paths at school, grit and make the site safe. Our intention is for school to be open Tuesday 12.12.17. | Full | 10/12/2017 18:53:08 | 12/10/2017 00:00:00 |
| Hawarden, Penarlag Primary School | Weather conditions | | Due to adverse weather conditions forecast by the met office tonight and in the morning the school will be closed tomorrow. Work will be undertaken to clear the school site ready for opening on Tuesday 12th December. Apologies for any inconvenience caused however the safety of pupils, parents and staff is paramount. | Full | 10/12/2017 19:46:28 | 11/12/2017 00:00:00 |
| Higher Kinnerton, Derwen Foundation School | Weather conditions | | Following the heavy snowfall over the weekend, the icy conditions to follow and the problem of getting enough staff in to run the school safely, Ysgol Derwen will be closed on Monday December 11. | Full | 10/12/2017 18:14:47 | 12/10/2017 00:00:00 |
| Holywell, St Winefride's Catholic Primary School | Weather conditions | | A decision has been made to close the school tomorrow due to heavy snow over the weekend and the forecast for ice tonight. Sorry for any inconvenience caused but the safety of our pupils, staff and parents must be our priority. | Full | 10/12/2017 18:23:14 | 12/11/2017 00:00:00 |
| Holywell, Ysgol Gwenffrwd | Weather conditions | | | Full | 10/12/2017 18:18:52 | 12/11/2017 00:00:00 |
| Holywell, Ysgol Maes Glas – Greenfield | Weather conditions | | Due to the snow today and the NW Police/Met Office warnings of extremely low temperatures overnight the school will be closed tomorrow on Health and Safety grounds. We will do all we can to get the school site safe and ready to re-open on Tuesday. Information regarding Christmas concerts will follow as soon as possible. Apologies for the inconvenience this may cause but the safety of our pupils and staff are paramount. | Full | 10/12/2017 17:16:24 | 12/11/2017 00:00:00 |
| Holywell, Ysgol Maes y Felin | Weather conditions | | | Full | 11/12/2017 07:31:34 | 11/12/2017 00:00:00 |
| Hope, Ysgol Estyn Community School | Weather conditions | | Due to the heavy snow over the weekend and frozen conditions forecast for tonight the school will be closed on Monday 11th December. The plan is to clear the school grounds tomorrow which will enable the school to reopen on Tuesday 12th December. | Full | 10/12/2017 17:11:46 | 12/11/2017 00:00:00 |
| Leeswood, Ysgol Derwenfa | Weather conditions | | School closed tomorrow owing to adverse weather conditions. Hopefully can clear the car park tomorrow ready for Tuesday | Full | 10/12/2017 19:45:46 | 12/10/2017 00:00:00 |
| Lixwm Primary School | Weather conditions | | School will be closed on Monday 11th December due to ongoing weather and road conditions. | Full | 10/12/2017 17:20:15 | 10/12/2017 00:00:00 |
| Mold, Bryn Gwalia | Weather conditions | | | Full | 11/12/2017 07:30:25 | 12/11/2017 00:00:00 |
| Mold, St David's Catholic Primary School | Weather conditions | | Due to deteriorating weather conditions we are closing on Monday, 11th December. | Full | 10/12/2017 17:33:01 | 12/10/2017 00:00:00 |
| Mold, The Assessment Centre PRU | Weather conditions | | | Full | 11/12/2017 07:29:11 | 11/12/2017 00:00:00 |
| Mold, Ysgol Bryn Coch | Weather conditions | | Due to the snow and the forecast for ice, we will be closed on Monday 11th December. We aim to clear the site by Tuesday. Sorry for the inconvenience caused. | Full | 10/12/2017 18:39:41 | 12/11/2017 00:00:00 |
| Mold, Ysgol Gymraeg Glanrafon | Weather conditions | | Ar gau 11/12 oherwydd rhagolygon y tywydd ac er diogelwch i bawb sy'n ymwneud gyda'r ysgol. School closed 11/12 due to bad weather and for everyone's safety. | Full | 10/12/2017 18:16:56 | 12/11/2017 00:00:00 |
| Mostyn, Ysgol Bryn Pennant | Weather conditions | | Due to the weather conditions and the forecast for ice, we will closed tomorrow, Monday, for health and safety reasons. | Full | 10/12/2017 19:01:16 | 12/11/2017 00:00:00 |
| Mynydd Isa, Ysgol Mynydd Isa | Weather conditions | | As a result of concerns regarding the safety of pupils on site,staff and parents travelling we have taken an early decision to allow parents to make alternative arrangements. We expect to clear the site sufficiently tomorrow to allow us to open on Tuesday. | Full | 10/12/2017 17:13:18 | 12/11/2017 00:00:00 |
| Nannerch CW Voluntary Controlled Primary School | Weather conditions | | Following a full risk assessment the school will remain closed on Monday | Full | 10/12/2017 19:40:03 | 12/10/2017 00:00:00 |
| Nercwys CW Voluntary Aided School | Weather conditions | | As a result of concerns regarding the safety of pupils on site, as well as Staff and Parents travelling to school we have taken an early decision to close the school tomorrow. | Full | 10/12/2017 17:26:05 | 11/12/2017 00:00:00 |
| Northop Hall Primary School | Weather conditions | | Due to the snow today, condition of the roads in the village and surrounding areas and the NW Police/Met Office warnings of extremely low temperatures overnight, the school will be closed tomorrow (11.12.17) on health and safety grounds. Apologies for the inconvenience this may cause but the safety of all pupils, parents and staff is paramount. Information regarding Christmas Plays will follow as soon as possible. | Full | 10/12/2017 18:05:04 | 12/11/2017 00:00:00 |
| Northop, Ysgol Owen Jones | Weather conditions | | Due to heavy snow over the weekend and forecast for freezing temperatures tonight it has been decided to close the school on Monday 11th December. We intend to clear the school tomorrow and re-open on Tuesday. We are hoping to continue with the concerts this week, we will confirm this tomorrow. | Full | 10/12/2017 18:09:53 | 12/10/2017 00:00:00 |
| Pentrobin, St John the Baptist's CWA Primary Sch. | Weather conditions | | Continuing adverse weather conditions. We aim to clear the site by Tuesday. School will continue to keep parents informed by Parenmail. | Full | 11/12/2017 06:49:13 | 12/11/2017 00:00:00 |
| Penyffordd, Ysgol Bryn Garth | No Hot Meals | | Due to the poor weather conditions the schools which are able to provide us with meals are all closed. Due to this situation we are having to close also. Apologies for the inconvenience this may cause. | Full | 11/12/2017 06:03:23 | 12/11/2017 00:00:00 |
| Penyffordd, Ysgol Penyffordd | Weather conditions | | School will be closed tomorrow due to weather conditions. We will work to get the school safe for the children on Tuesday. | Full | 10/12/2017 17:04:37 | 11/12/2017 00:00:00 |
| Queensferry Community Primary School | Weather conditions | | Due to snowfall and the risk of icy conditions overnight school will be closed on Monday 11th December on health and safety grounds. The safety of children and staff is paramount. Information regarding Tuesday's Foundation Phase concert tomorrow viavSchoop. | Full | 10/12/2017 18:26:37 | 12/11/2017 00:00:00 |
| Queensferry, Troi Rownd PRU | Weather conditions | | | Full | 11/12/2017 07:27:52 | 11/12/2017 00:00:00 |
| Rhosesmor, Rhos Helyg Primary School | Weather conditions | | Due to ongoing weather conditions and overnight frost school will be shut on Monday 11th. The safety of pupils, parents and staff is paramount. We expect to open as usual on Tuesday 12th. | Full | 10/12/2017 18:39:05 | 12/11/2017 00:00:00 |
| Saltney Ferry Primary School | Weather conditions | | Due to the snow today and the NW Police/Met Office warnings of extremely low temperatures overnight the school will be closed tomorrow on health and safety grounds. We will do all we can to get the school site safe and ready to reopen on Tuesday. Apologies for the inconvenience this may cause but the safety of our pupils and staff is paramount. | Full | 10/12/2017 17:49:49 | 11/12/2017 00:00:00 |
| Saltney Wood Memorial Primary School | Weather conditions | | Due to the snow today and the NW Police/Met Office warnings of extremely low temperatures overnight the school will be closed tomorrow (11.12.17) on health and safety grounds. We will do all we can to get the school site safe and ready to re-open on Tuesday. Apologies for the inconvenience this may cause but the safety of our pupils and staff are paramount. | Full | 10/12/2017 17:47:57 | 12/11/2017 00:00:00 |
| Saltney, St Anthony's Catholic Primary School | Weather conditions | | Due to the snow today and the NW Police / Met office warnings of extremely low temperatures overnight, the school will be closed on Monday 11/12/17 on health and safety grounds. We apologise for the inconvenience this may cause but the safety of our pupils and staff are paramount. | Full | 10/12/2017 19:15:32 | 12/11/2017 00:00:00 |
| Sandycroft Primary School | Weather conditions | | Due to heavy snow and a hard frost, we will close on Monday. However, we will be working hard on Monday to clear paths, grit & make the site safe for a return on Tuesday. | Full | 10/12/2017 18:47:40 | 12/10/2017 00:00:00 |
| Sealand Primary School | Weather conditions | | Due to the snow today and the NW Police/Met Office warnings of extremely low temperatures overnight the school will be closed tomorrow (Monday December 11th) on health and safety grounds. Apologies for the inconvenience this may cause but the safety of our pupils, parents and staff is paramount. | Full | 10/12/2017 18:13:33 | 12/11/2017 00:00:00 |
| Shotton, Bryn Tirion PRU | Weather conditions | | | Full | 11/12/2017 07:28:42 | 11/12/2017 00:00:00 |
| Shotton, Edward Morgan RC | Weather conditions | | School will be closed tomorrow due to weather conditions and due to concerns for the safety of staff and parents travelling to school. Apologies for any inconvenience this may have caused. | Full | 10/12/2017 17:57:00 | 12/11/2017 00:00:00 |
| Shotton, St Ethelwold's CW Voluntary Aided School | Weather conditions | | Due to the ongoing concerns over snow and ice, regretfully, school will be closed tomorrow. Every effort will be made to reopen on Tuesday 12th December. Apologies for the inconvenience. | Full | 10/12/2017 20:08:15 | 11/12/2017 00:00:00 |
| Shotton, The Learning Centre PRU | Weather conditions | | All parts of the PRU – Troi Rownd, Bryn Tirion and Canolfan Enfys will be closed tomorrow (11.12.17) for Health and Safety reasons due to the severe weather conditions. We apologise for the inconvenience caused. | Full | 10/12/2017 19:39:37 | 12/11/2017 00:00:00 |
| Shotton, Ysgol Ty Ffynnon | Weather conditions | | After careful consideration to all concerned a decision has been made to close the school on Monday 11th December. Apologies for any inconvenience this may cause but the safety of our pupils, staff and parents are paramount. We hope the early notification of closure will help parents to make alternative arrangements for child care. Thank you for your understanding | Full | 10/12/2017 19:00:19 | 12/11/2017 00:00:00 |
| Sychdyn Primary School | Weather conditions | | | Full | 10/12/2017 18:41:26 | 12/11/2017 00:00:00 |
| Trelawnyd Voluntary Aided Primary School | Weather conditions | | Due to adverse weather and road conditions, school will be closed on Monday. | Full | 10/12/2017 20:40:23 | 11/12/2017 00:00:00 |
| Trelogan, Ysgol Gynradd Trelogan | Weather conditions | | School will be closed Monday December 11th due to the adverse weather conditions. | Full | 10/12/2017 19:10:44 | 10/12/2017 00:00:00 |
| Treuddyn, Ysgol Parc y Llan | Weather conditions | | Due to the heavy snowfall and freezing temperatures overnight we have decided to close the school tomorrow, Sorry for any inconvenience. | Full | 10/12/2017 17:21:10 | 12/11/2017 00:00:00 |
| Treuddyn, Ysgol Terrig | Weather conditions | | | Full | 10/12/2017 17:22:24 | 12/10/2017 00:00:00 |
| Whitford, Ysgol Y Llan CW Voluntary Aided School | Weather conditions | | Due to the snow today and the NW Police/Met Office warnings of extremely low temperatures overnight the school will be closed tomorrow on health and safety grounds. We will do all we can to get the school site safe and ready to re-open on Tuesday. Apologies for the inconvenience this may cause but the safety of our pupils and staff are paramount. We hope that the early notification of closure will be help parents make alternative arrangements for child care. Thank you for your understanding. | Full | 10/12/2017 18:29:27 | 12/11/2017 00:00:00 |
| Buckley, Elfed High School | Weather conditions | | Reason for Closure – Due to risks associated with severe weather, school is closed on Monday 11th December. We hope to clear the site and open as usual on Tuesday 12th December | Full | 10/12/2017 19:02:03 | 11/12/2017 00:00:00 |
| Connah's Quay High School | Weather conditions | | Due to Health and Safety reasons Connah's Quay High School will be shut tomorrow. | Full | 10/12/2017 17:33:19 | 11/12/2017 00:00:00 |
| Flint High School | Weather conditions | | For Health & Safety reasons it has been determined not to open the school on Monday 11th Dec | Full | 10/12/2017 17:01:21 | 12/11/2017 00:00:00 |
| Flint, St Richard Gwyn Catholic High School | Weather conditions | | Due to heavy snowfall and overnight freezing temperatures – the school will be closed tomorrow for health & safety reasons. | Full | 10/12/2017 19:35:22 | 12/11/2017 00:00:00 |
| Hawarden High School | Weather conditions | | Following an inspection of the site and the prospect of ice overnight the school will remain closed on Monday, 11 December on health and safety grounds. | Full | 10/12/2017 17:59:54 | 11/12/2017 00:00:00 |
| Hope, Castell Alun High School | Weather conditions | | Many apologies for any inconvenience this may cause, however, due to the very difficult weather conditions with snow and ice on our site, we will be closed tomorrow (Monday 11th Dec). Every effort will be made to clear our site so that we can safely re-open on Tuesday. Information will be shared with you via our Twitter @CastellAlun and the school website www.castellalun.com | Full | 10/12/2017 17:36:03 | 12/11/2017 00:00:00 |
| Mold, Alun School | Weather conditions | | School is closed due to unsafe conditions on site. | Full | 10/12/2017 17:53:56 | 12/11/2017 00:00:00 |
| Mold, Ysgol Maes Garmon | Weather conditions | | Yn dilyn archwiliad o'r safle ni fydd Ysgol Maes Garmon ar agor yfory.(11.12.17) Following an inspection of the site Ysgol Maes Garmon will not be open tomorrow (11.12.17) | Full | 10/12/2017 20:15:03 | 12/11/2017 00:00:00 |
| Mynydd Isa, Argoed School | Weather conditions | | We hope to clear the site and open on Tuesday. Check twitter and school website for updates. | Full | 10/12/2017 20:17:56 | 12/10/2017 00:00:00 |
| Saltney, St David's High School | Weather conditions | | Due to the snow today and the NW Police/Met Office warnings of extremely low temperatures overnight, the school will be closed tomorrow (Monday 11/12/17) on health and safety grounds. We apologise for the inconvenience this may cause but the safety of our pupils and staff are paramount. | Full | 10/12/2017 17:35:19 | 12/11/2017 00:00:00 |
| Flint, Ysgol Maes Hyfryd | Weather conditions | | Due to the snow today and the NW Police/Met Office warnings of extremely low temperatures overnight the school will be closed tomorrow on Health and Safety grounds. Also our co-located high school is also closed and therefore our pupils will have no lunch service provided. We will do all we can to get the school site safe and ready to re-open on Tuesday and will keep parents posted. Apologies for the inconvenience this causes. | Full | 10/12/2017 20:46:26 | 12/11/2017 00:00:00 |
| Flint, Ysgol Pen Coch | Weather conditions | | School will be closed on Monday 11th December due to ongoing weather and road conditions. | Full | 10/12/2017 18:19:02 | 11/12/2017 00:00:00 |
‌​‌‌‌​‌‌‍‌​‌‌‌​‌​‍‌​‌‌‌​‌​
Spotted something? Got a story? Send a Facebook Message | A direct message on Twitter | Email: News@Deeside.com
---
Latest News
---