Flood alert issued for River Dee and North Wales coast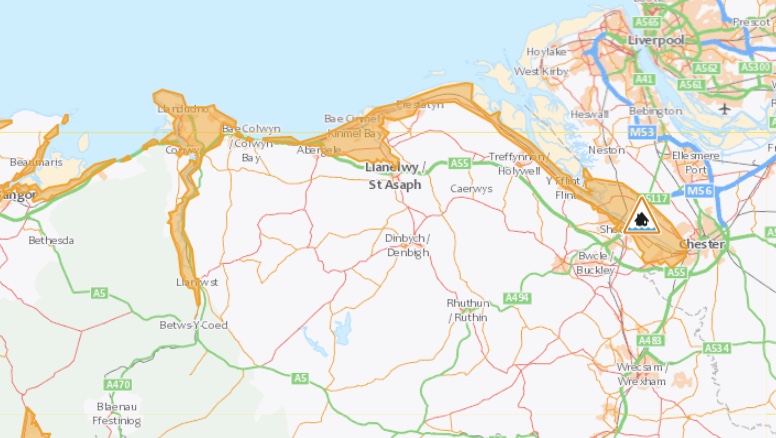 This article is old - Published: Thursday, Mar 9th, 2023
A flood alert has been issued for areas along the North Wales coast, spanning from the Dee estuary to the east coast of Anglesey. ‌​‌‌‌​‌‌‍‌​‌‌‌​‌​‍‌​‌‌‌​‌​
The alert will be in force at 9.20pm on Wednesday, March 8 and is in place for the next two days. ‌​‌‌‌​‌‌‍‌​‌‌‌​‌​‍‌​‌‌‌​‌​
Natural Resources Wales is warning of potential flooding of low-lying land and some roads. ‌​‌‌‌​‌‌‍‌​‌‌‌​‌​‍‌​‌‌‌​‌​
The public is being urged to exercise caution on beaches, promenades, coastal footpaths, roads, low-lying land, and estuaries. ‌​‌‌‌​‌‌‍‌​‌‌‌​‌​‍‌​‌‌‌​‌​
Sea spray and waves could be dangerous and may contain debris. ‌​‌‌‌​‌‌‍‌​‌‌‌​‌​‍‌​‌‌‌​‌​
Residents in the affected areas can monitor the situation by visiting the Natural Resources Wales website and using their 'River Levels, Rainfall and Sea Data' tool. ‌​‌‌‌​‌‌‍‌​‌‌‌​‌​‍‌​‌‌‌​‌​
The agency has also provided additional information on its website about how they issue flood alerts and assess flood risk. ‌​‌‌‌​‌‌‍‌​‌‌‌​‌​‍‌​‌‌‌​‌​
They encourage residents to familiarize themselves with this information and take necessary precautions. ‌​‌‌‌​‌‌‍‌​‌‌‌​‌​‍‌​‌‌‌​‌​
Adverse weather ‌​‌‌‌​‌‌‍‌​‌‌‌​‌​‍‌​‌‌‌​‌​
Flintshire Council has announced that all schools in the county will be closed on Thursday, March 9th due to expected adverse weather conditions. ‌​‌‌‌​‌‌‍‌​‌‌‌​‌​‍‌​‌‌‌​‌​ ‌​‌‌‌​‌‌‍‌​‌‌‌​‌​‍‌​‌‌‌​‌​
The Met Office has issued a yellow alert for snow from 7am on Thursday until 2pm on Friday. ‌​‌‌‌​‌‌‍‌​‌‌‌​‌​‍‌​‌‌‌​‌​ ‌​‌‌‌​‌‌‍‌​‌‌‌​‌​‍‌​‌‌‌​‌​
As a result of the warning, the council has taken the decision to move all schools to online learning for the day. ‌​‌‌‌​‌‌‍‌​‌‌‌​‌​‍‌​‌‌‌​‌​ ‌​‌‌‌​‌‌‍‌​‌‌‌​‌​‍‌​‌‌‌​‌​
In a statement, Flintshire Council said, "the recommendation is that all schools in the county should close tomorrow and switch to online learning." ‌​‌‌‌​‌‌‍‌​‌‌‌​‌​‍‌​‌‌‌​‌​ ‌​‌‌‌​‌‌‍‌​‌‌‌​‌​‍‌​‌‌‌​‌​
A message on Ysgol Treffynnon Facebook Page states: ‌​‌‌‌​‌‌‍‌​‌‌‌​‌​‍‌​‌‌‌​‌​ ‌​‌‌‌​‌‌‍‌​‌‌‌​‌​‍‌​‌‌‌​‌​
"An Emergency Planning Meeting has just been held this afternoon at Flintshire County Council where the latest weather forecasts for Flintshire /N E Wales have been reviewed." ‌​‌‌‌​‌‌‍‌​‌‌‌​‌​‍‌​‌‌‌​‌​ ‌​‌‌‌​‌‌‍‌​‌‌‌​‌​‍‌​‌‌‌​‌​
"Such is the concern about the expected snowfall overnight and then again early in the morning, combined with freezing temperatures, that the Emergency Planning Team have made the decision that all council offices and schools should close to ensure the health and safety of all and to keep traffic to a minimum in anticipation of adverse road conditions." ‌​‌‌‌​‌‌‍‌​‌‌‌​‌​‍‌​‌‌‌​‌​ ‌​‌‌‌​‌‌‍‌​‌‌‌​‌​‍‌​‌‌‌​‌​
"The situation will be monitored overnight and tomorrow and we will provide an update regarding Friday as soon as we are able to." ‌​‌‌‌​‌‌‍‌​‌‌‌​‌​‍‌​‌‌‌​‌​ ‌​‌‌‌​‌‌‍‌​‌‌‌​‌​‍‌​‌‌‌​‌​
The Met Office has warned that an area of low pressure will move across the UK on Thursday and Friday with snow developing across Wales and central England early on Thursday morning. ‌​‌‌‌​‌‌‍‌​‌‌‌​‌​‍‌​‌‌‌​‌​ ‌​‌‌‌​‌‌‍‌​‌‌‌​‌​‍‌​‌‌‌​‌​
The snow is expected to move slowly north during the day, becoming slow-moving across north Wales, northern England, Northern Ireland, and southern Scotland during the afternoon and evening before slowly clearing southeast on Friday. ‌​‌‌‌​‌‌‍‌​‌‌‌​‌​‍‌​‌‌‌​‌​ ‌​‌‌‌​‌‌‍‌​‌‌‌​‌​‍‌​‌‌‌​‌​
Met Office Deputy Chief Meteorologist Helen Caughey said: "The impactful weather will continue through the latter part of the week as mild air pushing in from the southwest meets colder air in situ with further snow and ice for many areas. Through Thursday and Friday, the snow risk spreads, to central and northern areas of the UK, with the potential of some significant accumulations even to low levels, which have the potential to cause impacts." ‌​‌‌‌​‌‌‍‌​‌‌‌​‌​‍‌​‌‌‌​‌​ ‌​‌‌‌​‌‌‍‌​‌‌‌​‌​‍‌​‌‌‌​‌​
Parts of Northern Ireland, Wales, and northern England are expected to see the worst of the conditions develop from early on Thursday, with parts of Scotland and northern England then seeing snow arrive through Thursday afternoon. Snow across the northern half of the UK will persist through much of Friday, while further south, any snow will turn back to rain through Thursday afternoon and evening. Strong winds are also expected to develop through Thursday and Friday, which may create drifting snow and blizzard conditions in places. ‌​‌‌‌​‌‌‍‌​‌‌‌​‌​‍‌​‌‌‌​‌​ ‌​‌‌‌​‌‌‍‌​‌‌‌​‌​‍‌​‌‌‌​‌​
‌​‌‌‌​‌‌‍‌​‌‌‌​‌​‍‌​‌‌‌​‌​ ‌​‌‌‌​‌‌‍‌​‌‌‌​‌​‍‌​‌‌‌​‌​
‌​‌‌‌​‌‌‍‌​‌‌‌​‌​‍‌​‌‌‌​‌​
Spotted something? Got a story? Send a Facebook Message | A direct message on Twitter | Email: News@Deeside.com
---
Latest News
---