Flintshire-based paramedic gives unique insight into frontline work, helping critically ill patients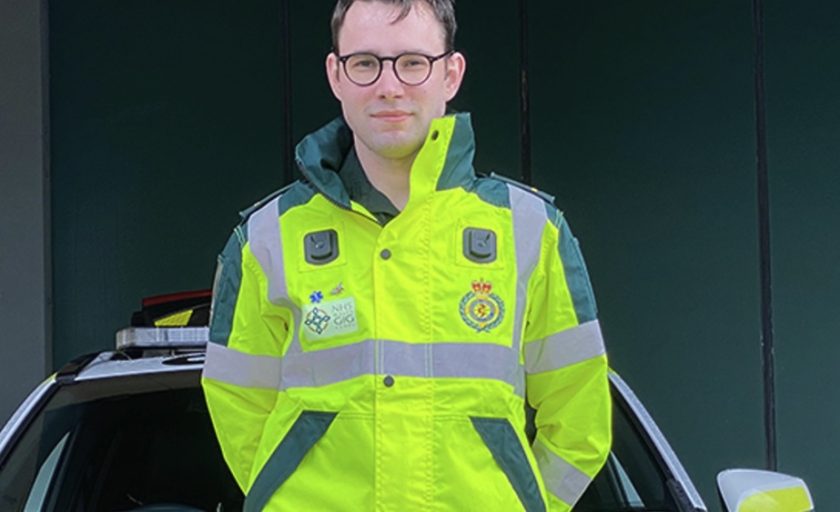 A Flintshire-based paramedic who helps the most critically ill patients in North Wales has shared a unique glimpse into his role on the frontline. ‌​‌‌‌​‌‌‍‌​‌‌‌​‌​‍‌​‌‌‌​‌​
Kieran McClelland, who is based in Dobshill, works on the Welsh Ambulance Service's Cymru High Acuity Response Unit (CHARU), which launched in November. ‌​‌‌‌​‌‌‍‌​‌‌‌​‌​‍‌​‌‌‌​‌​
From his rapid response car, the 24-year-old responds only to the most urgent calls, including cardiac arrests, road traffic collisions, major trauma and maternity emergencies. ‌​‌‌‌​‌‌‍‌​‌‌‌​‌​‍‌​‌‌‌​‌​
Kieran, from Wrexham, has additional skills and equipment which enable him to deliver more advanced care to patients. ‌​‌‌‌​‌‌‍‌​‌‌‌​‌​‍‌​‌‌‌​‌​
He said: "The paramedic role is so much more diverse now. ‌​‌‌‌​‌‌‍‌​‌‌‌​‌​‍‌​‌‌‌​‌​
"Whether you're a paramedic in the control room triaging patients over the phone, an advanced paramedic helping to keep more people at home or a high acuity paramedic like myself, we're all bringing a different skillset. ‌​‌‌‌​‌‌‍‌​‌‌‌​‌​‍‌​‌‌‌​‌​
"Personally, I entered the role for the critical care element as that to me is the most rewarding. ‌​‌‌‌​‌‌‍‌​‌‌‌​‌​‍‌​‌‌‌​‌​
"There's no better feeling when you've successfully resuscitated someone in cardiac arrest. ‌​‌‌‌​‌‌‍‌​‌‌‌​‌​‍‌​‌‌‌​‌​
"As a CHARU paramedic who responds solely to the most urgent calls, critical care is 100% of my workload – it's why this role is perfect for me." ‌​‌‌‌​‌‌‍‌​‌‌‌​‌​‍‌​‌‌‌​‌​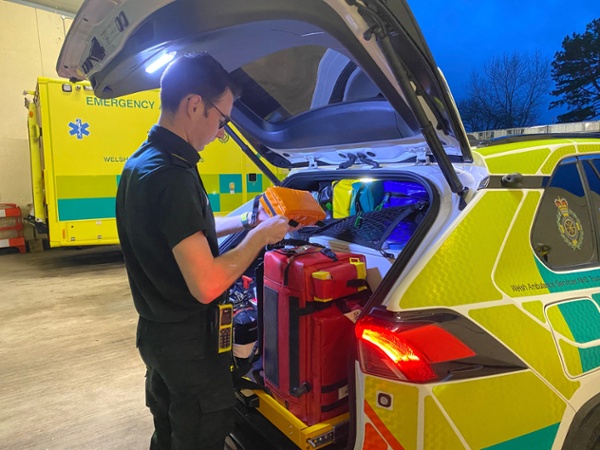 ‌​‌‌‌​‌‌‍‌​‌‌‌​‌​‍‌​‌‌‌​‌​
Kieran began his ambulance career as a volunteer Community First Responder, delivering first aid to people in his hometown in the precious minutes before an ambulance arrives. ‌​‌‌‌​‌‌‍‌​‌‌‌​‌​‍‌​‌‌‌​‌​
He was an Urgent Care Assistant at St John Ambulance Cymru and later studied Paramedic Science in Swansea, qualifying in 2019 and joining the Welsh Ambulance Service full-time. ‌​‌‌‌​‌‌‍‌​‌‌‌​‌​‍‌​‌‌‌​‌​
Kieran is a Practice Placement Educator who helps to integrate student paramedics into the service and was among the first paramedics to work a shift at Wrexham's HMP Berwyn. ‌​‌‌‌​‌‌‍‌​‌‌‌​‌​‍‌​‌‌‌​‌​
He is a member of the Trust's Special Operations Response Team trained to deal with major incidents, as well as a Clinical Fellow at the Emergency Medical Retrieval and Transfer Service, working two shifts per month on an air ambulance. ‌​‌‌‌​‌‌‍‌​‌‌‌​‌​‍‌​‌‌‌​‌​
Here, Kieran shares an insight into a recent 12-hour shift as a CHARU paramedic. ‌​‌‌‌​‌‌‍‌​‌‌‌​‌​‍‌​‌‌‌​‌​
06.00
"A typical 12-hour shift can start as early at six in the morning," says Kieran. ‌​‌‌‌​‌‌‍‌​‌‌‌​‌​‍‌​‌‌‌​‌​
"Our fantastic Fleet Assistants have already made sure my car is clean and roadworthy, so I double-check I have the drugs I need and that equipment is in good working order. ‌​‌‌‌​‌‌‍‌​‌‌‌​‌​‍‌​‌‌‌​‌​
"CHARU paramedics have an extra piece of kit to help people who are in cardiac arrest. ‌​‌‌‌​‌‌‍‌​‌‌‌​‌​‍‌​‌‌‌​‌​
"The 'Lucas-3' device delivers mechanical chest compressions to someone whose heart has stopped, so I make sure it's fully charged and ready to go. ‌​‌‌‌​‌‌‍‌​‌‌‌​‌​‍‌​‌‌‌​‌​
"Every second counts when someone is in cardiac arrest, and early CPR and defibrillation could mean the difference between life and death. ‌​‌‌‌​‌‌‍‌​‌‌‌​‌​‍‌​‌‌‌​‌​
"We are keen to drive up the current survival rates for people suffering a cardiac arrest in Wales, so it's hoped that the CHARU initiative will improve outcomes for these patients." ‌​‌‌‌​‌‌‍‌​‌‌‌​‌​‍‌​‌‌‌​‌​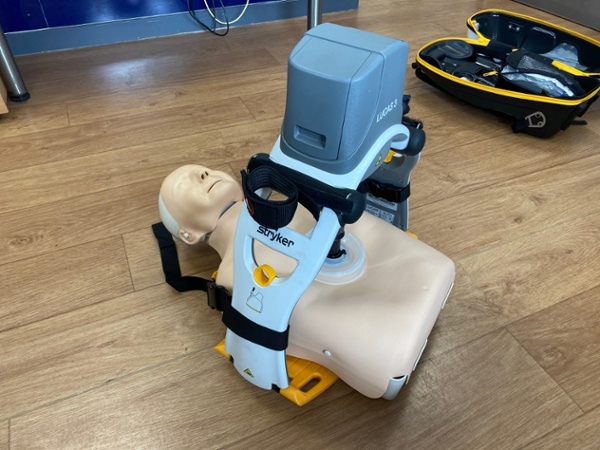 ‌​‌‌‌​‌‌‍‌​‌‌‌​‌​‍‌​‌‌‌​‌​
08.15
"Our first call comes in for an elderly female who has passed out in Wrexham. ‌​‌‌‌​‌‌‍‌​‌‌‌​‌​‍‌​‌‌‌​‌​
"She's breathing but unconscious, so this is categorised as a 'Red' call. ‌​‌‌‌​‌‌‍‌​‌‌‌​‌​‍‌​‌‌‌​‌​
"Even though I'm on lights and sirens, some road users haven't seen my approach while others appear to panic and drive erratically, so I need to navigate very carefully. ‌​‌‌‌​‌‌‍‌​‌‌‌​‌​‍‌​‌‌‌​‌​
"My advice if you hear a siren or see blue lights is to stay calm, look for somewhere safe to move left and stop. ‌​‌‌‌​‌‌‍‌​‌‌‌​‌​‍‌​‌‌‌​‌​
"I get to the address, where two Emergency Medical Technicians are already with the patient so I go in to lend additional support. ‌​‌‌‌​‌‌‍‌​‌‌‌​‌​‍‌​‌‌‌​‌​
"The patient appears to have had a fall but it's unclear how and when, and the fact that she is in and out of consciousness is concerning to me. ‌​‌‌‌​‌‌‍‌​‌‌‌​‌​‍‌​‌‌‌​‌​
"We give the patient fluids and oxygen and decide to take her to hospital for further tests. ‌​‌‌‌​‌‌‍‌​‌‌‌​‌​‍‌​‌‌‌​‌​
"While the patient is stable for now, I travel with the ambulance crew for extra support in case she deteriorates en route." ‌​‌‌‌​‌‌‍‌​‌‌‌​‌​‍‌​‌‌‌​‌​
09.50
"Given the patient is quite unwell, she's admitted quickly into Wrexham Maelor Hospital. ‌​‌‌‌​‌‌‍‌​‌‌‌​‌​‍‌​‌‌‌​‌​
"I book 'clear' so I'm free to respond to another call, and right on cue, our next call comes in. ‌​‌‌‌​‌‌‍‌​‌‌‌​‌​‍‌​‌‌‌​‌​
"It's another 'Red' call to reports of an elderly female with ineffective breathing, 12 miles away near the Shropshire border. ‌​‌‌‌​‌‌‍‌​‌‌‌​‌​‍‌​‌‌‌​‌​
"Once again, there's an ambulance crew already at scene, which is common when there's a potential for a cardiac arrest situation. ‌​‌‌‌​‌‌‍‌​‌‌‌​‌​‍‌​‌‌‌​‌​
"While the patient is unwell and probably does require a trip to hospital, her breathing is completely normal. ‌​‌‌‌​‌‌‍‌​‌‌‌​‌​‍‌​‌‌‌​‌​
"It's really important when you call 999 that you're as accurate as possible when answering questions, which I know can be difficult when you or loved one are in distress. ‌​‌‌‌​‌‌‍‌​‌‌‌​‌​‍‌​‌‌‌​‌​
"It means we can prioritise the call appropriately and protect our resources for those who need us most. ‌​‌‌‌​‌‌‍‌​‌‌‌​‌​‍‌​‌‌‌​‌​
"I'm not required on this occasion so I leave the patient in the capable hands of the crew." ‌​‌‌‌​‌‌‍‌​‌‌‌​‌​‍‌​‌‌‌​‌​
11.30
"Our third call comes in to reports of a female having a seizure in Flint. ‌​‌‌‌​‌‌‍‌​‌‌‌​‌​‍‌​‌‌‌​‌​
"Minutes after I set off, I'm stood down because another CHARU paramedic who is closer has been dispatched instead. ‌​‌‌‌​‌‌‍‌​‌‌‌​‌​‍‌​‌‌‌​‌​
"For 'Red' calls, we send the nearest available resource as fast as possible. ‌​‌‌‌​‌‌‍‌​‌‌‌​‌​‍‌​‌‌‌​‌​
"The control room decide that now is a good opportunity to give me a rest break, so I head back to base." ‌​‌‌‌​‌‌‍‌​‌‌‌​‌​‍‌​‌‌‌​‌​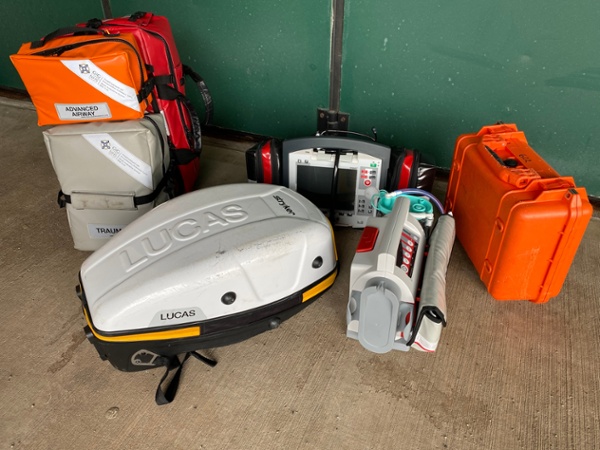 ‌​‌‌‌​‌‌‍‌​‌‌‌​‌​‍‌​‌‌‌​‌​
13.00
"A big part of the CHARU paramedic role is responding to cardiac arrests. ‌​‌‌‌​‌‌‍‌​‌‌‌​‌​‍‌​‌‌‌​‌​
"In a cardiac arrest, we may perform something called 'endotracheal intubation' to help the patient to breathe. ‌​‌‌‌​‌‌‍‌​‌‌‌​‌​‍‌​‌‌‌​‌​
"It's a very delicate procedure, so I take the opportunity to hone my skills on a training manikin on station. ‌​‌‌‌​‌‌‍‌​‌‌‌​‌​‍‌​‌‌‌​‌​
"I try to do this at least once every shift, and given my additional training, I also offer to practice the skill to other colleagues on station." ‌​‌‌‌​‌‌‍‌​‌‌‌​‌​‍‌​‌‌‌​‌​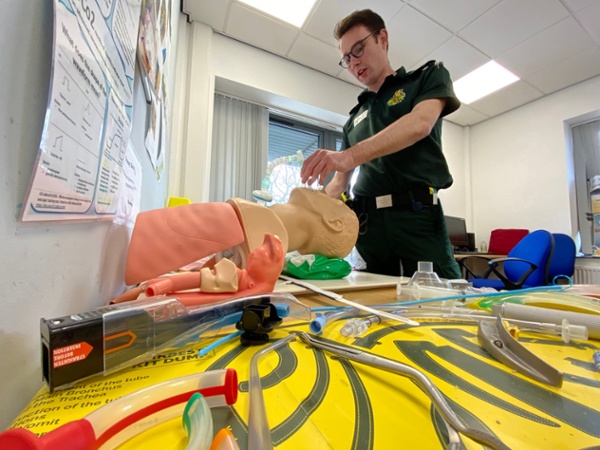 ‌​‌‌‌​‌‌‍‌​‌‌‌​‌​‍‌​‌‌‌​‌​
14.30
"Wrexham's Glyndŵr University now offers a Paramedic Science degree and some of its students are on placement in Dobshill. ‌​‌‌‌​‌‌‍‌​‌‌‌​‌​‍‌​‌‌‌​‌​
"I chat to one of the latest cohort about her time on the frontline so far, sharing experiences and pointing her to helpful resources. ‌​‌‌‌​‌‌‍‌​‌‌‌​‌​‍‌​‌‌‌​‌​
"I assist on practical teaching days at the university, so it's good to get to know our students better and strengthen relationships." ‌​‌‌‌​‌‌‍‌​‌‌‌​‌​‍‌​‌‌‌​‌​
16.15
"Another 'Red' call in – a male is having a seizure. ‌​‌‌‌​‌‌‍‌​‌‌‌​‌​‍‌​‌‌‌​‌​
"I make my way on lights and sirens to Flint, where the man's friend flags me down by the picturesque castle. ‌​‌‌‌​‌‌‍‌​‌‌‌​‌​‍‌​‌‌‌​‌​
"The man is epileptic but hasn't had a seizure for many years, so this is unusual for him. ‌​‌‌‌​‌‌‍‌​‌‌‌​‌​‍‌​‌‌‌​‌​
"He's stopped fitting now and is stable enough for me to begin a set of observations, which thankfully are within normal parameters. ‌​‌‌‌​‌‌‍‌​‌‌‌​‌​‍‌​‌‌‌​‌​
"It quickly transpires that the patient doesn't want to go to hospital. ‌​‌‌‌​‌‌‍‌​‌‌‌​‌​‍‌​‌‌‌​‌​
"I determine that he's safe to be discharged, so there's a shared clinical decision with another healthcare professional – in this case, a nurse – regarding continuity of care. ‌​‌‌‌​‌‌‍‌​‌‌‌​‌​‍‌​‌‌‌​‌​
"The ambulance that was en route to transport him to hospital is stood down, which means it's now available to attend another patient. ‌​‌‌‌​‌‌‍‌​‌‌‌​‌​‍‌​‌‌‌​‌​
"Our traditional handwritten notes have been replaced by an electronic Patient Clinical Record, and completing the necessary forms on an iPad makes life quicker and easier. ‌​‌‌‌​‌‌‍‌​‌‌‌​‌​‍‌​‌‌‌​‌​
"It's back to station." ‌​‌‌‌​‌‌‍‌​‌‌‌​‌​‍‌​‌‌‌​‌​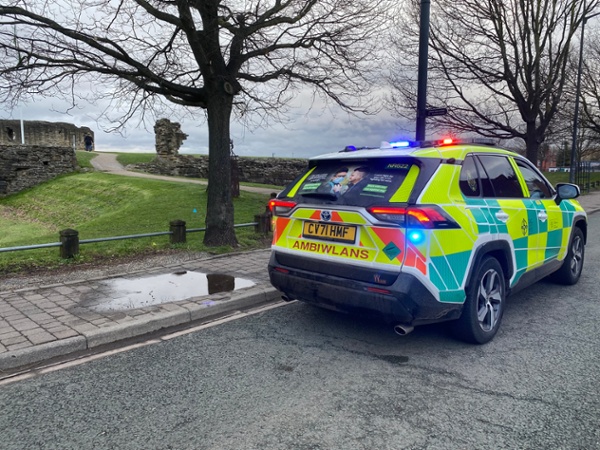 ‌​‌‌‌​‌‌‍‌​‌‌‌​‌​‍‌​‌‌‌​‌​
18.00
"Some shifts are back-to-back patients while others are steady. ‌​‌‌‌​‌‌‍‌​‌‌‌​‌​‍‌​‌‌‌​‌​
"While none of today's calls transpired to be life or limb, I'm a dedicated resource poised to respond the most critically ill patients in my community and that's a good feeling. ‌​‌‌‌​‌‌‍‌​‌‌‌​‌​‍‌​‌‌‌​‌​
"Critical care is what I relish, and I personally perform best in high-pressured situations, which is why the CHARU paramedic role suits me down to the ground. ‌​‌‌‌​‌‌‍‌​‌‌‌​‌​‍‌​‌‌‌​‌​
"It's back home to rest as I do it all again tomorrow." ‌​‌‌‌​‌‌‍‌​‌‌‌​‌​‍‌​‌‌‌​‌​
Spotted something? Got a story? Send a Facebook Message | A direct message on Twitter | Email: News@Deeside.com
---
Latest News
---