First Minister: "My messages to people of Wales is very simple, the Oxford-AstraZeneca vaccine is safe"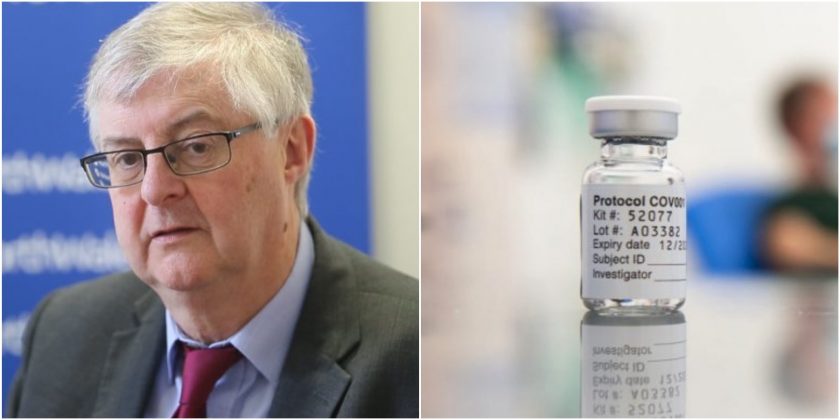 This article is old - Published: Tuesday, Mar 16th, 2021
Mark Drakeford has said concerns about the safety of the Oxford-AstraZeneca Covid jab "are not shared by the medicines regulator here in Wales." ‌​‌‌‌​‌‌‍‌​‌‌‌​‌​‍‌​‌‌‌​‌​
Ireland, Norway, Germany, France, Spain and Italy are among a host of countries who have suspended the rollout of the Oxford-AstraZeneca as a precaution. ‌​‌‌‌​‌‌‍‌​‌‌‌​‌​‍‌​‌‌‌​‌​
The move follows reports from Norway over the weekend that three health-care workers who had received the vaccine were treated for blood clots ‌​‌‌‌​‌‌‍‌​‌‌‌​‌​‍‌​‌‌‌​‌​
The European Union medicines regulator reiterated today that there is "no indication" that the Oxford-AstraZeneca vaccine causes blood clots, after several countries paused their rollouts. ‌​‌‌‌​‌‌‍‌​‌‌‌​‌​‍‌​‌‌‌​‌​
European Medicines Agency (EMA) head Emer Cooke said she remained "firmly convinced" that the benefits of the vaccine outweighed any risks. ‌​‌‌‌​‌‌‍‌​‌‌‌​‌​‍‌​‌‌‌​‌​
During today's Plenary session, Mark Drakeford said: "My messages to people of Wales is very simple, the Oxford vaccine is safe."
"The anxieties that have been expressed about it elsewhere are not shared by the medicines regulator here in Wales." ‌​‌‌‌​‌‌‍‌​‌‌‌​‌​‍‌​‌‌‌​‌​
"They are not shared by the World Health Organization, they're not shared by the European Medicines Regulatory Agency and they are certainly not shared by our chief medical officer and our scientific advisors." ‌​‌‌‌​‌‌‍‌​‌‌‌​‌​‍‌​‌‌‌​‌​
Mr Drakeford said he and health minister Vaughan Gething "had an opportunity yesterday (Monday) to test all this evidence directly with our chief medical officer." ‌​‌‌‌​‌‌‍‌​‌‌‌​‌​‍‌​‌‌‌​‌​
"We came away from that absolutely strengthened in our understanding that the blood clots that are talked about in newspapers." ‌​‌‌‌​‌‌‍‌​‌‌‌​‌​‍‌​‌‌‌​‌​
"There is no more risk of a blood clot, by having the AstraZeneca-Oxford vaccine than there would be in the population at large at any time." ‌​‌‌‌​‌‌‍‌​‌‌‌​‌​‍‌​‌‌‌​‌​
He said: "Blood clots occur all the time to the population and the vaccine is not is going to increase your risk of that." ‌​‌‌‌​‌‌‍‌​‌‌‌​‌​‍‌​‌‌‌​‌​
"I don't want anybody in Wales, who may be hesitant about the vaccine, to become more hesitant because of the stories that they will have seen or heard, the vaccination program in Wales goes from strength to strength." ‌​‌‌‌​‌‌‍‌​‌‌‌​‌​‍‌​‌‌‌​‌​
"We broke records twice, in this last week on Friday and on Saturday in the reported numbers of people who were vaccinated in one day." ‌​‌‌‌​‌‌‍‌​‌‌‌​‌​‍‌​‌‌‌​‌​
"Over 40,000 people in one day you reported on Saturday, an extraordinary figure, that's over 1% of our population of Wales coming forward for vaccination." ‌​‌‌‌​‌‌‍‌​‌‌‌​‌​‍‌​‌‌‌​‌​
"That's what we need to see in the days and weeks ahead and I know that that will be strongly supported by parties across this chamber." ‌​‌‌‌​‌‌‍‌​‌‌‌​‌​‍‌​‌‌‌​‌​
"I'm grateful for the opportunity to have reinforced those messages again this afternoon." ‌​‌‌‌​‌‌‍‌​‌‌‌​‌​‍‌​‌‌‌​‌​
Leader of the Welsh Conservatives in the Senedd, Andrew RT Davies said: "I do welcome those positive comments, despite the negativity that are coming from other countries." ‌​‌‌‌​‌‌‍‌​‌‌‌​‌​‍‌​‌‌‌​‌​
"I hope that we can get back in those countries to a normal process of vaccination because as I said, unless we all adhere to the vaccination program, we will all suffer lockdown measures going forward as we're seeing in countries across Europe at the moment." ‌​‌‌‌​‌‌‍‌​‌‌‌​‌​‍‌​‌‌‌​‌​
Chief Medical Officer for Wales, Frank Atherton, said: ‌​‌‌‌​‌‌‍‌​‌‌‌​‌​‍‌​‌‌‌​‌​
"I received my vaccine last week and I would encourage everyone who is invited to get theirs too. ‌​‌‌‌​‌‌‍‌​‌‌‌​‌​‍‌​‌‌‌​‌​
"Tens of millions of doses of the AstraZeneca vaccine have been safely given in the UK." ‌​‌‌‌​‌‌‍‌​‌‌‌​‌​‍‌​‌‌‌​‌​
"The evidence available does not suggest the vaccine is the cause of blood clots, as is being reported elsewhere." ‌​‌‌‌​‌‌‍‌​‌‌‌​‌​‍‌​‌‌‌​‌​
‌​‌‌‌​‌‌‍‌​‌‌‌​‌​‍‌​‌‌‌​‌​
Further information on the safety and efficacy of COVID-19 vaccines can be found on the Public Health Wales website here: https://phw.nhs.wales/topics/immunisation-and-vaccines/covid-19-vaccination-information/about-the-vaccine/ ‌​‌‌‌​‌‌‍‌​‌‌‌​‌​‍‌​‌‌‌​‌​
Spotted something? Got a story? Send a Facebook Message | A direct message on Twitter | Email: News@Deeside.com
---
Latest News
---