Health Board exiting Special Measures is "brave decision" says patient advocate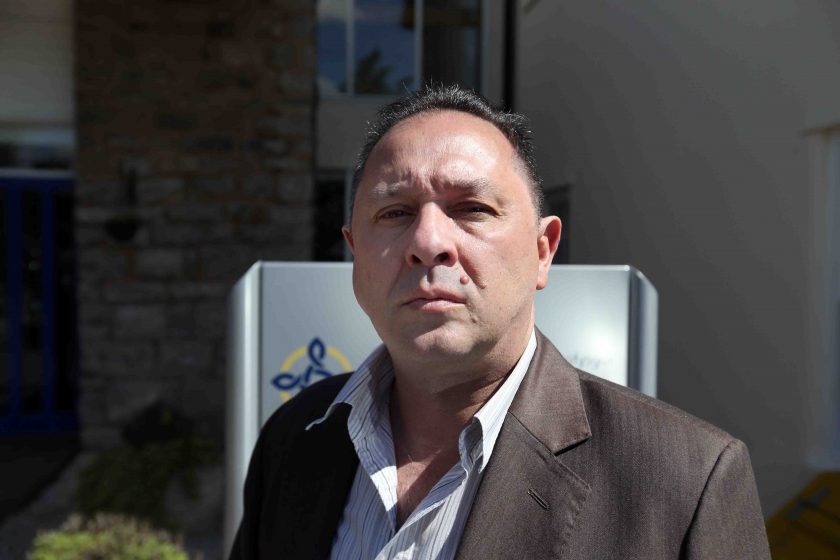 This article is old - Published: Friday, Nov 27th, 2020
North Wales' top patient advocate described pulling a health board out of Special Measures as a "brave decision Minister". ‌​‌‌‌​‌‌‍‌​‌‌‌​‌​‍‌​‌‌‌​‌​
Geoff Ryall-Harvey, chief operating officer of North Wales Community Health Council (NWCHC), made the comment about health minister Vaughan Gething's decision to take Betsi Cadwaladr University Health Board out of Special Measures. ‌​‌‌‌​‌‌‍‌​‌‌‌​‌​‍‌​‌‌‌​‌​
On Tuesday Mr Gething said he would be moving the board into "Targeted Intervention", after advice from "tripartite partners" Wales Audit, NHS Wales and Healthcare Inspectorate Wales (HIW). ‌​‌‌‌​‌‌‍‌​‌‌‌​‌​‍‌​‌‌‌​‌​
He said being in Special Measures was having a "detrimental effect" on the board's ability to recruit senior staff with some executive director roles being filled on an interim basis. ‌​‌‌‌​‌‌‍‌​‌‌‌​‌​‍‌​‌‌‌​‌​
Mr Ryall-Harvey said he was "surprised" by the announcement. ‌​‌‌‌​‌‌‍‌​‌‌‌​‌​‍‌​‌‌‌​‌​
NWCHC is currently organising a series of events with the health board aimed at collecting people's experiences of mental health and learning disability services in the region. ‌​‌‌‌​‌‌‍‌​‌‌‌​‌​‍‌​‌‌‌​‌​
He said it "would have been useful" for Mr Gething to have had sight of those public experiences before making his decision. ‌​‌‌‌​‌‌‍‌​‌‌‌​‌​‍‌​‌‌‌​‌​
He added senior leaders recently said they had a "long, long way to go" with mental health and learning disability services. ‌​‌‌‌​‌‌‍‌​‌‌‌​‌​‍‌​‌‌‌​‌​
In his statement to the Senedd Mr Gething said: "The clear advice and recommendation to me was that the escalation status of the health board should change.  I have accepted that advice. ‌​‌‌‌​‌‌‍‌​‌‌‌​‌​‍‌​‌‌‌​‌​
"I have decided Betsi Cadwaladr University Health Board will come out of Special Measures with immediate effect." ‌​‌‌‌​‌‌‍‌​‌‌‌​‌​‍‌​‌‌‌​‌​
Mr Ryall-Harvey said de-escalating from Special Measures was "very, very sudden and a big surprise" and, echoing understated fictional civil servant Sir Humphrey Appleby from Yes Minister, said: "I'd call it a 'brave decision Minister'. ‌​‌‌‌​‌‌‍‌​‌‌‌​‌​‍‌​‌‌‌​‌​
"I can find a lot to be pleased about but mental health…they're getting their ducks in a row but they're not there yet. ‌​‌‌‌​‌‌‍‌​‌‌‌​‌​‍‌​‌‌‌​‌​
"They are getting the right people in but it's a service for the most vulnerable people and I don't think we can take a chance on it." ‌​‌‌‌​‌‌‍‌​‌‌‌​‌​‍‌​‌‌‌​‌​
At a Betsi Cadwaladr board meeting less than six weeks ago, vice-chair Lucy Reid said: "I just wanted to echo the comments about challenges we are facing in mental health but we can see the direction of change. ‌​‌‌‌​‌‌‍‌​‌‌‌​‌​‍‌​‌‌‌​‌​
"We are absolutely committed to sorting this out and we need to be transparent about the scale of the challenge." ‌​‌‌‌​‌‌‍‌​‌‌‌​‌​‍‌​‌‌‌​‌​
Betsi Cadwaladr had been in Special Measures since June 2015, against a backdrop of protests against plans to send neo-natal intensive care services to England and a damning critique of Tawel Fan mental health ward, on Ysbyty Glan Clwyd's Ablett Unit. ‌​‌‌‌​‌‌‍‌​‌‌‌​‌​‍‌​‌‌‌​‌​
Donna Ockenden, brought in to investigate allegations of ill-treatment of dementia patients on Tawel Fan, called what happened "institutional abuse" in her report. ‌​‌‌‌​‌‌‍‌​‌‌‌​‌​‍‌​‌‌‌​‌​
Later the now defunct  HASCAS consultancy, engaged at a cost of £1.2m, contradicted her findings in a subsequent report. ‌​‌‌‌​‌‌‍‌​‌‌‌​‌​‍‌​‌‌‌​‌​
The HASCAS recommendations, and those of the 2013 Holden Report into poor care of dementia patients at Ysbyty Gwynedd's Hergest Unit, have still not been fully signed off as completed by senior executives. ‌​‌‌‌​‌‌‍‌​‌‌‌​‌​‍‌​‌‌‌​‌​
The board is also fighting a decision by the Information Commissioner to publicly release the Holden report. ‌​‌‌‌​‌‌‍‌​‌‌‌​‌​‍‌​‌‌‌​‌​
A study by the board's interim director of nursing Mike Smith,  in August this year, highlighted the problems facing its mental health and learning disabilities division. ‌​‌‌‌​‌‌‍‌​‌‌‌​‌​‍‌​‌‌‌​‌​
They included: ‌​‌‌‌​‌‌‍‌​‌‌‌​‌​‍‌​‌‌‌​‌​
"lack of stability in senior leadership" ‌​‌‌‌​‌‌‍‌​‌‌‌​‌​‍‌​‌‌‌​‌​
"a palpable sense of a lack of assurance in the operational delivery of mental health and learning disability services." ‌​‌‌‌​‌‌‍‌​‌‌‌​‌​‍‌​‌‌‌​‌​
"issues in the East of the division (between) April to May, consequent to the Covid response, that led to whistleblowing to Healthcare Inspectorate Wales (HIW)." ‌​‌‌‌​‌‌‍‌​‌‌‌​‌​‍‌​‌‌‌​‌​
"lack of senior and broader clinician contribution to and ownership of the divisional strategy." ‌​‌‌‌​‌‌‍‌​‌‌‌​‌​‍‌​‌‌‌​‌​
"lack of consultation with and involvement of key stakeholders outside of the division." ‌​‌‌‌​‌‌‍‌​‌‌‌​‌​‍‌​‌‌‌​‌​
"Phase 2 strategy is seen as vague and complex, widely treated with cynicism and disowned internally despite having some very good elements." ‌​‌‌‌​‌‌‍‌​‌‌‌​‌​‍‌​‌‌‌​‌​
‌​‌‌‌​‌‌‍‌​‌‌‌​‌​‍‌​‌‌‌​‌​
Mr Smith added there was "nothing which unduly worries me in terms of patient safety or indeed quality in my travels around the Board's services." ‌​‌‌‌​‌‌‍‌​‌‌‌​‌​‍‌​‌‌‌​‌​
He concluded "most issues were most likely due in part to senior people being out of substantive position, sickness or vacancies." ‌​‌‌‌​‌‌‍‌​‌‌‌​‌​‍‌​‌‌‌​‌​
Documents on Betsi Cadwaladr's website list key areas of why Special Measures was imposed in 2015. ‌​‌‌‌​‌‌‍‌​‌‌‌​‌​‍‌​‌‌‌​‌​
They related to "quality (infection control, management of complaints and concerns), leadership and governance, planning and issues in relation to specific services including maternity, mental health and GP out-of-hours." ‌​‌‌‌​‌‌‍‌​‌‌‌​‌​‍‌​‌‌‌​‌​
There were also significant concerns about the health board's "connection and engagement with its local population." ‌​‌‌‌​‌‌‍‌​‌‌‌​‌​‍‌​‌‌‌​‌​
It added: "Since 2015 concerns regarding performance and financial management escalated and in February 2018 these were included under Special Measures arrangements." ‌​‌‌‌​‌‌‍‌​‌‌‌​‌​‍‌​‌‌‌​‌​
Maternity Services were de-escalated in February 2018, as were GP out-of-hours services in February 2019. ‌​‌‌‌​‌‌‍‌​‌‌‌​‌​‍‌​‌‌‌​‌​
On November 3, just over three weeks ago, Mr Gething told the Senedd he was putting an extra £82m-a-year into Betsi Cadwaladr to help address finances, planned care and mental health. ‌​‌‌‌​‌‌‍‌​‌‌‌​‌​‍‌​‌‌‌​‌​
The cash was to "cover for the deficit" (up to £40m), to "improve unscheduled care and build a sustainable planned care programme, including orthopaedics" (£30m) and "to support performance improvement and implementation of the mental health strategy" (£12m). ‌​‌‌‌​‌‌‍‌​‌‌‌​‌​‍‌​‌‌‌​‌​
Mr Gething said the board gave "an honest assessment of areas for ongoing action and improvement that coincide with the views of the recent meeting of tripartite partners". ‌​‌‌‌​‌‌‍‌​‌‌‌​‌​‍‌​‌‌‌​‌​
They all agreed the board needed to: ‌​‌‌‌​‌‌‍‌​‌‌‌​‌​‍‌​‌‌‌​‌​
-further improve leadership and governance
-develop a long-term integrated clinical services strategy
-further strengthen leadership capacity within mental health to enhance stability and resilience
-develop a robust three-year financial plan to meet its financial duties
-finalise and implement a revised accountability and performance framework
-deliver improvements in performance, particularly in the acute sector ‌​‌‌‌​‌‌‍‌​‌‌‌​‌​‍‌​‌‌‌​‌​
He added: "Whilst many other health organisations have related issues to address, as Members are aware, they are more long-standing for North Wales and performance is disproportionately poor in respect of high-profile area. ‌​‌‌‌​‌‌‍‌​‌‌‌​‌​‍‌​‌‌‌​‌​
"The essential first step will be to work in partnership to build a sustainable vision for the future, leading to a medium-term plan, focusing on prevention, physical and mental well-being, population health and, of course, primary and secondary care services." ‌​‌‌‌​‌‌‍‌​‌‌‌​‌​‍‌​‌‌‌​‌​
Mr Ryall-Harvey said if all that had been achieved in the last three weeks he would be "mightily impressed." ‌​‌‌‌​‌‌‍‌​‌‌‌​‌​‍‌​‌‌‌​‌​
Mr Gething was asked, through his communications team, what methodology had been used to decide Betsi Cadwaladr should come out of Special Measures and what had changed in the past three weeks. ‌​‌‌‌​‌‌‍‌​‌‌‌​‌​‍‌​‌‌‌​‌​
A spokeswoman said: "There is nothing further to add to the Minister's response in plenary (on Tuesday) and also the press release." ‌​‌‌‌​‌‌‍‌​‌‌‌​‌​‍‌​‌‌‌​‌​
Darren Millar, Conservative MS for Clwyd West,  a long time critic of Welsh Government's handling of the board, said he accepted new chair Mark Polin was trying to get to grips with the problems. ‌​‌‌‌​‌‌‍‌​‌‌‌​‌​‍‌​‌‌‌​‌​
However he doubted mental health and other areas had improved sufficiently to warrant coming out of Special Measures – and suggested next year's Senedd elections influenced Mr Gething's decision. ‌​‌‌‌​‌‌‍‌​‌‌‌​‌​‍‌​‌‌‌​‌​
Responding to Mr Gething's announcement he told the Senedd: "You cannot fool or hoodwink the people of North Wales into thinking everything is hunky-dory." ‌​‌‌‌​‌‌‍‌​‌‌‌​‌​‍‌​‌‌‌​‌​
Afterwards he said: "The Minister has a great deal of explaining to do to the people of North Wales. ‌​‌‌‌​‌‌‍‌​‌‌‌​‌​‍‌​‌‌‌​‌​
"Just a few weeks ago it was an organisation that faced a huge challenge to get out of Special Measures. Many people will think this is just an election ploy." ‌​‌‌‌​‌‌‍‌​‌‌‌​‌​‍‌​‌‌‌​‌​
Llyr Gruffydd, Plaid Cymru MS, also questioned the timing of the announcement. ‌​‌‌‌​‌‌‍‌​‌‌‌​‌​‍‌​‌‌‌​‌​
He said: "I have to say that, in light of ongoing problems and the failure to resolve long-standing scandals involving mental health provision, I remain unconvinced there have been sufficient improvements to come out of Special Measures. ‌​‌‌‌​‌‌‍‌​‌‌‌​‌​‍‌​‌‌‌​‌​
"This smacks more of a political stunt so this Labour Government can say it has improved health services in the North when it's clear the health board has not made significant strides under its direct rule as a result of Special Measures." ‌​‌‌‌​‌‌‍‌​‌‌‌​‌​‍‌​‌‌‌​‌​
Mr Gething was asked via his communications team to answer the accusation the decision had been influenced by next year's Senedd elections. He declined to respond. ‌​‌‌‌​‌‌‍‌​‌‌‌​‌​‍‌​‌‌‌​‌​
However in the Senedd he said suggesting Audit Wales, the NHS chief executive and HIW made a decision based on party politics was "a slur" which should be withdrawn, when put to him by Mr Millar. ‌​‌‌‌​‌‌‍‌​‌‌‌​‌​‍‌​‌‌‌​‌​
The health minister, who praised the work of the board's front line staff through the Covid pandemic, said moving from Special Measures to Targeted Intervention was not a "free pass". ‌​‌‌‌​‌‌‍‌​‌‌‌​‌​‍‌​‌‌‌​‌​
He also said there would still be some Welsh Government oversight of Betsi's operations. ‌​‌‌‌​‌‌‍‌​‌‌‌​‌​‍‌​‌‌‌​‌​
Unison branch secretary Jan Tomlinson said the move out of Special Measures was "a vindication of the hard work of every single healthcare employee at Betsi". ‌​‌‌‌​‌‌‍‌​‌‌‌​‌​‍‌​‌‌‌​‌​
Chairman Mark Polin and acting chief executive Gill Harris said in a joint statement: "We welcome this significant announcement and continued support from Welsh Government. ‌​‌‌‌​‌‌‍‌​‌‌‌​‌​‍‌​‌‌‌​‌​
"We are encouraged by the growing confidence in our plans to make strategic longer term improvements while acknowledging that there is much more to do. ‌​‌‌‌​‌‌‍‌​‌‌‌​‌​‍‌​‌‌‌​‌​
"We are confident our ambitious plans for the future will improve patient experience and waiting times." ‌​‌‌‌​‌‌‍‌​‌‌‌​‌​‍‌​‌‌‌​‌​
Jez Hemming – Local Democracy Reporter (more here). ‌​‌‌‌​‌‌‍‌​‌‌‌​‌​‍‌​‌‌‌​‌​
Spotted something? Got a story? Send a Facebook Message | A direct message on Twitter | Email: News@Deeside.com
---
Latest News
---