Health Minister says "key individuals" named in secret Health Board report "have been suspended"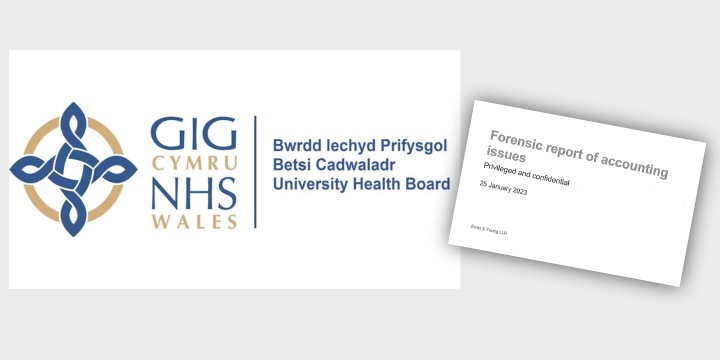 Health Minister Eluned Morgan MS has said of the unreleased health board report that her ​‌‌‌"…understanding is that the key individuals named in this report have been suspended". ‌​‌‌‌​‌‌‍‌​‌‌‌​‌​‍‌​‌‌‌​‌​ ‌​‌‌‌​‌‌‍‌​‌‌‌​‌​‍‌​‌‌‌​‌​
How many people that involves is unclear as the report appears to have four pages of 'dramatis personae', with names and job titles. ‌​‌‌‌​‌‌‍‌​‌‌‌​‌​‍‌​‌‌‌​‌​ ‌​‌‌‌​‌‌‍‌​‌‌‌​‌​‍‌​‌‌‌​‌​
The detail emerged in a Senedd session where Darren Millar MS questioned the Health Minister on the report, "Minister, people across North Wales are pretty angry at the moment about what is happening in the Betsi Cadwaladr University Health Board. I was given an anonymous copy of the Ernst & Young forensic report of accounting issues at the board, and I have to say it is absolutely damning. ‌​‌‌‌​‌‌‍‌​‌‌‌​‌​‍‌​‌‌‌​‌​ ‌​‌‌‌​‌‌‍‌​‌‌‌​‌​‍‌​‌‌‌​‌​
"Its findings include false accounting and the manipulation of documents that amount to fraud. These were done in the knowledge of senior members of staff at the health board, including the chief executive and the finance director. The junior staff who pushed back against these appalling practices were overruled by their superiors and there, then, were deliberate efforts to hide those actions from Audit Wales and the forensic investigators from Ernst & Young. It absolutely stinks. The report still isn't in the public domain—it should be published—in spite of the significant public interest in these issues. I want to know what action the Welsh Government is now taking to ensure that all those responsible for the behaviour identified in that report are going to be held accountable for their actions." ‌​‌‌‌​‌‌‍‌​‌‌‌​‌​‍‌​‌‌‌​‌​ ‌​‌‌‌​‌‌‍‌​‌‌‌​‌​‍‌​‌‌‌​‌​
The Minister replied, "I was one of the few people who did have an early access to the report, and I've got to agree that it did make extremely sobering reading, which absolutely needs to be acted upon. As has been said in this Chamber on a number of occasions, this was not our report, and so I can't ask for it to be published. It was a report that was commissioned by the health board, and they have to determine what they're going to do. I have spoken to both the interim chief executive and the chair of the health board about the action that will be undertaken as a result of this report, and they have both reassured me that the health board is progressing the management of the issues that are raised in the EY report in line with their existing procedures and policies. My concern throughout has been that I don't want to do anything that will compromise or prejudice in any way the ability of the board to pursue the actions that they should and need to do." ‌​‌‌‌​‌‌‍‌​‌‌‌​‌​‍‌​‌‌‌​‌​ ‌​‌‌‌​‌‌‍‌​‌‌‌​‌​‍‌​‌‌‌​‌​
Unimpressed with the reply, Millar continued, "Minister, it's been four months since that report was published. I cannot fathom why, in that period of four months, those individuals who were responsible for these actions have not been dismissed from that health board. Not only are these unprofessional practices for those who are registered as chartered accountants and with other professional bodies, but it actually goes beyond the health board itself. ‌​‌‌‌​‌‌‍‌​‌‌‌​‌​‍‌​‌‌‌​‌​ ‌​‌‌‌​‌‌‍‌​‌‌‌​‌​‍‌​‌‌‌​‌​
"We know, for example, that documentation to obtain goods and services was falsified in order to award a contract of nearly £1.8 million to a company, Lightfoot Solutions, and that company, Lightfoot Solutions, colluded in the altering of documentation in order to get that award. We know that a purchase order was drafted that shouldn't have been drafted, deliberately designed to fail in order to avoid proper scrutiny, by the head of procurement services at NHS Wales Shared Services Partnership. ‌​‌‌‌​‌‌‍‌​‌‌‌​‌​‍‌​‌‌‌​‌​ ‌​‌‌‌​‌‌‍‌​‌‌‌​‌​‍‌​‌‌‌​‌​
"Now, I don't know whether these individuals are still in post or under investigation, but this is not just about Betsi; this is about the culture in the wider NHS. I want to know what action is now being taken to make sure that Lightfoot Solutions, this company that has colluded, which has also had contracts awarded to it in other parts of Wales, not just the Betsi Cadwaladr University Health Board—. What is being done to make sure that we never engage with that organisation again? What is being done in terms of the NHS Wales Shared Services Partnership role in this sort of behaviour? It's wider than just Betsi, Minister." ‌​‌‌‌​‌‌‍‌​‌‌‌​‌​‍‌​‌‌‌​‌​ ‌​‌‌‌​‌‌‍‌​‌‌‌​‌​‍‌​‌‌‌​‌​
The Health Minister then confirmed some suspensions, "My understanding is that the key individuals named in this report have been suspended, and, clearly, they have legal employment rights. The key thing for me is that we've got to follow the right process so that any system that needs to be followed is not undermined. I can assure you that, from the report, the Welsh Government was exonerated, that there wasn't any suggestion that Welsh Government was in any way implicated in any of this. But I have asked my director general to make sure that we look at the report to see what, if any, action we need to take as a Government if there are any broader implications for us as a Government." ‌​‌‌‌​‌‌‍‌​‌‌‌​‌​‍‌​‌‌‌​‌​ ‌​‌‌‌​‌‌‍‌​‌‌‌​‌​‍‌​‌‌‌​‌​
Darren Millar MS then echoed wider calls for a police investigation where necessary, "There are clearly broader implications. You've had this report for four months, Minister—four months it's been lying around. I find it, frankly, very disturbing that you're only just starting to have these conversations about whether there are wider implications when, quite clearly, the report implies that there are wider implications because this goes beyond Betsi into an organisation that has multimillion-pound contracts across the Welsh NHS, and also into the heart of the NHS Wales Shared Services Partnership, with the head of procurement—not a junior member of staff, the head of procurement—in that organisation inappropriately drafting purchase invoices.130 ‌​‌‌‌​‌‌‍‌​‌‌‌​‌​‍‌​‌‌‌​‌​ ‌​‌‌‌​‌‌‍‌​‌‌‌​‌​‍‌​‌‌‌​‌​
"I think the public, quite rightly, will want to have some assurances that the Welsh Government is now going to look at every single health board in Wales to make sure that the sorts of practices, which didn't just occur in a single year in the Betsi Cadwaladr health board—the report refers to this being at least across a period of two financial years—that occurred there haven't occurred elsewhere, because, frankly, the involvement of the head of procurement services at the NHS Wales Shared Services Partnership suggests that this might have been replicated in other places too. ‌​‌‌‌​‌‌‍‌​‌‌‌​‌​‍‌​‌‌‌​‌​ ‌​‌‌‌​‌‌‍‌​‌‌‌​‌​‍‌​‌‌‌​‌​
"So, when will you publish an action plan as to the work that you're now going to commission to make sure that these matters are properly investigated and, where necessary, referred to the police for criminal investigation too?" ‌​‌‌‌​‌‌‍‌​‌‌‌​‌​‍‌​‌‌‌​‌​ ‌​‌‌‌​‌‌‍‌​‌‌‌​‌​‍‌​‌‌‌​‌​
The Health Minister replied, "Well, I can assure you that the report hasn't just been lying around; there have been extensive investigations by the NHS counter-fraud office to see if there needed to be any police follow-up in terms of criminal action. They concluded that that didn't need to be done, but, obviously, that has only recently come out, and that's why it's only now that we can follow up as a Welsh Government, and, as I say, I have already instructed my officials to look at whether there is anything we need to do in respect of lessons that we can learn." ‌​‌‌‌​‌‌‍‌​‌‌‌​‌​‍‌​‌‌‌​‌​ ‌​‌‌‌​‌‌‍‌​‌‌‌​‌​‍‌​‌‌‌​‌​
"I do think that it's important that people in North Wales understand that, despite the very sobering reason, actually, money hasn't been lost to the NHS, and I think what the public in North Wales are concerned with at the moment is delivery of services." ‌​‌‌‌​‌‌‍‌​‌‌‌​‌​‍‌​‌‌‌​‌​ ‌​‌‌‌​‌‌‍‌​‌‌‌​‌​‍‌​‌‌‌​‌​
Rhun ap Iorwerth MS then took up the baton, asking "Two weeks ago, Plaid Cymru raised concerns in this Chamber about the implications of the Ernst and Young report—raised the same concerns that we just heard about from the Conservative spokesperson. Given how sobering the Minister says that that report was when she read it four months ago, perhaps she could put on the record what advice she immediately sought from officials, having read it. But now a former independent member of the board explaining that he was intimately involved in that EY investigation has now called for a police investigation, saying he believes there is clear and incontrovertible evidence that a number of crimes were carried out. It's a powerful and damning indictment of the situation regarding Betsi Cadwaladr. I welcome the statement from North Wales Police saying they're assessing the situation. I, too, call on them to initiate a full investigation. ‌​‌‌‌​‌‌‍‌​‌‌‌​‌​‍‌​‌‌‌​‌​ ‌​‌‌‌​‌‌‍‌​‌‌‌​‌​‍‌​‌‌‌​‌​
"Now, the First Minister told the Senedd that, with the NHS counter-fraud department having decided no criminal threshold had been reached, this was now only an internal matter for Betsi, but given the seriousness of the allegations now published, and given the doubts about potential conflicts of interest, conflicts of interest that the independent member suggests make it impossible for Welsh Government or its various health agencies to be able to comment objectively, will the Minister now agree that it's beyond question that the police must investigate too, and that that investigation must have the full support of the Welsh Government?" ‌​‌‌‌​‌‌‍‌​‌‌‌​‌​‍‌​‌‌‌​‌​ ‌​‌‌‌​‌‌‍‌​‌‌‌​‌​‍‌​‌‌‌​‌​
The Health Minister pointed that the police will decide if they need to take any action, "The police will determine if a criminal investigation is required, and they've already said that they're looking at this and it's not up to me to tell the police whether a criminal investigation is required; that is something that they will need to determine themselves." ‌​‌‌‌​‌‌‍‌​‌‌‌​‌​‍‌​‌‌‌​‌​ ‌​‌‌‌​‌‌‍‌​‌‌‌​‌​‍‌​‌‌‌​‌​
"I think it is important that there is an understanding of how the different organisations in Wales work. So, the NHS counter-fraud service is operationally independent from NHS Wales Shared Services Partnership, but it is hosted by the NHS Wales Shared Services Partnership as part of the Velindre NHS trust. So, it's basically somewhere where they're parked—somebody has to do their HR, somebody has to do their accounting, somebody has to do all of the other bits and pieces, but they are operationally independent. The counter-fraud office is made up of a team of experienced investigators, and they have a lot of experience in looking at serious, complex, large-scale crime cases, and they do give a specialist independent investigation resource to health boards. They have come to a conclusion. If the police want to look at it and come to a different conclusion, then obviously that will be a matter for them." ‌​‌‌‌​‌‌‍‌​‌‌‌​‌​‍‌​‌‌‌​‌​ ‌​‌‌‌​‌‌‍‌​‌‌‌​‌​‍‌​‌‌‌​‌​
Spotted something? Got a story? Send a Facebook Message | A direct message on Twitter | Email: News@Deeside.com
---
Latest News
---