Accidents Investigation Branch published report into incident at Hawarden Airport last year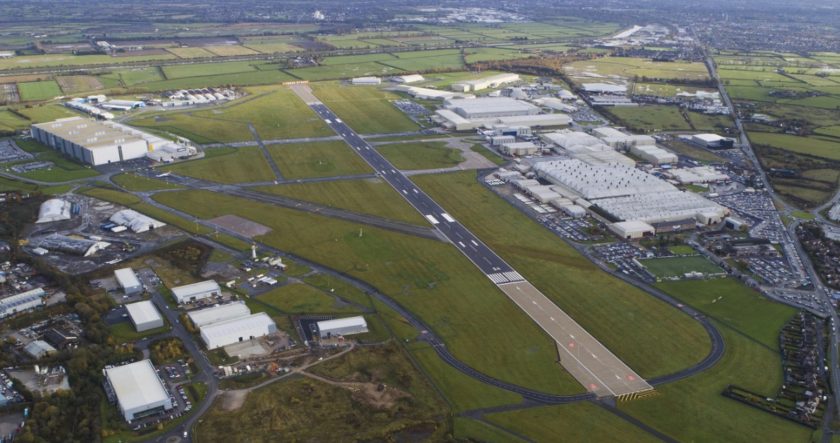 This article is old - Published: Friday, Mar 10th, 2023
A pilot escaped without injury following an incident at Hawarden Airport, when their aircraft veered off the runway and suffered a collapsed landing gear. ‌​‌‌‌​‌‌‍‌​‌‌‌​‌​‍‌​‌‌‌​‌​
The Air Accidents Investigation Branch (AAIB) has released a report detailing the events leading up to the accident which took place on just after 4pm on 14 June 2022. ‌​‌‌‌​‌‌‍‌​‌‌‌​‌​‍‌​‌‌‌​‌​
According to the AAIB report, the aircraft made a normal approach to Runway 04 at Hawarden with a crosswind of 14 knots. ‌​‌‌‌​‌‌‍‌​‌‌‌​‌​‍‌​‌‌‌​‌​
The pilot reduced the power and flared the aircraft to land, but experienced a bounced landing, eventually touching down 30 metres further along the runway. The aircraft then "violently swung to the right," according to the pilot. ‌​‌‌‌​‌‌‍‌​‌‌‌​‌​‍‌​‌‌‌​‌​
The pilot attempted to correct the movement with left rudder input, but soon realised the aircraft was about to leave the runway. ‌​‌‌‌​‌‌‍‌​‌‌‌​‌​‍‌​‌‌‌​‌​
They increased the left rudder input "to guide it away from the lights and signs" and cut the mixtures and props and fuel. Shortly after, the right landing gear leg collapsed, causing the plane to come to a stop. ‌​‌‌‌​‌‌‍‌​‌‌‌​‌​‍‌​‌‌‌​‌​
The aircraft sustained damage to its landing gear, wing, and fuselage, but the pilot was unharmed. ‌​‌‌‌​‌‌‍‌​‌‌‌​‌​‍‌​‌‌‌​‌​
Reflecting on the incident, the pilot reported feeling that the approach was good until around 50 feet above ground level (AGL), when everything appeared to be "a bit fast." ‌​‌‌‌​‌‌‍‌​‌‌‌​‌​‍‌​‌‌‌​‌​
In hindsight, they felt that they should have considered a go-around. ‌​‌‌‌​‌‌‍‌​‌‌‌​‌​‍‌​‌‌‌​‌​
The pilot believed that their lack of crosswind technique caused the accident and that a more coordinated use of ailerons and rudder could have led to a more controlled and directionally stable landing. ‌​‌‌‌​‌‌‍‌​‌‌‌​‌​‍‌​‌‌‌​‌​
Following the accident, the aircraft operator recovered and examined the aircraft. ‌​‌‌‌​‌‌‍‌​‌‌‌​‌​‍‌​‌‌‌​‌​
The right main landing gear side brace had failed in overload, allowing the landing gear to collapse. ‌​‌‌‌​‌‌‍‌​‌‌‌​‌​‍‌​‌‌‌​‌​
A photograph taken immediately after the accident showed the left propeller feathered, which is likely to have occurred inadvertently as the pilot moved the power levers during the accident sequence. ‌​‌‌‌​‌‌‍‌​‌‌‌​‌​‍‌​‌‌‌​‌​
[Photo: https://www.hawardenaerodrome.co.uk/] ‌​‌‌‌​‌‌‍‌​‌‌‌​‌​‍‌​‌‌‌​‌​
‌​‌‌‌​‌‌‍‌​‌‌‌​‌​‍‌​‌‌‌​‌​
Spotted something? Got a story? Send a Facebook Message | A direct message on Twitter | Email: News@Deeside.com
---
Latest News
---