Deeside-based litter picking group comes together to tackle the community's discarded waste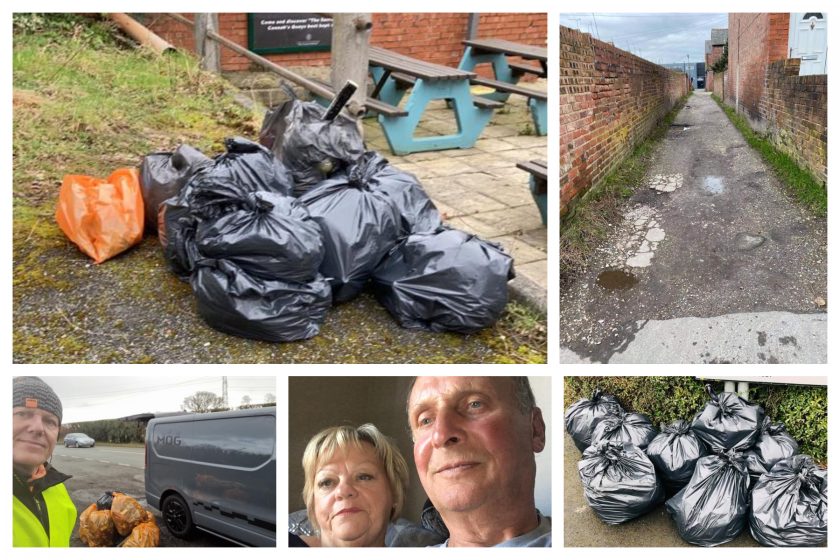 This article is old - Published: Wednesday, Feb 24th, 2021
A Deeside-based litter picking group formed earlier this month has now reached more than 270 members as local residents come together to tackle the community's discarded waste. ‌​‌‌‌​‌‌‍‌​‌‌‌​‌​‍‌​‌‌‌​‌​
'Litter picking for Deeside' was created on 6 February via Facebook by Vivien and Gareth Jones with the aim to encourage others to take pride in their local area. ‌​‌‌‌​‌‌‍‌​‌‌‌​‌​‍‌​‌‌‌​‌​
Vivien came up with the idea as she was "really saddened" with the amount of litter she saw on her daily walk along the Connah's Quay docks. ‌​‌‌‌​‌‌‍‌​‌‌‌​‌​‍‌​‌‌‌​‌​
She said: "I thought that a few people meeting up, keeping in mind social distancing as well as health and safety, having a bit of a chat and a walk would benefit us and the area. ‌​‌‌‌​‌‌‍‌​‌‌‌​‌​‍‌​‌‌‌​‌​
"If you're unable to physically pick up anything, you could post on here areas that need attention and maybe someone could litter pick on your behalf or report it to our local council." ‌​‌‌‌​‌‌‍‌​‌‌‌​‌​‍‌​‌‌‌​‌​
She added: "It's nothing to do with any political party or association – it's purely to improve our environment. We live in such a lovely area, we'd hate to see it degenerate." ‌​‌‌‌​‌‌‍‌​‌‌‌​‌​‍‌​‌‌‌​‌​
One of the group's admins, Andy MOG James, joined after having already planned to clean up Mold Road in Connah's Quay prior to the formation of 'Litter picking for Deeside'. ‌​‌‌‌​‌‌‍‌​‌‌‌​‌​‍‌​‌‌‌​‌​
By 12 February, the group was at 100 members and as of today it has grown to include more than 270, Andy one of those who recently gained admin access as of Monday, 22 February. ‌​‌‌‌​‌‌‍‌​‌‌‌​‌​‍‌​‌‌‌​‌​
He said: "There have been so many (Covid and safety aware) targeted litter picks that I estimate as a group already that 110+ refuse bags have been filled. ‌​‌‌‌​‌‌‍‌​‌‌‌​‌​‍‌​‌‌‌​‌​
"Can you imagine how much will be collected and cleared, improving our community with every single item cleared over the following days, weeks and months? ‌​‌‌‌​‌‌‍‌​‌‌‌​‌​‍‌​‌‌‌​‌​
"It's a fantastic effort by so many people already and all thanks to the community spirit which has already been built by Viv setting this Facebook group up." ‌​‌‌‌​‌‌‍‌​‌‌‌​‌​‍‌​‌‌‌​‌​
The group has gained support from Flintshire County Council as well as people such as Councillors Paul Shotton and Bernie Attridge, and "many more" says Andy. ‌​‌‌‌​‌‌‍‌​‌‌‌​‌​‍‌​‌‌‌​‌​
This support comes in the form of equipment such as a regular supply of refuse sacks or litter grabbers and coordinated collection of the filled bags which is also 'acted upon rapidly'. ‌​‌‌‌​‌‌‍‌​‌‌‌​‌​‍‌​‌‌‌​‌​
The group has three main messages which are highlighted by Andy when he said: "To stop the root cause – this is our community and our mess, not anyone else's, so we have to help to make it unacceptable to drop litter, and if we don't we shall forever be cleaning and never polishing. ‌​‌‌‌​‌‌‍‌​‌‌‌​‌​‍‌​‌‌‌​‌​
"Community – we can only achieve results by working together as a community, taking ownership and taking action, so please help us if you can. ‌​‌‌‌​‌‌‍‌​‌‌‌​‌​‍‌​‌‌‌​‌​
"It's not all about taking a bin bag and a grabber. It's to educate at schools, to partner, identify problematic areas, share positives verbally and via the power of social media, and to challenge our own behaviours – it all helps the cause.  ‌​‌‌‌​‌‌‍‌​‌‌‌​‌​‍‌​‌‌‌​‌​
"Proud – if we all take just a little time to act we can move away from 'tidying the mess' to moving towards improving how this area presents itself to visitors and to ourselves. This is our community. ‌​‌‌‌​‌‌‍‌​‌‌‌​‌​‍‌​‌‌‌​‌​
"Teamwork does make the dream work. We can fix this, and we are taking action, we have no doubt." ‌​‌‌‌​‌‌‍‌​‌‌‌​‌​‍‌​‌‌‌​‌​
Join the 'Litter picking for Deeside' Facebook group today by visiting https://www.facebook.com/groups/229609572164437. ‌​‌‌‌​‌‌‍‌​‌‌‌​‌​‍‌​‌‌‌​‌​
— ‌​‌‌‌​‌‌‍‌​‌‌‌​‌​‍‌​‌‌‌​‌​
By Jordan Adams ‌​‌‌‌​‌‌‍‌​‌‌‌​‌​‍‌​‌‌‌​‌​
Pictured above is Andy James (bottom left) as well as Vivien and Gareth Jones (bottom middle) who also provided the other images on display. ‌​‌‌‌​‌‌‍‌​‌‌‌​‌​‍‌​‌‌‌​‌​
Spotted something? Got a story? Send a Facebook Message | A direct message on Twitter | Email: News@Deeside.com
---
Latest News
---