NOTE: This content is old - Published: Tuesday, Oct 2nd, 2018.
With the arrival of autumn Network Rail has begun its fight to combat that age old problem – leaves on the line.
Slippery rails have caused delays and even line closures in the past between Wrexham Central and Bidston as trains struggle to climb Hawarden Bank.
Network Rail in Wales and Borders says it has been working with train operators all year round to prepare for autumn.
Measures include deploying more than 60 specialist treatment trains, which will be out in force from this week to clear the top of the track (railhead) of leaves and debris.
Passing trains compress the leaves into a thin, black layer on the rail which – much like black ice on the roads – can affect trains braking and accelerating.
This means that train drivers must slow down earlier for stations and signals to avoid passing them.
They must also accelerate more gently to avoid wheel spin. All this can increase journey time and leads to delays for passengers.
Build-up of leaf mulch can also make it harder for our signallers to detect a train's location, causing delays when subsequent trains are unable to proceed until the train in front moves further up the line.
The company has 61 leaf-busting trains, which move around the network blasting the rails with high powered water jets.
The trains also lay a gel-like substance, which is applied to the rail to aid traction between track and train.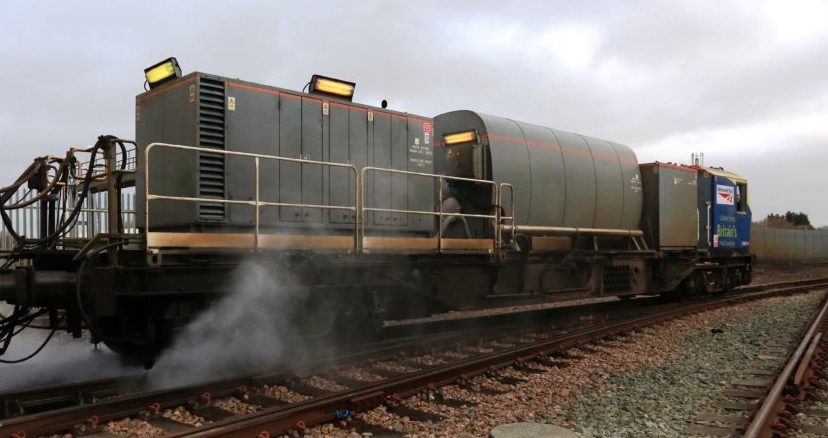 Network Rail teams monitor the weather 24/7 and ensure frontline teams are placed in key locations to respond to any issues if they do arise.
Part of this monitoring includes receiving adhesion forecasts which predict where poor or very poor adhesion is expected.
These forecasts are then used to notify drivers if poor adhesion is expected on their route.
Using this information, railhead treatment can be intensified at key locations (usually station approaches and exits) where the adhesion is forecast to be poor.
Network Rail say its teams will 'hand sand' rails at key locations before start of service where poor adhesion has been identified overnight.
Andy Thomas, Network Rail's managing director, strategic operations, said:
"Every autumn, even with the best preparation, leaves fall onto the line, which can cause the same conditions as black ice on the roads. With millions of trees growing alongside the railway, it's something the rail industry takes seriously.

That's why our leaf-busting trains and front-line teams are out there 24 hours a day, seven days a week, to make sure we can get passengers from A to B safely and reliably."