NOTE: This content is old - Published: Thursday, Jul 12th, 2018.
Flintshire Council planning committee has been 'recommended' to refuse two planning applications which would see 535 new houses and a convenience food store built on land Buckley.
Skye Homes Flintshire Ltd has applied to build 435 houses and a retail unit on an 18-hectare site at Spon Green in Buckley.
Concerns had been raised by Buckley Town Council which voted against the development earlier this year, local residents fear the size of the proposed development would have a huge impact on town.
164 letters of objection have been received in response to the plans submitted by Skye Homes, Dwr Cymru – Welsh Water also objected to the plan as it would overload the waste water treatment works the company said.
The development would put a strain on Mountain Lane primary school which doesn't have the capacity to deal with any influx of new children.
A report to be presented to Councillors next Wednesday says planning permission should be refused because the proposal amounts to an "unjustified residential development within an area of open countryside and in an unsustainable location."
It also says that insufficient evidence has been provided to "identify the very exceptional circumstances necessary to justify the development of this site within an area of open countryside and Green Barrier and therefore, considers that the proposals would result in a form of development which would unacceptably harm the openness of the Green Barrier in this location."
The report goes onto to say "the applicant has failed to adequately demonstrate the site is suitable for development without risk to potential future occupants" due to historical mining activity in the location.

In the report Flintshire County Council's Chief Planning Officer Andrew Farrow states:
"I conclude that the development would be harmful to the openness of the green barrier, to the character and appearance of the area and would significantly erode the gap between Buckley and Padeswood.
These harmful effects warrant considerable weight. I have had regard to the fact that there is a lack of a 5 year supply of housing land and that the need to increase the supply of housing land warrants considerable weight."
Mr Farrow goes onto to say: "The proposal is inappropriate development in the green barrier and PPW [Planning Policy Wales] advises that such development should not be granted planning permission, except in very exceptional circumstances where other considerations clearly outweigh the harm the development would do to the green barrier."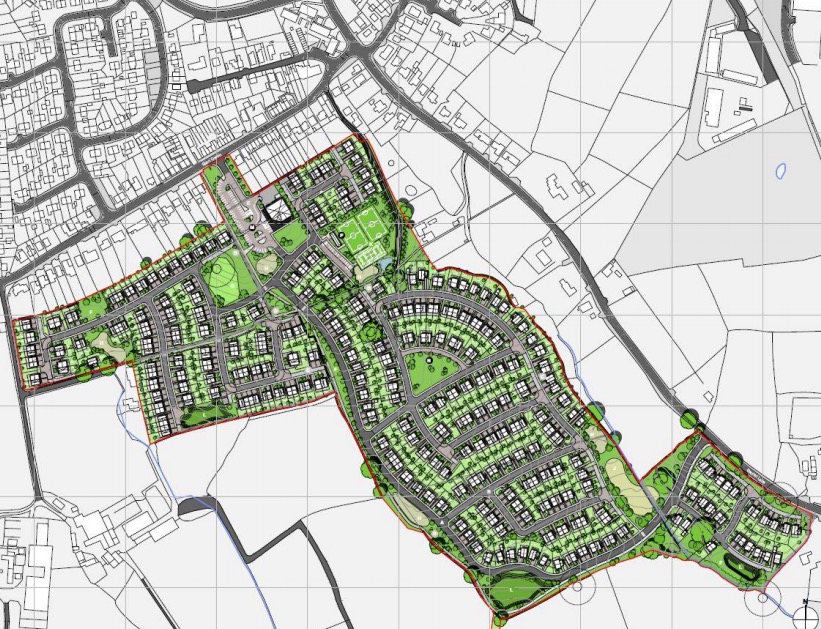 Spon Green development
A second Buckley application has also been 'recommended for refusal' – 90 letters have been received objecting to an outline plan to build up to 100 houses on Megs Lane.
Residents raised concerns over parking issues on surrounding roads as well as the loss of a local amenity and Green Belt.
Traffic issues, road safety, a lack of local infrastructure and impact of a development on local services were also raised by locals.
A report says that if planning permission is granted, the development would create an "unwarranted" loss of agricultural land.
It also says Buckley is "strewn" with sites available for the construction of new houses, which planning permission was granted "several, even many, years ago, yet upon which sites there has been no sign of even commencement, let alone completion of the number of houses for which permission has been given."
Only 74 houses have been built in recent years in Buckley despite planning permission granted for nearly 700.
Flintshire County Council's Chief Planning Officer Andrew Farrow states:
"The proposal represents inappropriate development within the Green barrier and is in clear conflict with the provisions of the policies of the unitary development plan as well as national guidance.
The proposal would cause undue harm to the open countryside and green barrier.
Whilst it is accepted that TAN1 gives considerable weight to increasing housing land supply I do not consider that this outweighs the above considerations and recommend accordingly.
Inadequate details have been provided with regards to safeguarding the ecology of the site, the provision of public open space and affordable housing provision and to ensure that the capacity of the local water resources meet the need of the development."
Flintshire County Council planning committee will meet on Wednesday July 18.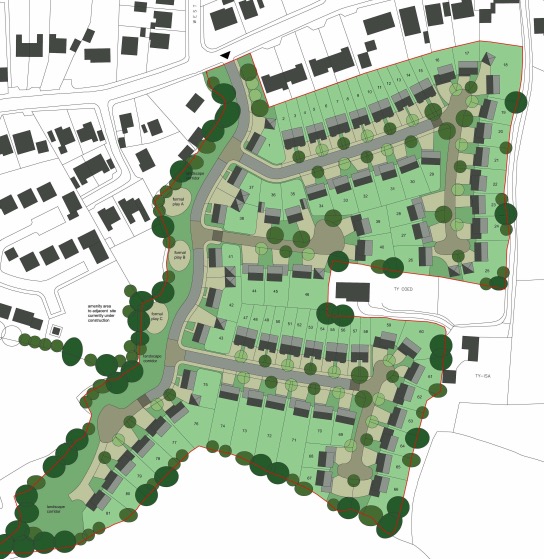 Megs Lane development