NOTE: This content is old - Published: Saturday, Mar 10th, 2018.
Flintshire councillors will be asked next week to recommend for approval plans to hike up the price of pay and display machines in the county's car parks.
Councillors will also be asked to recommend a start date for charges to be introduced in Flint when it meets on March 15.
If both decisions are given the green light the proposals will be go to the council cabinet for a final vote.
Parking charges in the county have not been reviewed since their introduction in April 2015 and the income generated does not meet the full cost of managing and operating the car parks, the council says.
It also says research has shown that charges introduced in Flintshire 'have not impacted on car parking usage, in fact the levels of use have actually increased in six towns over the past two years'
The exception is Connah's Quay where the availability of extensive off-street parking has seen the car park take less than half of what the council expected however, income increased by over 197% in the first year of pay and display charges.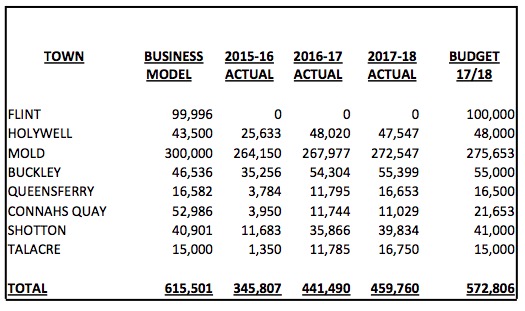 The new charges will see most town centre car parks in Flintshire charge £1.50 all day.
The council says even with the revised charges the cost of parking in Flintshire remains low compared to neighbouring counties, three hours in Denbigh for example is £1.50, all day in Ruthin and Llangollen is £7.
Flintshire County Council's Cabinet Member for Streetscene and Transportation, Councillor Carolyn Thomas, said:
"We are living in difficult times and raising charges in the car parks is always going to be a contentious issue.
All Councils are in a similar position and from comparative research, Flintshire's car park charges are lower than in other towns and cities. We are only seeking to recover costs of maintaining the car parks – we are not making any profit out of car parking."
Charges will remain slightly higher in Mold because the town receives a high number of visitors, to reflect this, a percentage of the increased charge will be invested in visitor infrastructure improvements working with Mold Town Council.
Councillor Thomas continued:
"The total cost of managing and maintaining the car parks is £886,000 a year and this would be recovered by the proposed charges. This would result in the car parking service being cost neutral and achieving full cost recovery providing an income for car park maintenance and help manage the provision and turnover of spaces for visitors to town centres."
Proposals put forward in January have been incorporated into the new charging scheme, they include a 30 minute reduced charge to allow short visits, which is in similar to towns in Denbighshire.
The council says longer stay costs in car parks in Chester, Denbighshire and Wrexham significantly higher than those proposed in Flintshire.
Some car parks in Holywell will in future allow multi-visits on a single ticket and there are no plans to raise the car parking charges currently in Talacre.
If agreed, the new charging arrangements will be advertised in each car park during April 2018, including Flint, and will come into effect in all car parks from 14 May 2018.