NOTE: This content is old - Published: Monday, Jan 8th, 2018.
Deeside commuters using Merseyrail trains are set for disruption this week as members of the Rail, Maritime and Transport Union (RMT)  stage three days of industrial action.
Strike action will take place across the Merseyrail network on Monday 8, Wednesday 10 and Friday 12 January 2018.
Passengers travelling to, from and within the Liverpool City Region are being urged to plan their journeys and check before they travel ahead of the planned industrial action by RMT members.
There will be no service between Chester and Hooton while Wirral services will start and terminate from James Street Station.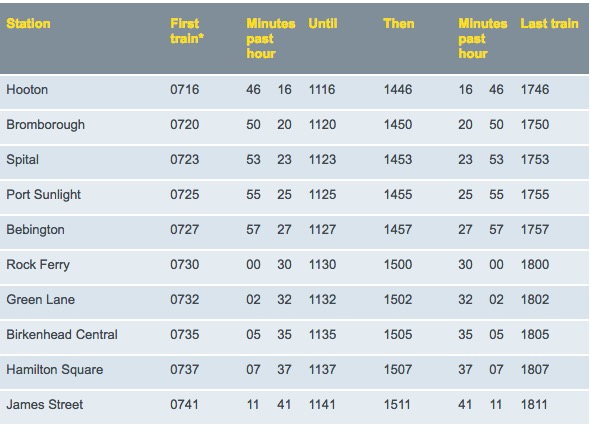 Merseyrail tickets will be accepted on Arriva bus services, except between 7.00am-9.00am and 4.00pm-6.00pm.
Andy Heath, Managing Director at Merseyrail said: "I am really disappointed with the strike action being taken by the RMT that will, after the previous strike days, yet again result in more disruption to your services.
The timing of these latest strikes, three within a week, has been deliberately scheduled so as to cause as much impact as possible to you as a passenger.
At the request of the Metro Mayor, we agreed to independent conciliation with the RMT union with no pre-conditions, but to date, the RMT have refused to meet without pre-conditions.
I am very keen to begin a meaningful dialogue and engage in a detailed negotiation to find a middle ground which will satisfy all parties.
As always, we will ensure that we deliver as robust a timetable as we can that will best serve your travel needs."
RMT General Secretary Mick Cash said: "Every single effort that RMT has made to reach negotiated settlements in these separate disputes with the different train operating companies over safe operation and safe staffing has been kicked back in our faces and we are left with no option but to press ahead with the action exactly as planned.
No one should be in any doubt, these disputes are about putting the safety of the travelling public before the profits of the private train companies
"It is frankly ludicrous that we have been able to negotiate long-term arrangements in Scotland and Wales that protect the guards and passenger safety but we are being denied the same opportunities with rail companies in England.
This suspension of normal industrial relations by the employers has to end if we are to make progress towards a solution that guarantees safe rail travel for all.
Passengers are strongly advised to check the Merseyrail website and Twitter @Merseyrailbefore travelling, as it is possible that timetables will change prior to, as well as during, strike action.