A Deeside business owner says hate filled racist abuse aimed at him has become so bad he is thinking of selling up.
Over the past two years 59-year-old Imtiaz ul Haq has been subjected to racist taunts and physical assaults simply because of his ethnic background.
Mr Haq who runs the CostCutter supermarket in Queensferry says his experiences have been affecting not just himself but his whole family.
He suffered horrific knife injuries to his throat during a robbery at the store in 2016 which was not  racially motivated.
Mr Haq is originally from Islamabad, the Pakistani capital city, where he used his master's degree in business administration to set up a string of successful enterprises, including a petrol station and a packaging company.
Although at one stage he employed around 300 staff, he says that security at his businesses became a major concern, which persuaded him to move to United Kingdom with his wife Afshan, and their young daughter, Daanya, now 11, five years ago.
[miptheme_quote author="Greg George, Head of Diversity for North Wales Police" style="boxquote text-left"]Hate crime is hurtful and shameful and will not be tolerated by North Wales Police.
We have regular discussions with representatives to provide reassurance and to let people know that we are here to protect all our communities.
I would encourage anyone who has been a victim of any sort of abuse or harm motivated by hatred to contact us.
People need to know that the full weight of the law will be brought against any offenders.[/miptheme_quote]
He bought two Costcutter stores – one in Liverpool, which he has since sold, and another in Queensferry where his brushes with race hate have been taking place.
He said: "In the early days in Queensferry we were fine but then in 2015, when I had to let a number of staff go and took over the running of the store myself, the incidents of race hatred began.
People come into the store and call us names and also use vile swear words against us.
"We've had broken windows and one time when I was outside the store a man came up, picked up a metal advertising board and threw it at me. Luckily, I moved away just in time and it missed or I would have been badly hurt.
"My wife, who sometimes helps in the store, has also been verbally abused. I have received a lot of help from Victim Support."
Mr Haq added: "My wife and I have agreed to go along to the Hate Crime Impact Day to tell our story and make people aware of what has been happening to us."
His wife Afshan said: "The race hatred we've been experiencing has not only affected the confidence of my husband but also myself and our young daughter.
"She gets very worried about it and is always asking me if her father is alright and if all the security working at the store is working properly. She's also developed a stammer when she speaks because of it.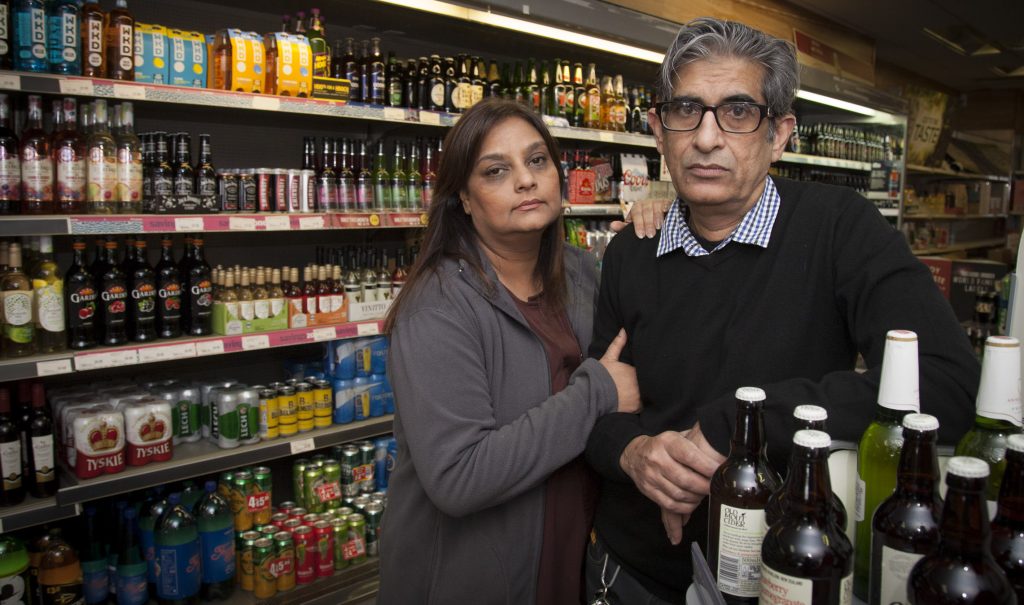 "It goes further than that because when I tell our family back in Pakistan what is happening to us they are also very worried for our safety.
"My husband says he is thinking of selling the store and starting a business in another area.
All this is such a shame because more than 95 per cent of people in this area are really good and we've had lots of support from our neighbours.
Mr Haq will speak out about his on-going ordeal at a Hate Crime Impact Day being organised by the charity Victim Support at the Centre for Cultural Engagement (CCE) in Colwyn Bay, on Thursday October 19 as part of National Hate Crime Awareness Week.
One of his main messages will be the importance of reporting any hate crime incidents and not to suffer in silence.
He praised the emotional and practical support he and his family had received from Rich Ward, a hate crime caseworker for Victim Support.
Rich Ward has been helping the family since last August he said.
"They have been subjected to numerous examples of verbal and physical abuse over a long period and there is a strong racial element to all this.
This sort of thing should not be tolerated and no-one should have to live in fear.
We've organised the Hate Crime Impact Day to highlight the affect such crimes have on people.
We will have a number of agencies represented there, such as the police and Victim Support, and the public are also invited.
I'm very grateful that Mr Haq and his wife have agreed to be there to talk about their experiences and to help us make people aware that suspected hate crimes should always be reported to the police, both by the victims themselves and also potential witnesses."
The awareness week, which runs this year from October 14-21, has the full support of North Wales Police and Crime Commissioner Arfon Jones who says hate crime in any of its forms should never be tolerated.
North Wales Police and Crime Commissioner Arfon Jones said:
"Hate crime is one of those abhorrent offences which cause a lot of distress.
If you're picking on people or committing offences against them because of their ethnic background, religion, colour of their skin or sexuality it causes a lot of bad feeling.
I am grateful to Mr and Mrs Haq for agreeing to speak about their dreadful an intolerable experiences at this special awareness event to let people know what is happening.
Hate crime is very serious and we must address it. The strong message I wish to send out is that hate crime in any of its forms will not be tolerated in North Wales."
---
A hate crime self-reporting form is available from the North Wales Police home page at www.north-wales.police.uk or go to the Victim Support website at: www.reporthate.victimsupport.org.uk
North Wales Police can be contacted on 101 or 999 in an emergency.