Flintshire MP Rob Roberts "wholeheartedly and unequivocally" supports Home Secretary Priti Patel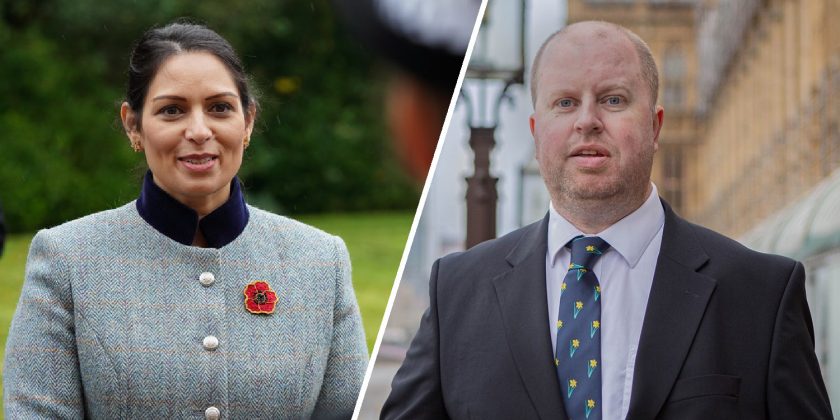 Flintshire MP Rob Roberts has backed Home Secretary Priti Patel following a standards investigation into bullying claims found she had breached the Ministerial Code.
The Conservative MP for Delyn posted his support for Ms Patel on social media after the an inquiry found she "has not consistently met the high standards required by the ministerial code".
An investigation was launched in March by the Prime Minister, following the resignation of the Home Office's top civil servant, Sir Philip Rutnam, he alleged Ms Patel "created fear" in the workplace.
Mr Roberts dismissed the inquiry into the bullying claims as the "latest round of nonsense" against Ms Patel.
In Facebook post he said: "I wholeheartedly and unequivocally support the Home Secretary Priti Patel in this latest round of nonsense to which she is being subjected."
"In the time I have come to know and understand Priti, I can say that she is without a doubt an exceptionally strong woman who is delivering some of the largest reforms this country has seen against the backdrop of a system and process that doesn't like change."
The PM's adviser on the ministerial code, Sir Alex Allan was asked to provide advice about whether the "facts established by the Cabinet Office in relation to the conduct of the Home Secretary showed adherence to the Ministerial Code."
Sir Allan said: "My advice is that the Home Secretary has not consistently met the high standards required by the Ministerial Code of treating her civil servants with consideration and respect."
"Her approach on occasions has amounted to behaviour that can be described as bullying in terms of the impact felt by individuals."
"To that extent her behaviour has been in breach of the Ministerial Code, even if unintentionally. This conclusion needs to be seen in context."
Sir Allan later resigned after Boris Johnson said he has "full confidence" in Ms Patel.
In a statement, he said: "I recognise that it is for the Prime Minister to make a judgement on whether actions by a Minister amount to a breach of the Ministerial Code."
"But I feel that it is right that I should now resign from my position as the Prime Minister's independent adviser on the Code."
The Home Secretary issued an "unreserved apology" following the publication of the inquiry report, she said:
"I have clearly upset people in the past and on reflection – and I have had time to reflect upon this as well – looking at what has been published today on the report, there is no question I'm absolutely sorry for the upset that has been caused and I'm very, very clear about that."
Delyn MP Rob Roberts said he has had to deal with bullies all his life.
Earlier this year, he hit out at a "parody" twitter account created in his name.
Mr Roberts described those behind the account as "disgraceful" and accused them of bullying him.
Addressing them directly on the social media network, he said: "I think what you and other "parody" accounts such as this perpetuate is disgusting. MPs are people, with real feelings and real life issues going on.
"Our job is monumentally challenging and bears a responsibility that is at times overwhelming."
"I have dealt with bullies my whole life, but I find it the height of bad taste and pure meanness to be doing this kind of thing, especially at a time when so many elements of society are coming together in solidarity."
"I am hurt, disappointed and mostly ashamed that someone feels the need to create an account on social media with the express intent of pulling someone apart and mocking them for entertainment. It's disgraceful."
Spotted something? Got a story? Send a Facebook Message | A direct message on Twitter | Email: News@Deeside.com