NOTE: This content is old - Published: Tuesday, Jul 31st, 2018.
Action Fraud, the UK's national reporting centre for fraud and cyber crime says it has had nearly 700 reports about an email doing the rounds which threatens to harm people if they don't pay up thousands of pounds in bitcoin payments.
The scammer pretending to be a hitman contacts random people via email saying they have been hired to kill the email recipient, but they will spared if money is paid.
The scam, known as a 'hitman' scam has been around for years – in the latest email the 'hitman' says they have been paid a £30,000 contract "for your head."
The opening line of the email states: "Read this post carefully, since it can be the last in your life."
It goes onto to say:
"You have 2 options for deciding this situation. Adopt my proposal or turn down.

You pay me ten thousand GBP for safe your life and you receive all the information about the customer with whom you apply to the police and thus you save your life and the lives of your relatives.

The second option is you ignore my proposal and turn to the police, but by the same token you will only postpone your judgment day, even if I can not do the work, then another person will do it, not within a week and say in a month or half a year, but order for your head will be fulfilled sooner or later."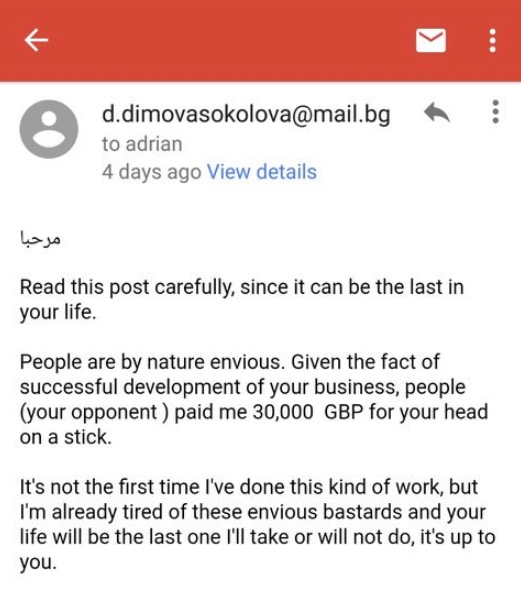 North Wales Police Cyber Crime Team says it has received three reports recently of people in the region receiving the same or similar emails.
We have had three reports about this type of email.
Do not pay. It's a Scam!

Da ni wedi cael tri adroddiad am y math yma o ebost.
Peidiwch â thalu. Twyll ydi o! https://t.co/divReeznsp

— Internet Safety (@NWPCyberCrime) July 30, 2018
Advice if you receive on of the scam emails is to:
Delete it immediately, they are sent at random, so they won't know if they have reached a live email address or number unless you respond.
Do not respond to emails. If you do, the scammers will escalate their intimidation and attempts to get your money.
Never send money or give credit card details, online account details or personal information to anyone you don't know or trust and never by email or over the phone.
If you have transferred any money, or have provided your account details to a scammer, contact your bank and the police immediately on 101.