NOTE: This content is old - Published: Tuesday, Nov 27th, 2018.
Further Update: Police have confirmed this morning the search was launched following "concerns for the safety of a woman" she has since been found safe and well –
Flint Coastguard has provided an update, it states:
"Team tasked by UK Coastguard to reports of person in the water near to the Old Quay house public house on Dock Road, Connah's Quay.
OIC formulated a plan and back up requested backup .Rhyl Coastguard Rescue Team paged to by UK Coastguard to assist.
Flint Lifeboat also launched and Coastguard Helicopter Rescue 936 also scrambled to assist in search.
After 5.5 hours of searching the River Dee from Connah's Quay to Saltney Ferry by all search and rescue personnel and nothing found all units stood down pending further investigation by North Wales Police."
Update: The Coastguard helicopter and crew completed the search mission at around 2.30am and flew back to the Caernarfon base.
Earlier report: A Coastguard search and rescue helicopter looks to be searching the River Dee close to the Flintshire Bridge this morning.
Several people have been in touch with Deeside.com to say they can see the helicopter hovering above the river on the Tata side of the bridge moving slowly towards the Blue Bridge In Queensferry.
Flint R.N.L.I Lifeboat also appears to have been called out, the R.N.L.I  website states the inshore lifeboat was launched at 12.02am on Tuesday.
Launched from Flint, Flintshire about twenty five minutes ago – https://t.co/8aE40KKdtd

— RNLI: Out On A Shout (@outonashout) November 27, 2018
The Caernarfon based search and rescue helicopter which was first spotted at around 1am is transmitting a squawk (Secondary Surveillance Radar) code 023 indicating the "Aircraft engaged in actual SAR Operations."
Commenting on the Deeside.com Facebook Page Kate said there are "boats on the river" with search lights.
Phil told us he was the Flint based lifeboat as it was being towed to the Dock Road launch point at 12:20am – the R.N.L.I Landrover had its blue lights on.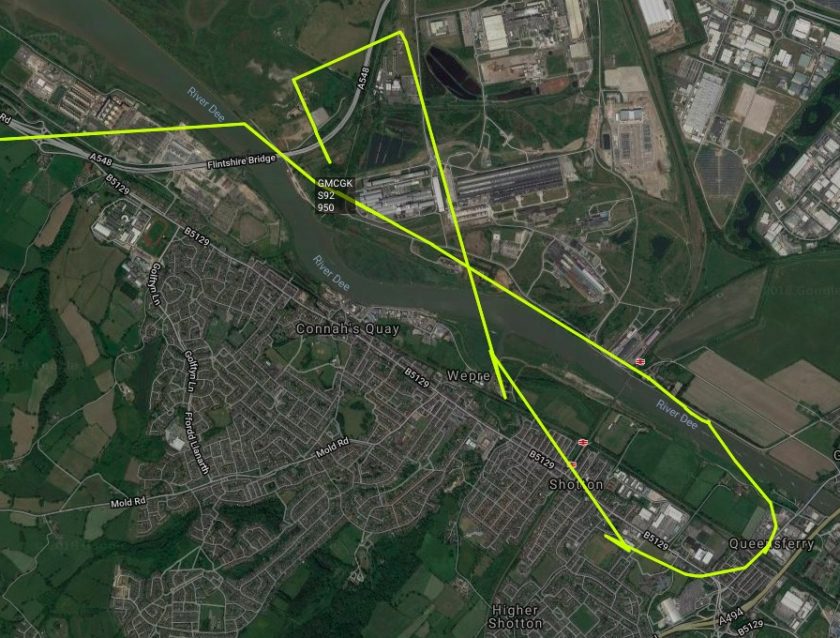 No more details as yet.
Image: G-MCGK (QSY on-route) by QSY on-route (flick)