NOTE: This content is old - Published: Wednesday, Feb 28th, 2018.
Welsh Transport Secretary Ken Skates AM has expressed his 'deep concern' over serious safety issues which has seen an entire fleet of Arriva trains taken out of service for urgent repairs.
Disruption continues for rail passengers using Arriva Trains Wales long distance services after the operator was forced to withdraw its fleet of 175 class trains this morning for essential safety checks.
It's believed a fault with a section of rail track or points caused the damage to the trains, overnight checks by Arriva engineers discovered significant damage to the wheels of the class 175 fleet
Services between Chester and Manchester have been suspended due to the safety issues.
Network Rail engineers have been working since the early morning to locate and fix the section of track or points across the Wales route and on lines into Manchester.
Services usually operated by the 27 class 175 trains such as those between South Wales and Manchester and between North and South Wales have been cancelled or are only able to operate on part of their normal route.
Ken Skates AM. Cabinet Secretary for Economy and Transport said he will be raising the matter with the UK Government Department for Transport "at a national level to understand how this situation has arisen, given the responsibility for rail tracks an points remains un-devloved."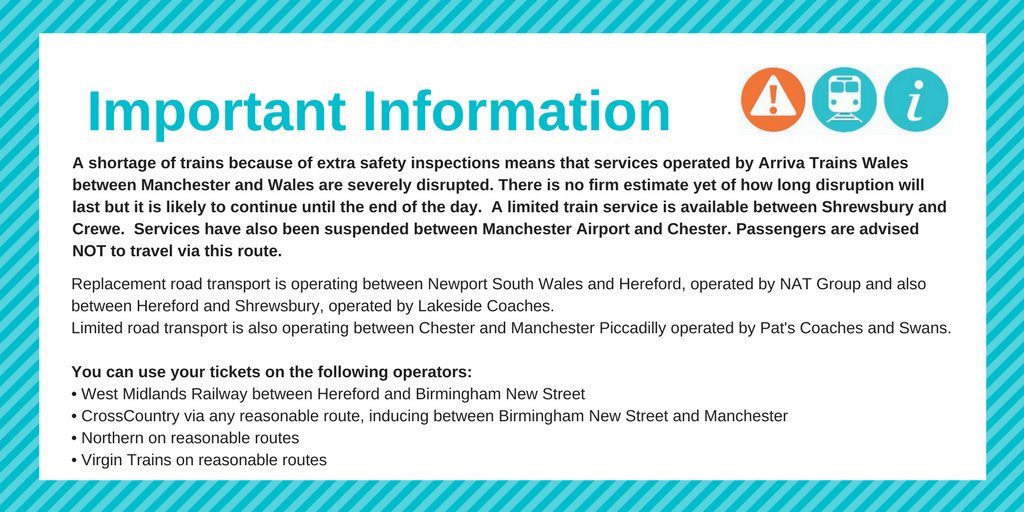 In a statement Arriva Trains Wales said;
"Network Rail and Arriva Trains Wales are carrying out essential safety checks on rail infrastructure and trains after inspections of the fleet revealed some damage to particular trains late last night.
The majority of long-distance Arriva Trains Wales services operating in North Wales, West Wales and the Marches are currently suspended as a result.
The safety of our customers and our people is a key priority, therefore our frontline staff are currently working hard in very difficult weather conditions to ensure thorough checks are undertaken across fleet and infrastructure."
Arriva Trains Wales also says that given the worsening weather predicted over the next few days, they are advising passengers to travel only if absolutely necessary and to ensure that they check www.arrivatrains.wales/check to see if their journey will be affected.
Alternative transport is being laid on by the train company but it says, "this will be very limited due to weather conditions and the number of services affected."
"We would like to apologise to anyone affected, we thank customers for their patience whilst we work to resolve this issue and remind them to check before they travel."