Advertising on Deeside.com is a cost effective way of getting your message infront of a huge local audience.
Our self-serve system is quick and simple, choose an advert postion, upload an image, type in your text and away you go!
We charge per week rather than selling impressions, this means unlike some online ads you will not burn through CPM deals when we are busy.
As this is our own system you avoid ad blockers, meaning your ads should not be blocked by readers.
Your advert will appear on every page of Deeside.com from the front page through to all articles.
Why advertise on Deeside.com?
More than 82,000 unique visitors visit our site every month reading more 630,000 pages (Independently measured by Google Analytics) and our numbers are growing year on year.
135,000 Facebook users had our articles enter their screen in September while our tweets were seen 456,000 times in the same month.
The most important point is that our readers are local meaning your advert will be highly targeted and highly relevant to the audience we serve.
Advert Location
The minimum duration is one week, a 10% discount is offered to those who wish to run an advert for more than four weeks.
Adverts are not in rotation so if you place an advert in a slot it is there on its own for as long as you choose.
A: Top of the page.
A large prominent advert and the first one seen by all users of the website.
B: Sidebar.
Positioned alongside content on the site this advert will give your business a prominent position on the website
C: Underneath articles
A Billboard style advert which gives you a highly prominent position particularly when served on mobile devices.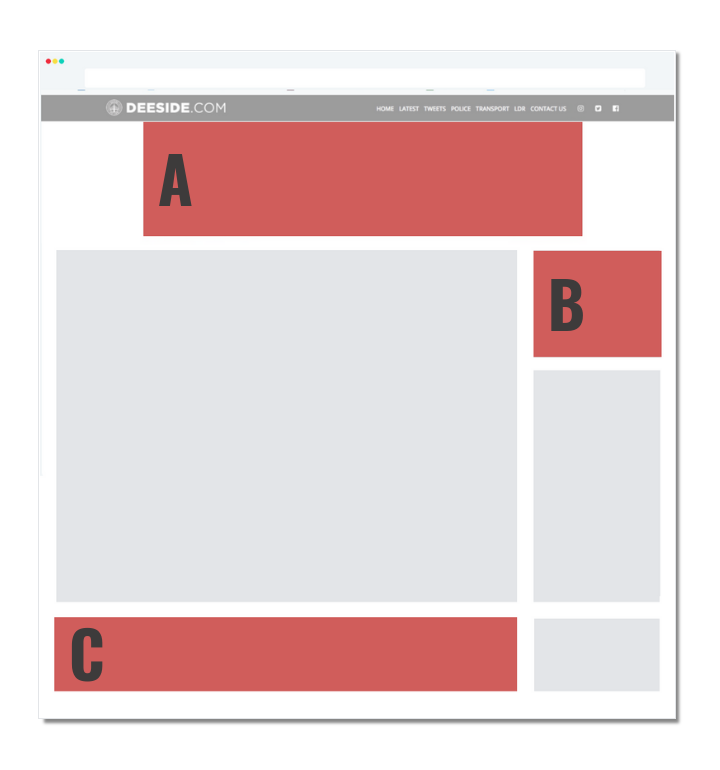 To book an advert simply fill in the form below - If you have a question get in touch here: Hello@Deeside.com